Overpile stacker reclaimer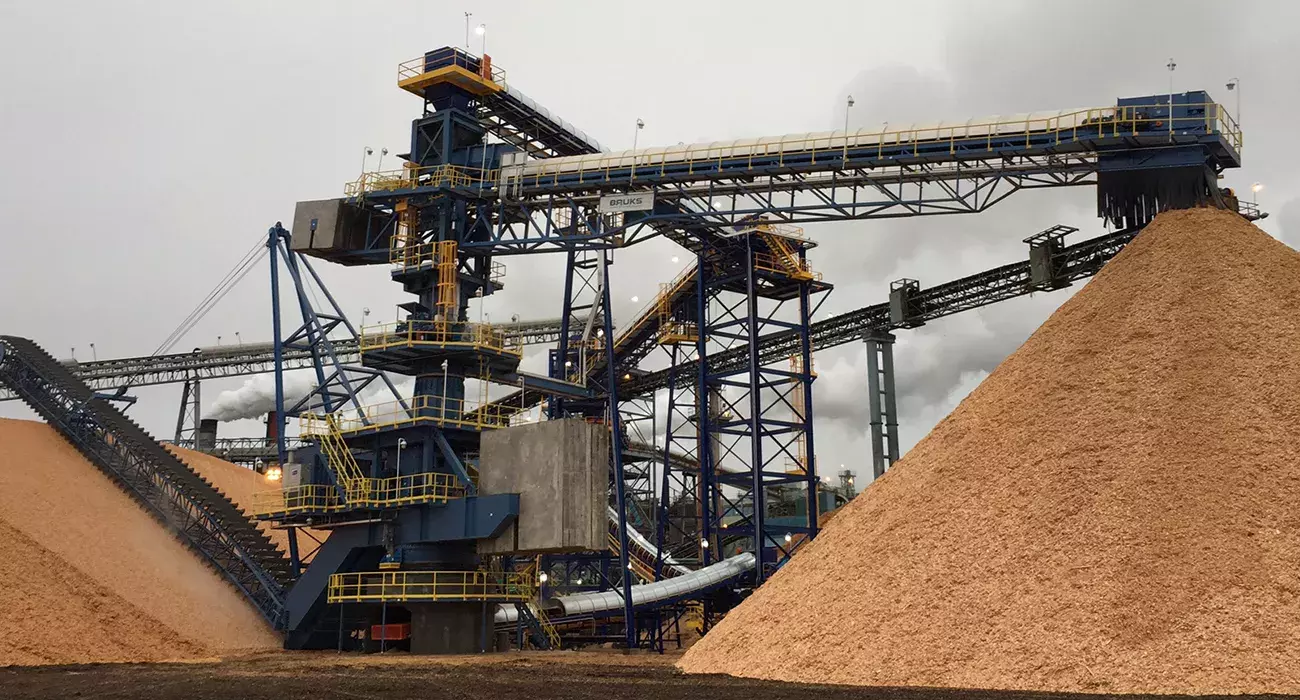 Combined technology ensures efficient overpile material handling
Our circular overpile stacker reclaimer (COSR) offers a very efficient combination of automated storage and reclaiming technologies that work independently of each other in terms of activity and rotation. Blending also occurs during the stacking and reclaiming phases, reducing variability in the pile.
The Bruks COSR minimizes the space needed to store large volumes of materials by organizing the process into a semi-circular pile arrangement. Materials are also not damaged by wheeled or tracked vehicles driving over the pile.
If capacity, automation and organized pile control are key factors for your operation, our circular overpile stacker reclaimers are an ideal option. We have standard systems that can handle up to around 170,000m3 (eight million cubic feet) of live storage and offer market-leading designs for outside or covered applications.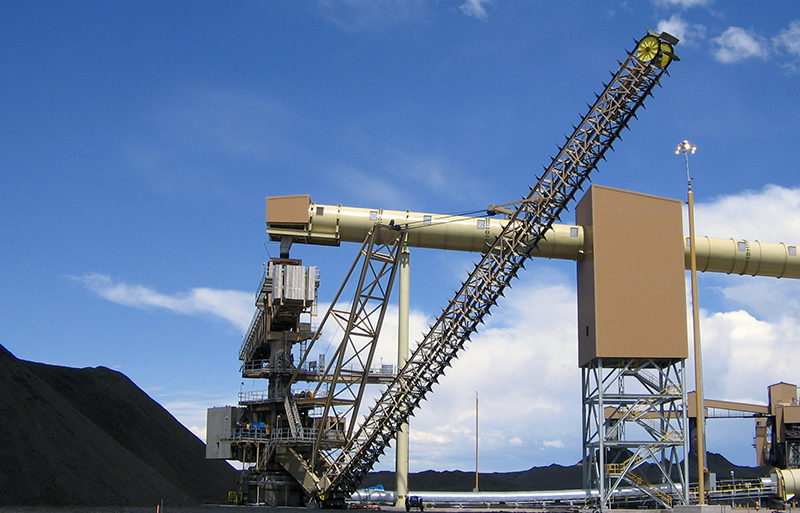 Organized stacking, minimized dust creation
Material for stacking is conveyed to the top of a central column where it falls onto a slewing and pivoting stacking conveyor that builds the pile. The circular pile is built automatically using tilt switch sensors that guide the stacking boom up and then to the side.
In most installations, the boom luffs low when the pile is just starting, reducing the distance that material falls, minimizing dust creation. The head pulley area is also skirted to contain dust.
Zoned piles enable effective reclaim sequences
The circular pile is assigned zones to ensure that the oldest material are always being reclaimed first. The reclaimer boom moves in a sequence that continuously supports this profile. Material is recovered using a chain and rake conveyor, located on the reclaimer boom.
Smooth, easy operation
The entire unit meets the highest standards in design, quality of construction and installation. The lower center support ring braces the reclaimer's robust mainframe, which is a machined ring mounted to a concrete foundation. This, in turn, supports the heavy-duty slew bearing.
Between the support ring and the reclaimer mainframe is the primary thrust bearing, equipped with external gear teeth. The reclaimer's mainframe features the unit's electronic control room, the reclaimer chain drive and the lubrication header for the lower and intermediate slew bearings.
The reclaimer chain drive is typically a shaft-mounted-type gear reducer with a motor delivering power to the reclaimer's drive shaft. The drive shaft is designed with heavy-duty bearings and conveyor chain sprockets and the reclaimer chain is a proprietary-designed engineered class roller chain. 
The hoist platform is mounted onto the mainframe on the centerline of the machine. This structure also houses the reclaimer drive shaft, which is subsequently protected from dust and debris. This open design ensures easy access to the drive shaft arrangement and makes maintenance simple.
Maintenance access to moving parts along the length of the stacker boom is also made easy with a mounted walkway.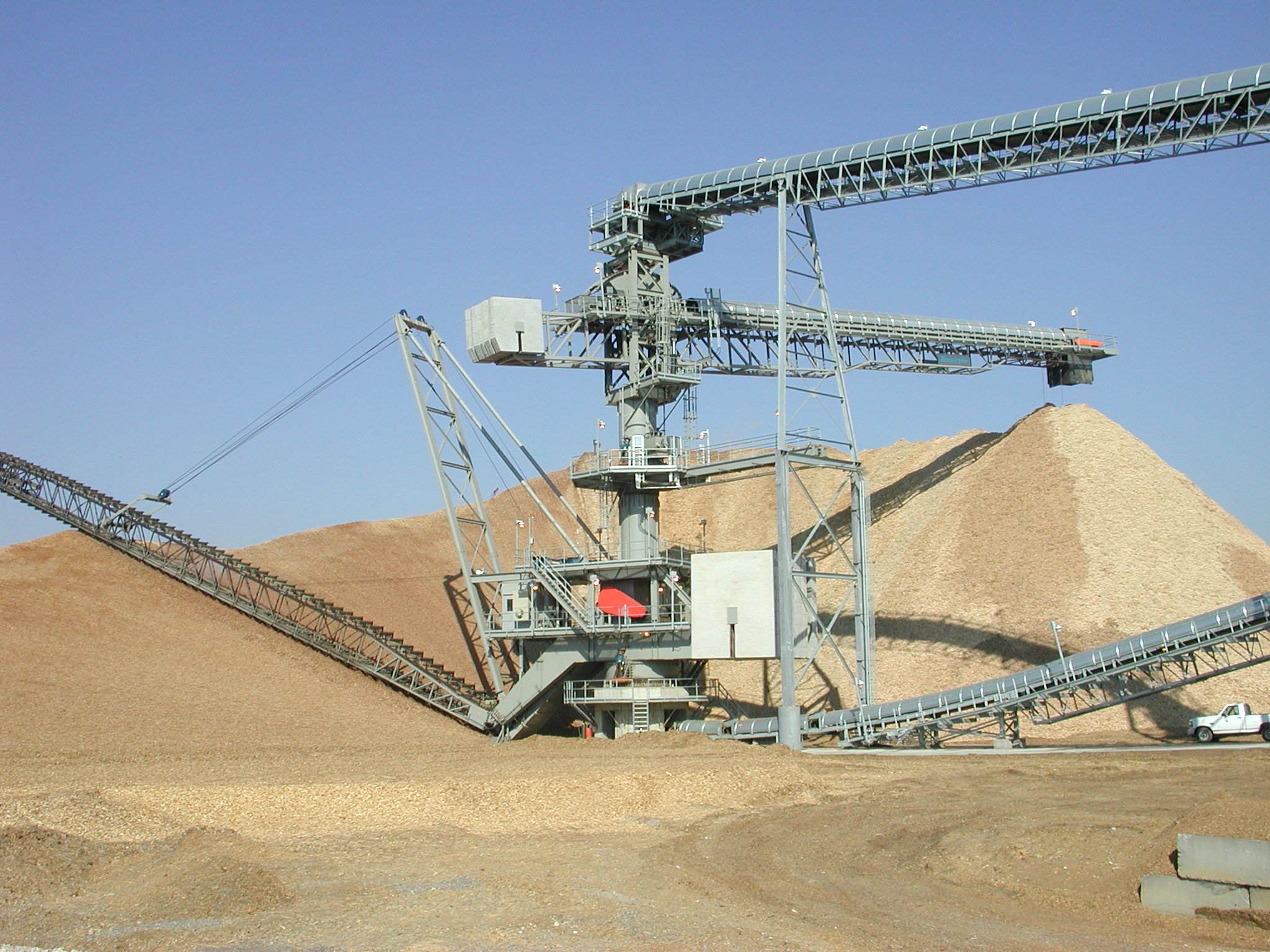 Share: