Pellet power: a Bruks Siwertell speciality
Wood pellet production is a growth industry, with demand significantly stepping up over recent years. This is predominantly being driven by power producers looking to reduce their dependence on coal. Pellets can be used for co-firing, burning both coal and biomass, but also as an alternative fuel source.
We provide both pellet producers and end users with the means to maintain lower material costs and maximize efficiency.
Our range of dry bulk handling and wood-processing technology is used throughout the pellet industry, from production, through to truck unloading, handling in port terminals, with ship unloaders and loaders, and beyond to conveying technology, and storage and reclaiming systems. It ensures an end-to-end supply chain, producing the best possible results in the processing, manufacture, transportation and eventual burning of biomass pellet cargoes.
Make good use of waste
Although the energy in coal is higher than in pellets, and pellets, from a logistics perspective, are trickier to handle as they cannot be exposed to moisture, they are ideal for making good use of waste residues. This is not limited to forestry waste either, as organic matter can also come from other industries, agriculture and food production.
Biomass pellets also have an advantage over wood chips in that their combustion profile and burning consistency are more similar to coal, and wood chips require about two to three times more storage space than pellets.
High-performance tipping platforms
A flexible and efficient way to transport the huge volumes of processed wood chips or other free-flowing materials used in pellet production such as sawdust, shavings, and peanut hulls is via bulk trucks.
When they arrive at a facility full, a range of Bruks truck dumper systems could be there to meet them, including back-on or drive-over truck dumpers; these consist of a tipping platform, outfitted for different bulk truck trailer types, as well as a variety of receiving hoppers. The trucks are unloaded as the tipping platform pivots up to tip the contents of the truck into a receiving hopper.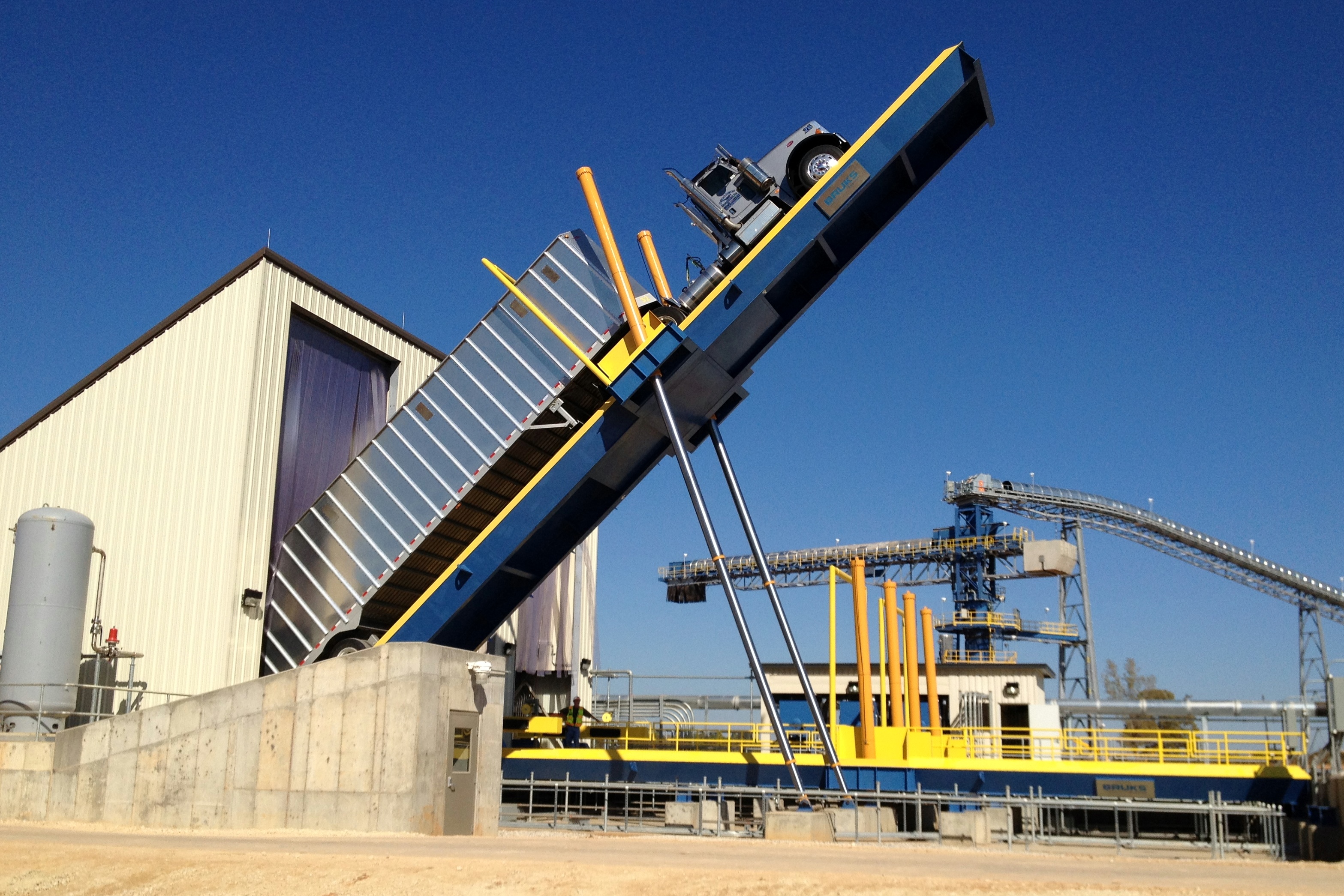 Efficient pellet production
Bruks Siwertell is an established market leader in the supply of complete wood-processing plants for the pellet industry. The size and the volume of the required wood particles for any pellet plant dictates which machines are suitable; Bruks Siwertell's range of wood-processing technology can chip wood from the forest through to complex high-capacity wood-processing arrangements using multiple machine types.
Wood-processing products such our high-performance, heavy-duty milling systems, hammer mills and Rotom hammer hogs are at the forefront of pellet production. Also key at pellet plants are receiving systems, screening equipment, conveyors and storage and reclaiming systems.
Biomass pellets are produced by processing their raw materials through milling and grinding equipment such as a Bruks hammer mill. Our hammer mills deliver a consistent product that can be pressed and squeezed through a die. Pellets are usually about 6mm in diameter, but can be larger and formed as briquettes. The extreme pressure placed on the wood-based material as it is forced through the die, increases its temperature. This forms a natural glue and holds the pellet together as it cools.
The results are an extremely dense, low-moisture content pellet, typically below 10 percent, which then allows them to be burned with a very high combustion efficiency.

Sorting it all out
Biomass pellet production facilities almost always employ a screening system, which sorts the larger pieces from the usable material and removes debris that can damage downstream processing equipment. This is a vital step.
After screening, pellet material can be elevated into fully-enclosed storage silos. This can be accomplished with a range of conveying systems from air-supported conveyors through to vertical screw-types, high-angle drag chain conveyors or bucket elevators. Storage silos can range in size, typically around 1,400m 3 (50,000ft 3 ) and are equipped with reclaim mechanisms allowing operators to monitor the material as it returns back into the system when needed.

Safe material handling, minimizing cargo degradation
Although dense, pellets are fragile and need protection from moisture. Specialist handling systems must also mitigate their safety risks and minimize cargo degradation.
Enclosing biomass pellets presents two main safety concerns; they can emit large quantities of poisonous carbon monoxide gas during storage and they have the capacity to self-combust through fine dust explosions.
Siwertell ship unloaders are the only continuous enclosed unloading systems that can discharge biomass pellets from vessels safely. They minimize cargo degradation by ensuring a smooth, but consistently high-capacity conveying velocity with no crushing forces. If not handled gently, pellets break down, this causes the production of fines, which are powdery particles. These fines can pose significant safety and financial concerns.
As Siwertell ship unloaders are totally enclosed, this also minimizes atmospheric dust emissions and eliminates spillage.
Perfect solutions for pellets
Our ship loaders, stacking and reclaiming systems and conveying technology further add to the overall efficiency of a pellet handling operation. They also benefit from our long experience of handling hazardous cargoes.
Ideally suited to conveying wood pellets is our innovative air-supported conveyor range, which includes the Bruks Tubulator TM and The Belt Conveyor TM.
Air-cushion conveyors deliver competitive edge to new Canadian pellet plant
Canada's Barrette-Chapais was looking to implement extraordinary levels of efficiency and environmental protection at its new 210,000 metric tons/year wood pellet production plant, Granule 777, in Quebec. Here, offcuts and residuals from its sawmills, which would have been regarded as a waste product as little as a decade ago, will be converted into usable biomass pellets which can offset the use of fossil fuels at power stations.
Integral to Granule 777's operation is a new air-supported conveyor system from Bruks Siwertell, with a rated capacity of 800t/h for carrying wood pellets. It comprises a 100m-long The Belt Conveyor and a 250m-long Tubulator. The belt conveyor carries material from the facility's two pellet storage domes, before transferring it to the Tubulator system which feeds it to the dock where the pellets are loaded onto bulk carriers bound for Europe.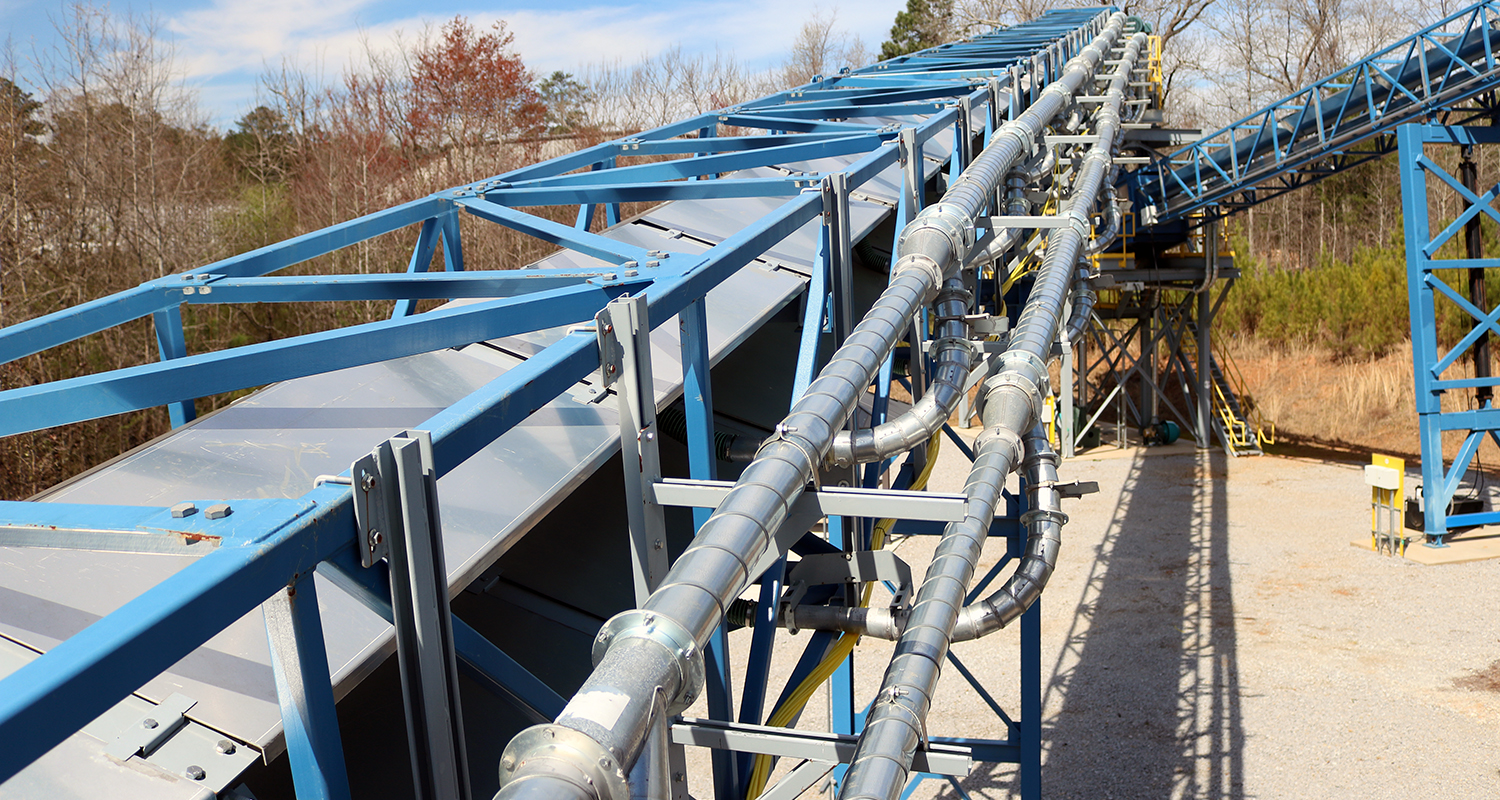 Making something valuable out of waste
Companies that have the capability of turning waste into something valuable not only profit from it, but are also more environmentally sustainable. One such company is Drax Biomass, a leading manufacturer of compressed wood pellets.
It is no stranger to Bruks Siwertell technology. Examples of installations for the company include entire woodyards, dry chip handling systems, a ship loader in Baton Rouge, and dry shaving and residual systems.
Another solution is helping to produce over half a million metric tons of biomass pellets annually at Drax's Amite BioEnergy plant located in Gloster, southwestern Mississippi, in the USA. The totally-enclosed Bruks Siwertell dry shavings receiving system ensures material flow consistency and protection from any external moisture. It comprises a truck dumper with an enclosed hopper, featuring a dust-tight pivot.