Pulp and paper
On a roll: pulp and paper industries innovate to keep pace
One of the oldest documented industries is pulp and paper; a sector that has seen significant changes over the centuries. Its ability to respond is remarkable.
The current boom in e-commerce has driven a huge increase in the need for container board, cardboard and carton board packaging, and with ever-more retail transitioning online, this trend has little chance of slowing down.
Raw materials are prized commodities, so keeping material costs low and returns high, is crucial. Bruks Siwertell understands that yields are key and has a portfolio of wood-processing technology that offers the very best solutions to this industry.
The right tools for the job
Our equipment has enabled the pulp and paper industry to meet market shifts by refining  processes, automating where feasible, boosting efficiency where possible, and making the best use of raw materials. 
We all have a stake in ensuring nothing is wasted in the production of wood products. Bruks Siwertell works closely with its customers to make sure they always have the right tool for the job, delivering the most sustainable, efficient operations possible.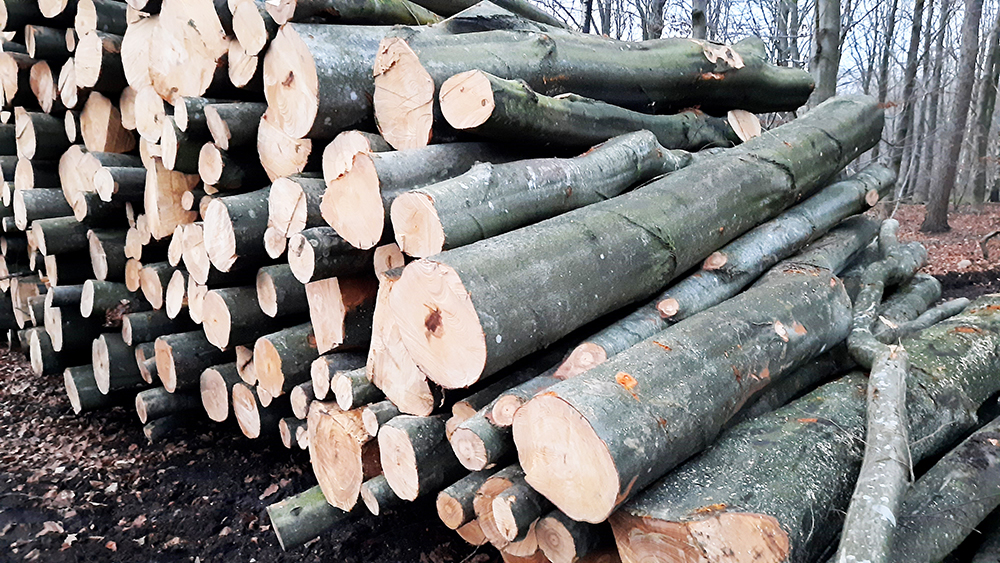 Pulpwood to product
Different trees make different kinds of paper. For printing and writing, a mixture of hardwood and softwood fiber is needed to give them flexibility and strength. Hardwood trees, such as oak and birch, are ideal for tissues, while softwood species such as fir and pine have stronger fibres and are destined for use in corrugated carboard boxes and bags.
Our wood-processing technology handles hardwood and softwood trees and can process both dry and green wood. We have served the pulp and paper industry for decades, delivering equipment that unloads, loads, receives, screens, processes, conveys, and stacks and reclaims the pulpwood material required to meet the needs of this versatile market.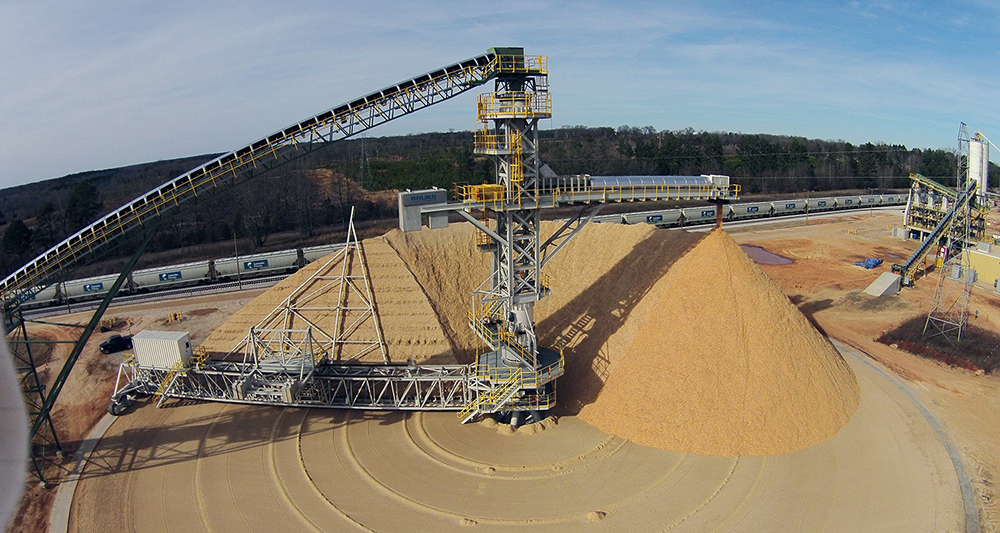 Automated woodyards reduce operating costs
To improve operating efficiencies, reduce environmental impact material degradation, many mills are switching from managing woodyards with manual equipment, such as dozers, and moving to automated systems.
We offer tailored systems that will meet the capacity demands of any mill. For example, a Bruks Siwertell fully automated woodyard can include Bruks truck dumpers, with covered receiving hoppers, circular blending bed stacker reclaimers (CBBSRs), sawdust metering towers; and complete conveyor systems, including market-changing systems like Bruks air-cushion conveying technology, The Belt Conveyor™.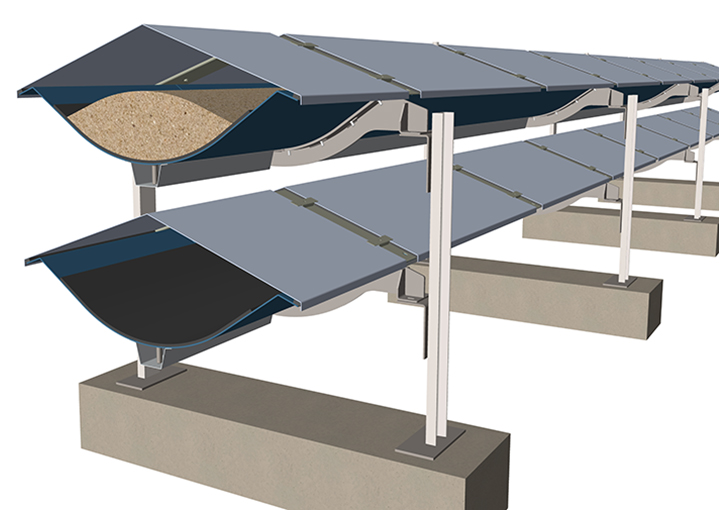 Market-changing conveyors
Bruks Siwertell  a long history of supplying all kinds of conveying systems to the pulp industry. This includes horizontal, vertical and inclining screw conveyors, as well as chain conveyors.
Bruks Siwertell's air-supported conveyor technology offers some of the most significant material transfer advantages that the industry has seen. These include extremely low maintenance and running costs along with very high levels of environmental protection.
The Tubulator™ is the perfect choice for long transport, offering a 40% increase in capacity, width-for-width, over an ordinary idler belt conveyor. With more than 700 installations since the introduction of it 30 years ago, it is a well-proven solution in all environments, from that of exotic hot climate to that with Nordic cold winters.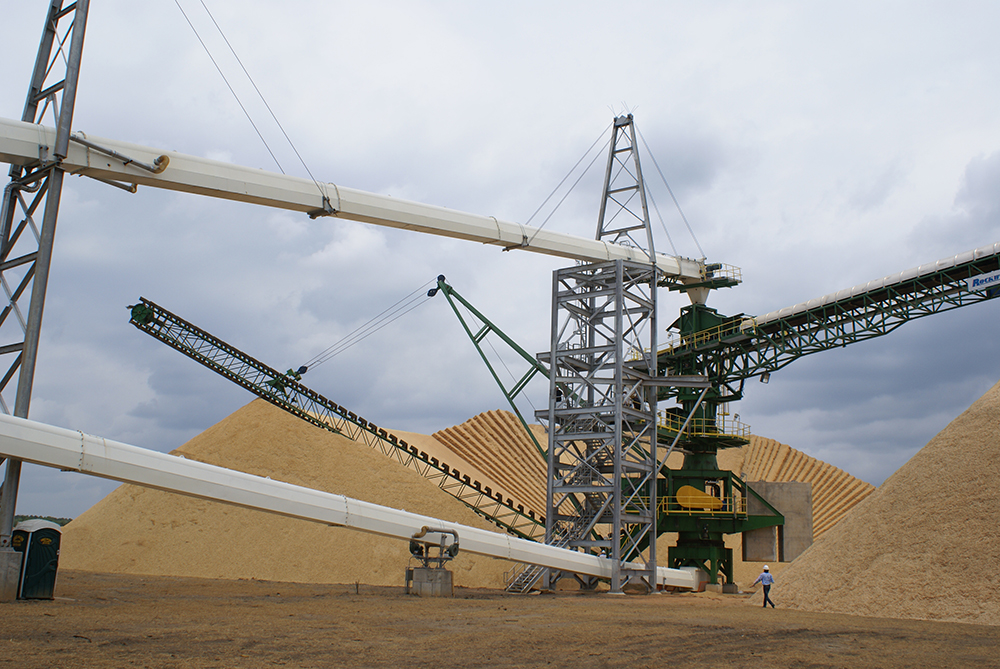 The Belt Conveyor™ innovatively combines the use of air-cushion technology with standard belt conveyors, ensuring low-friction, high-capacity conveying that offers minimal equipment wear and very low operating costs.
Both systems use air cushions and eliminate the use of idlers, or rollers, to support the belt over the conveying distance.
Chipping away: efficiency advances
The chipper or chipping mill plays a critical part in pulp and paper production. Bruks Siwertell is at the forefront, supplying facilities worldwide with quality wood chips from our range of heavy-duty Bruks disc and drum wood chippers.
The size and variety of the wood to be processed are usually the deciding factors for which technology to select, but some facilities require much greater control over chip size, while others need very low running costs. For the pulp and paper industry, the disc chipper often takes center-stage.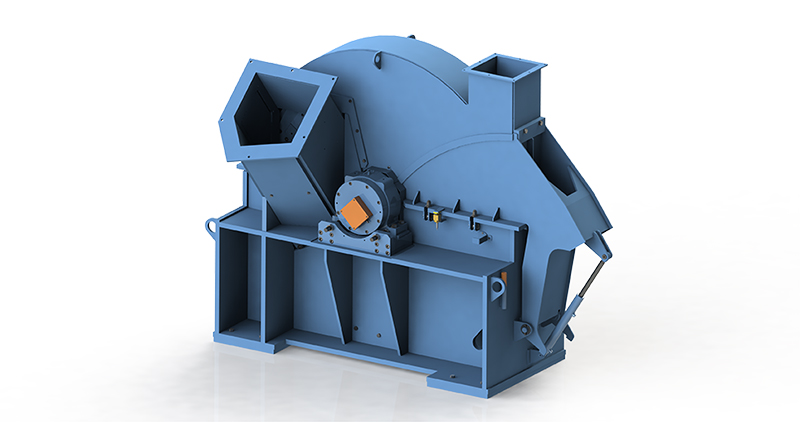 Bruks disc chippers carefully slice the wood in such a way as not to damage the delicate wood-fibres needed for the production of pulp. They also cut at the optimum angle for ensuring that each individual chip is uniform size, between 20 and 50mm.
For higher capacities and shorter logs, the drop-fed Bruks drum chipper can handle up to 1,000m³ per hour. Our drum chippers can process the most difficult-to-handle wood and produce a quality end product. To reduce oversized chips after a screening process, drum chippers can be used as re-chippers, the Bruks Klöckner re-chipper.
The wood chips from our machines can be used for high-quality applications in pulp mills as well as by the veneer industry, particle board producers and as microchips for direct drying in pellet mills.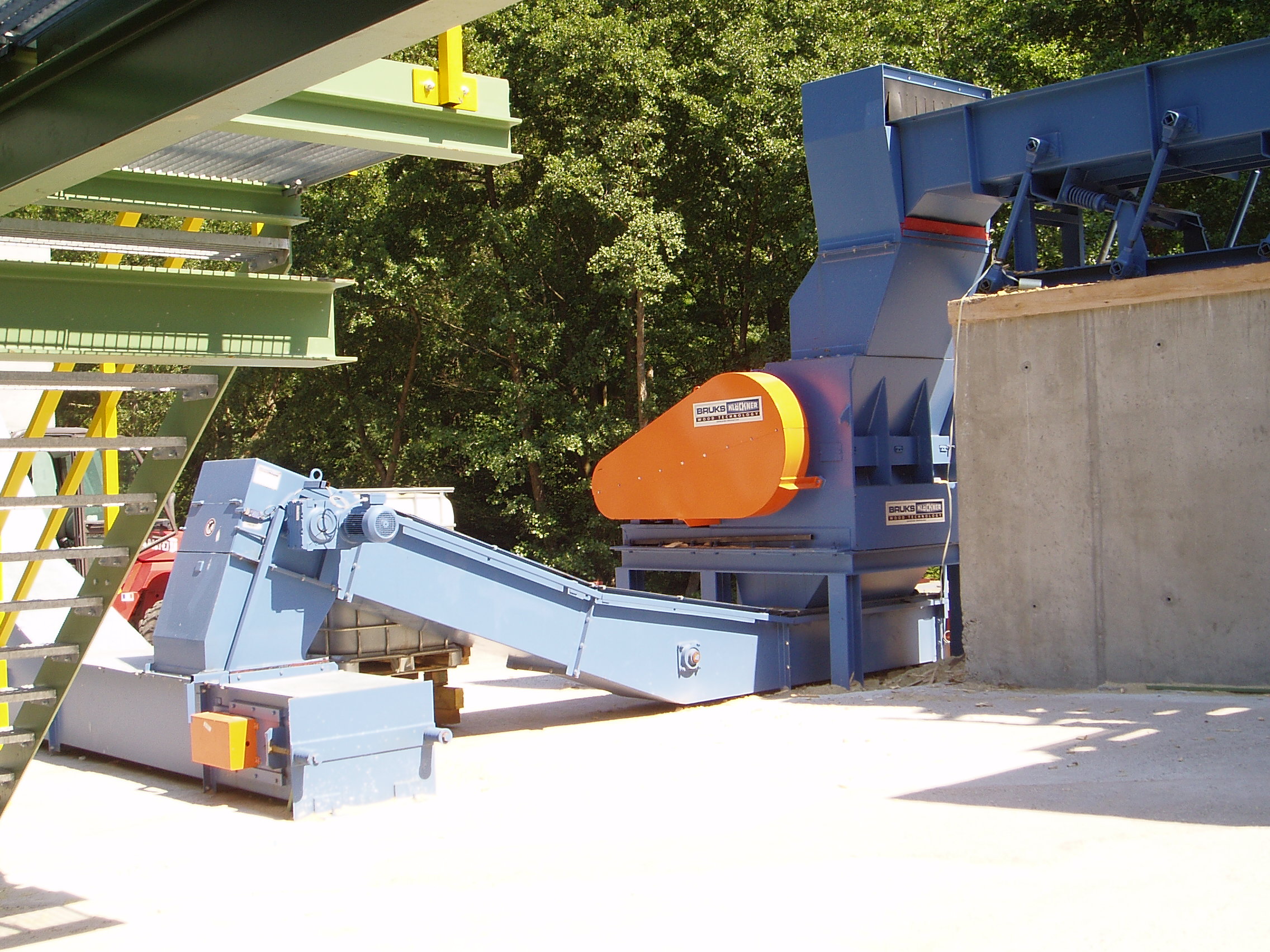 Disc chipper enhances meet modern needs
Bruks Siwertell has undertaken a comprehensive disc chipper enhancement program to meet changing market demands.
Features include an extended setting range for chip length and thickness. The high quality of wood chips is achieved through a scissor cut of knife-and-counter-knife across the fiber, with the cutting angle defined by the disc chipper's geometry. Integrated chipping discs are included with diameters of 1.5, 2.0, 2.5 and 3.0m. 
Nothing going to waste
Every business wants to reduce waste; but the forestry business is one where almost no waste need truly be wasted. The Bruks range of screening and waste wood residue processing machinery works together to ensure that the best use is made of the available materials.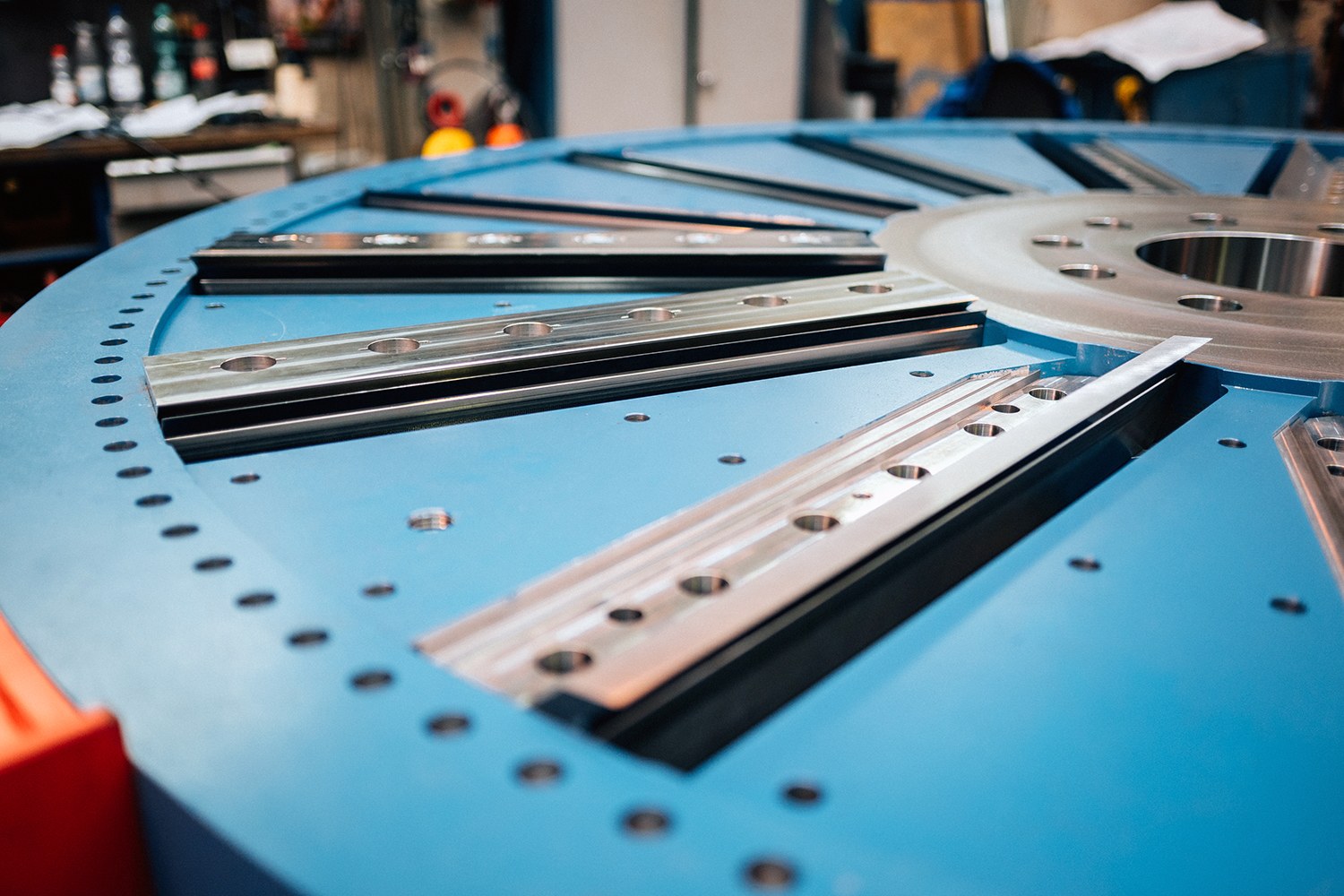 Our disc-scalping screens are the ones most likely to be used for first-line screening at a pulp and paper mill. Their modular design makes it possible to optimize them for specific tasks and chip sizes. 
Mills can choose from a number of screening devices, including our vibratory screens, which can operate virtually maintenance-free for decades at a time. Rejects can be taken to a Bruks Rotom hammer hog, which can be used to process any forestry waste and turn them into a valuable product.
Integrated, turn-key solutions
Some facilities require stand-alone equipment, such as a disc or drum chipper, hammer mills or hammer hogs, or others look for an integrated approach. This delivers a very high degree of operational efficiency and performance. 
In the US, an integrated system of Bruks equipment secures a hog-fuel supply line for Georgia-Pacific's Naheola pulp and paper mill, ensuring the facility's future sustainability and capacity increases.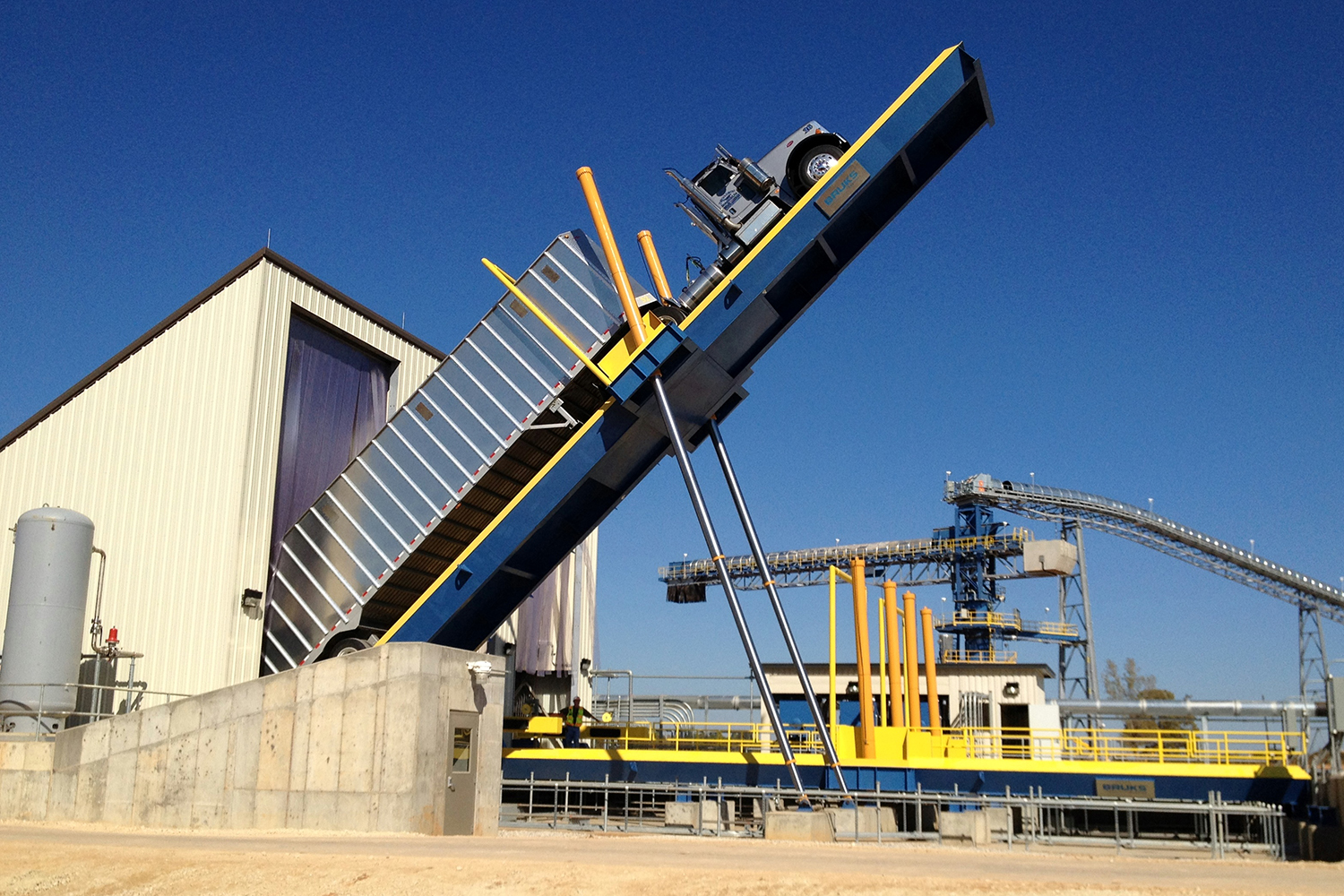 Bruks Siwertell's delivery includes two drive-over truck dumpers with receiving hoppers, six partially-covered belt conveyors, a hog and screen tower, a vertically-fed Bruks Rotom hammer hog with disc scalping screen, a three-meter circular overpile stacker reclaimer (COSR), and an emergency reclaim hopper.
Vast volumes managed with ease
Our stacker reclaimer systems are seen presiding over huge piles of wood chips at many forestry and wood-processing facilities, and have been delivering critical levels of material handling automation to the pulp and paper industry for decades.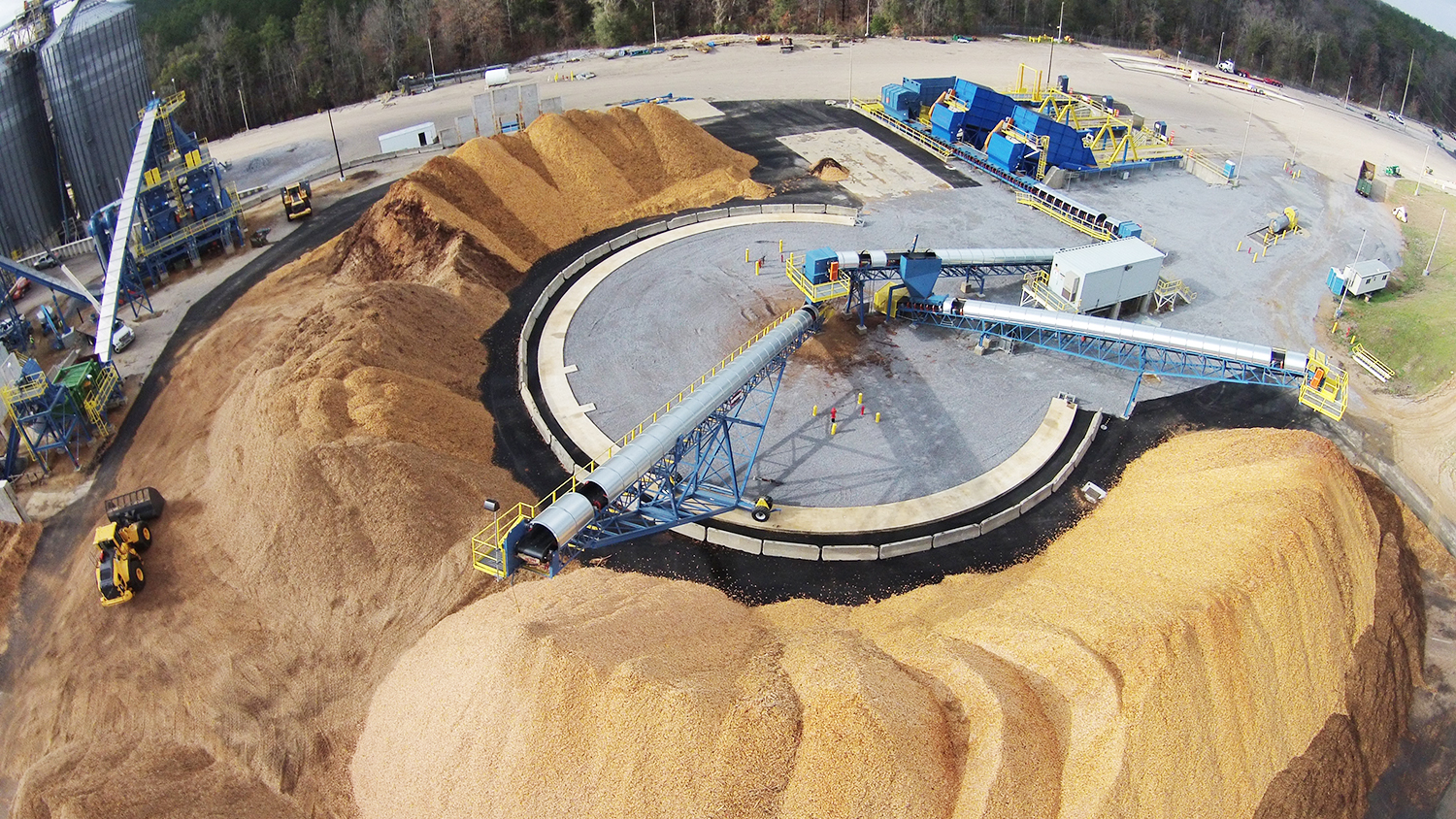 Our fully automated range of Bruks stacker reclaimers help operators to get the best out of their yard space, operating round the clock arranging wood chips into piles. For example, CBBSRs, piles are built continuously in a 360-degree rotational pattern, where successive layers of material are laid down using a stacking conveyor that pivots through a complete circle as the pile grows. This automated technology enables the oldest materials to be reclaimed first, ensuring consistent quality throughout, and excellent performance at the plant.