Sawmills
Sawmills: turning round to straight
Sawmills have developed into a modern process industry with significant demands placed on capacity, efficiency and availability. They require high-quality machines and solutions that are easy to maintain and perform well under high-use conditions, minimizing production downtime. Safety and environmental protection are also key priorities. Bruks Siwertell offers products that meet all these requirements.
The primary job of a sawmill is to process softwood or hardwood timber products from a log to a board or plank, but about half of the log will end up as by-products, such as sawdust, chips and bark. We have a wide range of market-leading machinery and conveyors specifically designed for handling and processing sawmill by-products.
Sustainability at industry roots
Bruks Siwertell works in sustainable supply chains. Trees and timber from well-managed forests, repeatedly planted and felled for generations, are central to this practice, and to the environmental impact and sustainability of the industry as a whole.
The wood and timber used in the sawmill and wood-processing industry is a renewable raw material. The entire production process is based on sustainability and is designed for maximum resource efficiency and environmental protection. This includes ensuring that all by-products that arise from production are used.
Carbon capture in construction
Wood is the only construction material that stores carbon, so as construction demands grow, sawmill operators have an important role to play in a cleaner world. Couple that with maximizing the use of wood-processing by-products and waste wood residues, and this positive environmental impact grows, along with the operational profitability of the plant.
Operators can also leverage automation and low-maintenance technologies to offset their costs even further. Bruks Siwertell helps sawmill operators to stay leaner, cleaner, and safer.
Perfect condition for cutting
Logs arrive at a sawmill wider at their base than at the top; the butt flare. These, with their substantial protruding root bones, can cause significant issues if not removed before the sawing process. Removing them improves general handling and, as the root bone is often contaminated with dirt and small stones, avoids downstream machinery damage.
Our solution is a Bruks butt-flare reducer, which automatically cleans away debris and ensures that the log is in an ideal condition for cutting, yielding a much higher percentage of usable wood from each log. Most importantly, they help to ensure that the positioning of the logs before the saw machine is as accurate as possible, which is also essential for achieving as high a yield as possible.
Bruks butt-flare reducers machine-down the flared butt of the log until it is uniformly conical, processing as many as 30 logs a minute.
They do not need set-up changes for different sizes, handling all logs from minimum to maximum log diameter without any adjustments, and they can accommodate tree-length and shorter-length logs. 
Innovation under the sawline
Below the sawline, by-products such as wood chips and sawdust, must be collected. This is often carried out using traditional roller belt conveyors or scraper conveyors, however Bruks Siwertell has developed a specially designed sub-floor that uses our air-supported conveyor system, the TubulatorTM, bringing an innovative edge to modern sawlines.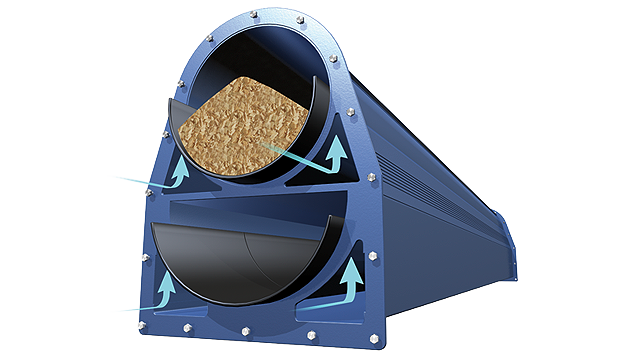 Our waste wood residue processing and handling systems efficiently collect and transfer sawline by-products, so that they can be processed, screened and stored for onward commercial use. 
Using Tubulator conveyors under the sawline offers distinct operational advantages in comparison with conventional trough conveyors. They are enclosed, which ensures a dust-free environment and have high conveying capacities, up to 1,000m3/h, in relation to their size. Significantly lower energy consumption and maintenance costs are also achieved.
Furthermore, the design of the conveyors' intermediate sections makes it easy to connect the plate chute below the sawline directly onto the Tubulator, ensuring a tight, dust-free solution.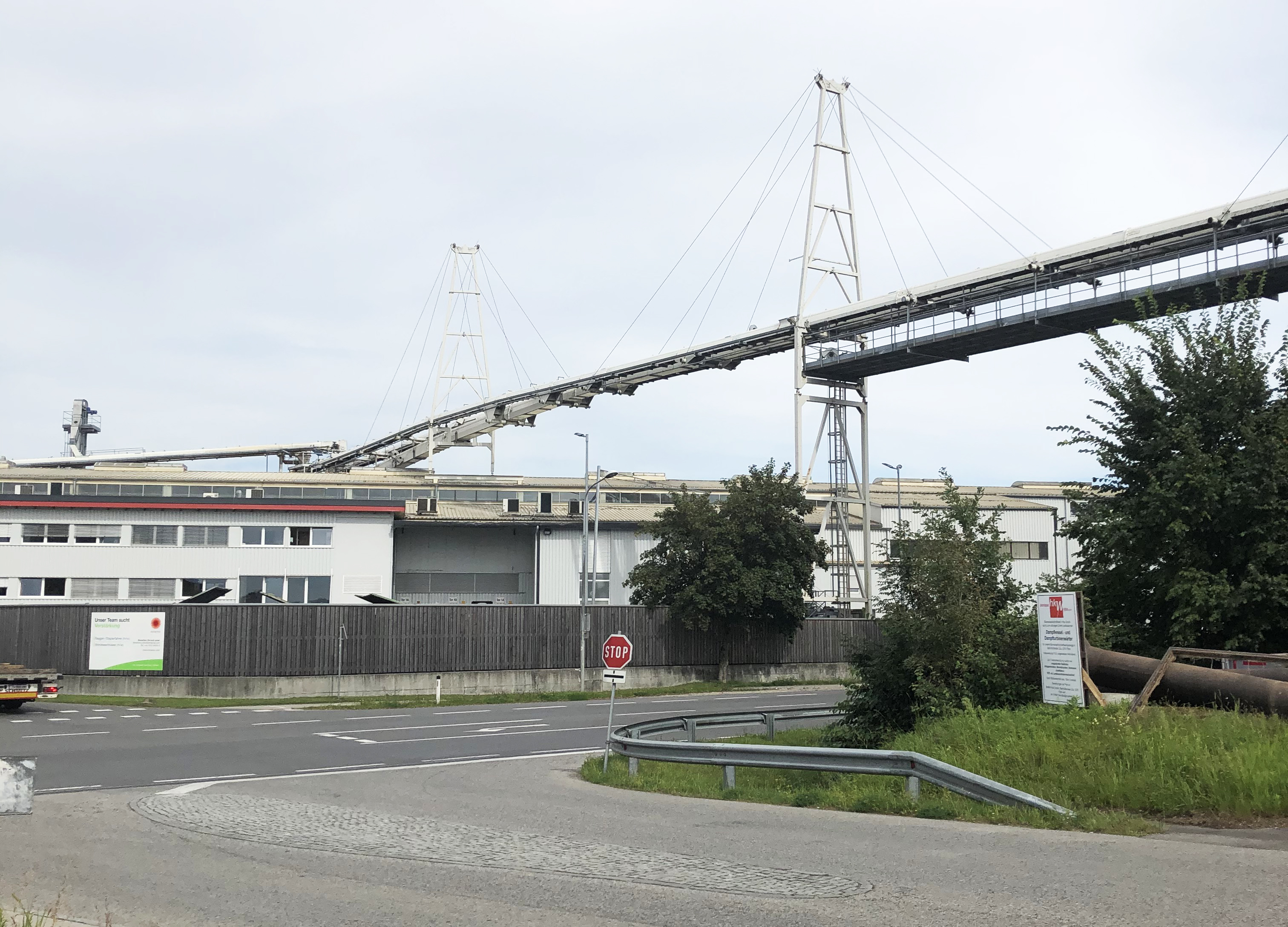 Value in every product
The production of sawed wood products, planks and boards, is the primary objective of the sawmill. However, about 50 percent of the timber volume becomes by-product, which when handled effectively, significantly boosts the profitability of many operations. Sawmills generate by-products such as wood chips, bark, waste wood residues, and sawdust. We offer a complete range of equipment capable of handling and processing these.
Bruks Siwertell understands that every part of a tree has value. After sawn timber, wood chips, destined for the pulp industry, are a core product. The onset of the biomass, bioenergy and biofuel sectors has also benefited the sawmill industry dramatically, giving them a source of by-products that can be processed, packaged and sold. Our systems serve each part of this process.
Stripping the bark
All logs are de-barked before the sawing process starts. Bark from the de-barker is then transported to, and processed by, the bark shredder. Bruks Rotom shredder is a robust, heavy-duty machine capable of processing bark as well as other sawmill residues into suitable sizes for onward use as hog fuel.
A bark screen can be installed before the bark shredder. This ensures that fines and small fractions can be screened out, which reduces the total volume processed by the shredder and produces a higher quality of fuel.
Making the most of chips
Sawmills only buy the main log of a tree; the tops, branches or very misshapen and unwanted trees, and forestry thinning waste, are not typically desirable. The off-cuts, trimmings and edgings from sawmills' green and dry sorters, are processed in a drum chipper.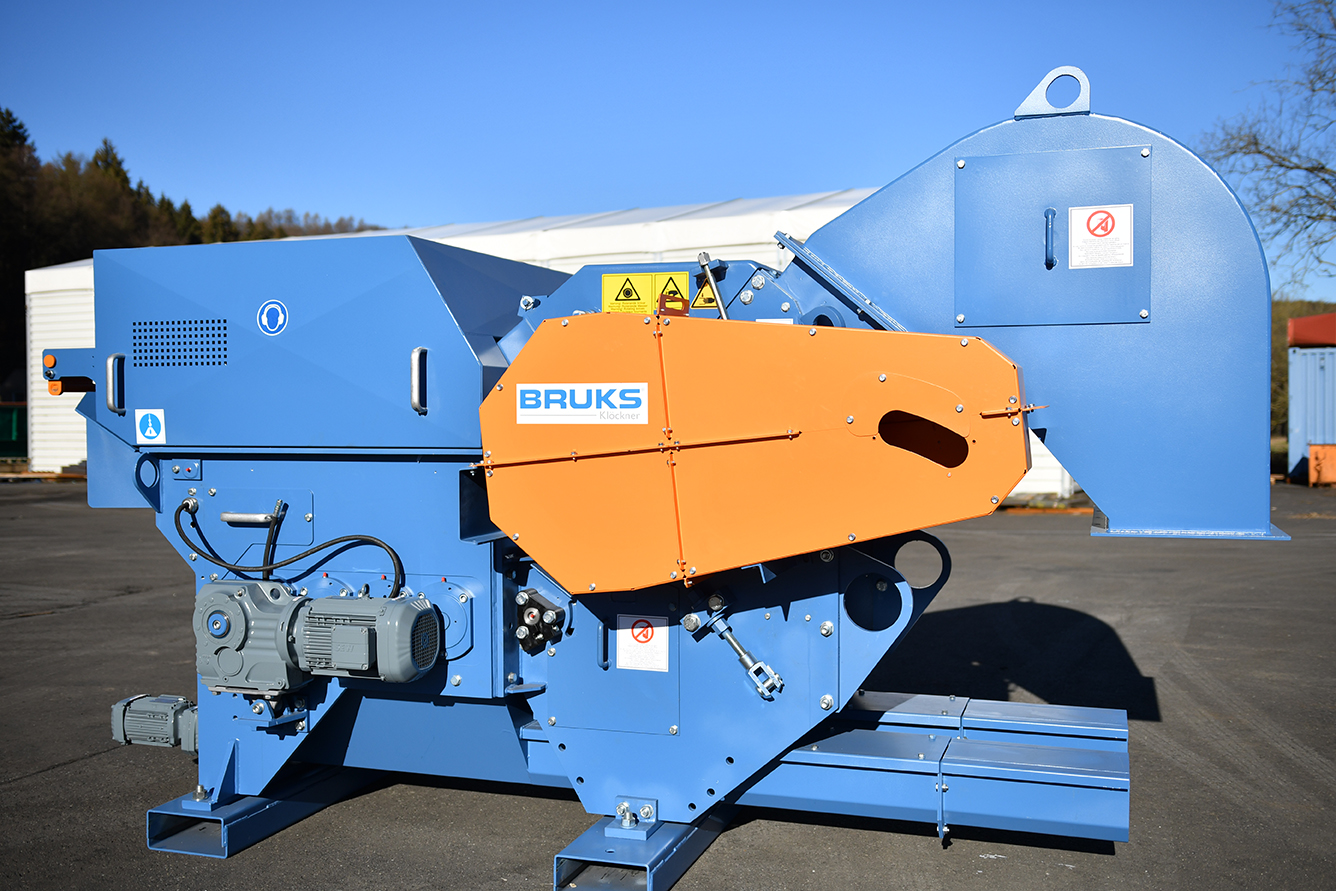 A significant portion of wood chips from sawmills are used as pulp chips, which demand a high quality. Bruks free-swinging chip screens are available in several sizes for separating up to four fractions. Exchangeable screen decks, with decreasing hole sizes, ensure efficient screening and maximize economic yields.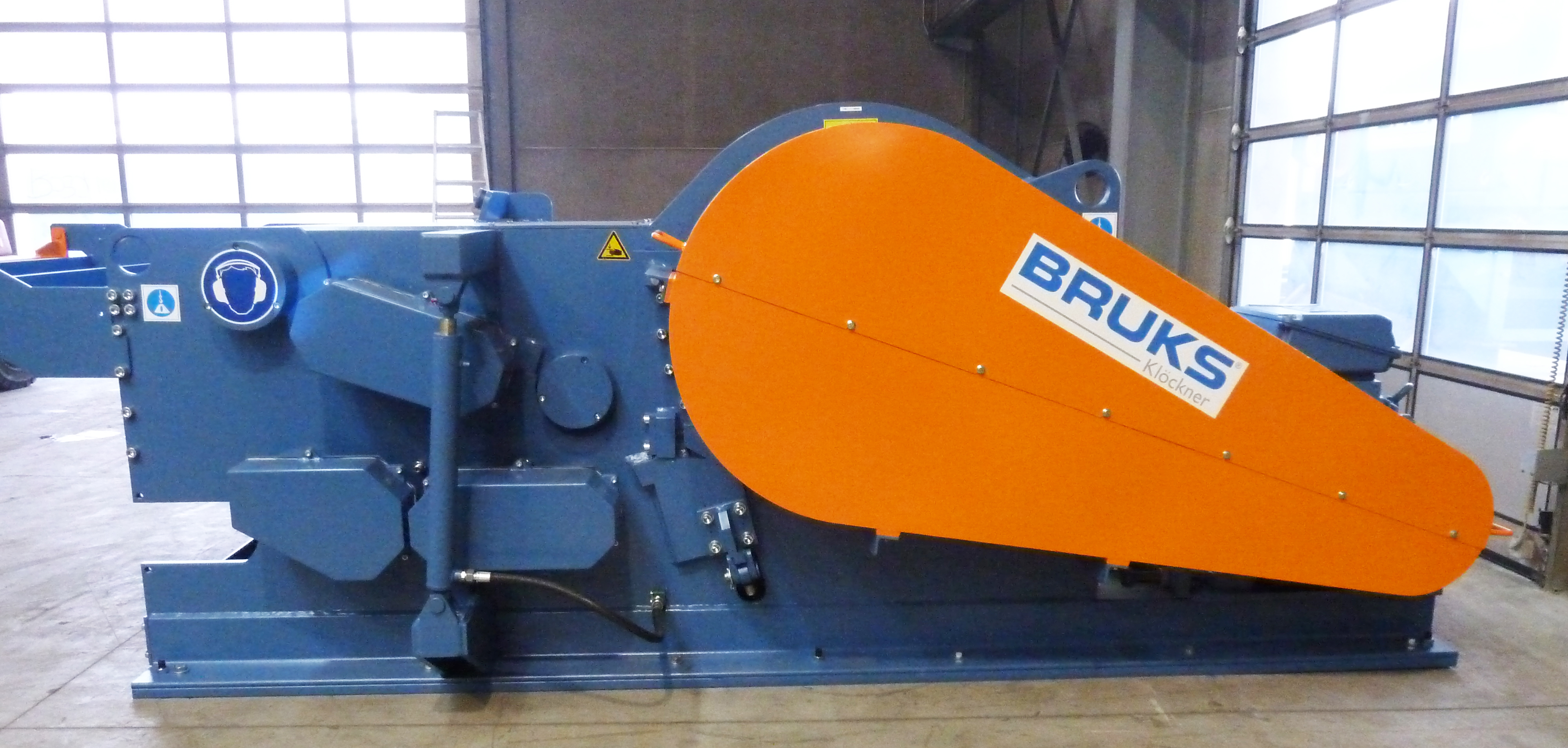 Feeding the chipper 
For the production of pulp chips, feeding the chipper is typically achieved using a vibrating conveyor. This can be equipped with a metal detector, a screening section and other functions, which are often useful for this type of chipping plant.
Bruks Siwertell offers the widest drop-fed or horizontal-fed drum chipper product range on the market, enabling us to offer extensive customized solutions to suit every need. From the smallest to very high-capacity units, our chippers offer reliable, consistent performance.
Our range of Bruks chippers also include disc versions. Wood chips from our machines can be used for high-quality applications in pulp and paper mills, as well as by particle board and panelboard producers, and as microchips for direct drying in pellet mills.
Sawdust to profit
Even the tiniest particle of wood waste can now be turned into profit, not only reducing particulate and dust emissions in the atmosphere, but also maximizing the operational yields of sawmills.
Sawdust is mainly used for biomass pellet production, and is collected directly below the sawline when possible, or screened out in the chip screen. Sawdust screening can be offered separately.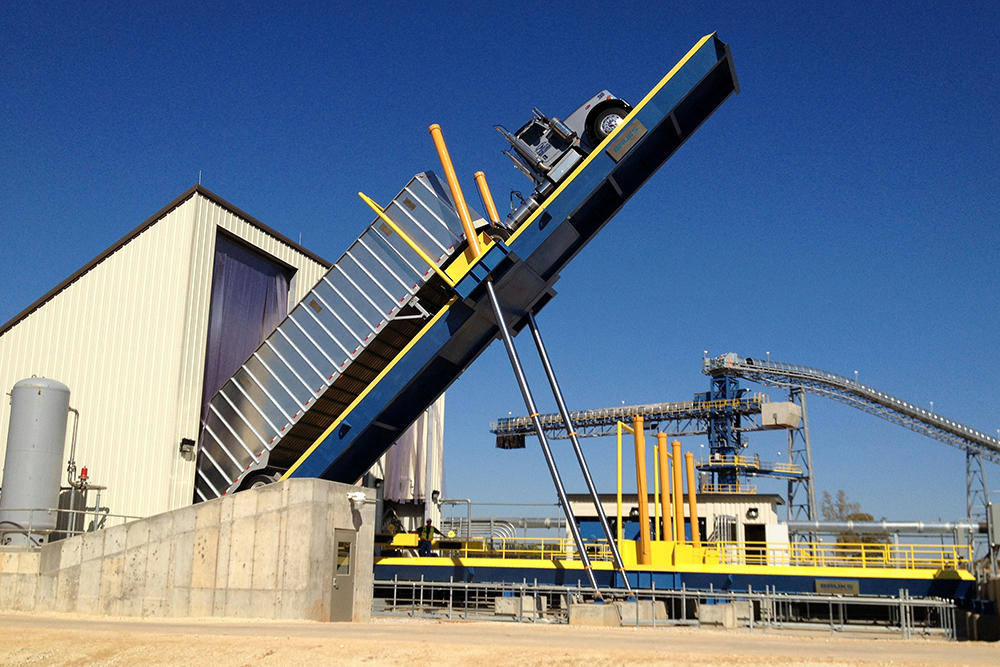 Specialist dust collecting systems ensure that sawdust can be preserved for onward use. Depending on the volumes created, it can be bagged, but is often conveyed to biomass pellet processing facilities via bulk trucks.
Our range of Bruks truck unloading systems deliver an extremely efficient method for truck unloading. Drive-over and back-on versions come with optional covered hoppers, dust collectors and a baghouse, ensuring nothing is wasted and the environment is protected.
Long service: a guarantee
Robustness and low maintenance requirements are key considerations for wood-processing equipment. Their heavy-duty workload means that all our machines have been designed for easy maintenance and maximum tool life.
Our service teams are committed to ensuring that operators get the longest, most profitable use out of our equipment.