Biofuels
Biofuel advances from the field to the refinery
All organic matter holds stored energy from the sun, even household waste and shredded tires. As we look to find renewable, sustainable sources of power to meet a global rise in demand, the production of biofuels comes into focus. Minimizing waste and maximizing process efficiency is essential.
From the field to the refinery, our wood-processing and dry bulk handling solutions are found throughout the biofuel industry. They are able to efficiently handle and process the huge range of materials that come under the biomass umbrella from wood products to agricultural waste.
Cellulose material is a mainstay for biofuel production and is essentially fiber, found in plantbased biomass material from grasses to trees. Crops are also grown specifically to generate biofuels including corn, soybeans, sugar cane, rapeseed or canola. Our grain handling Siwertell ship unloaders and loaders offer some of the market's highest capacities.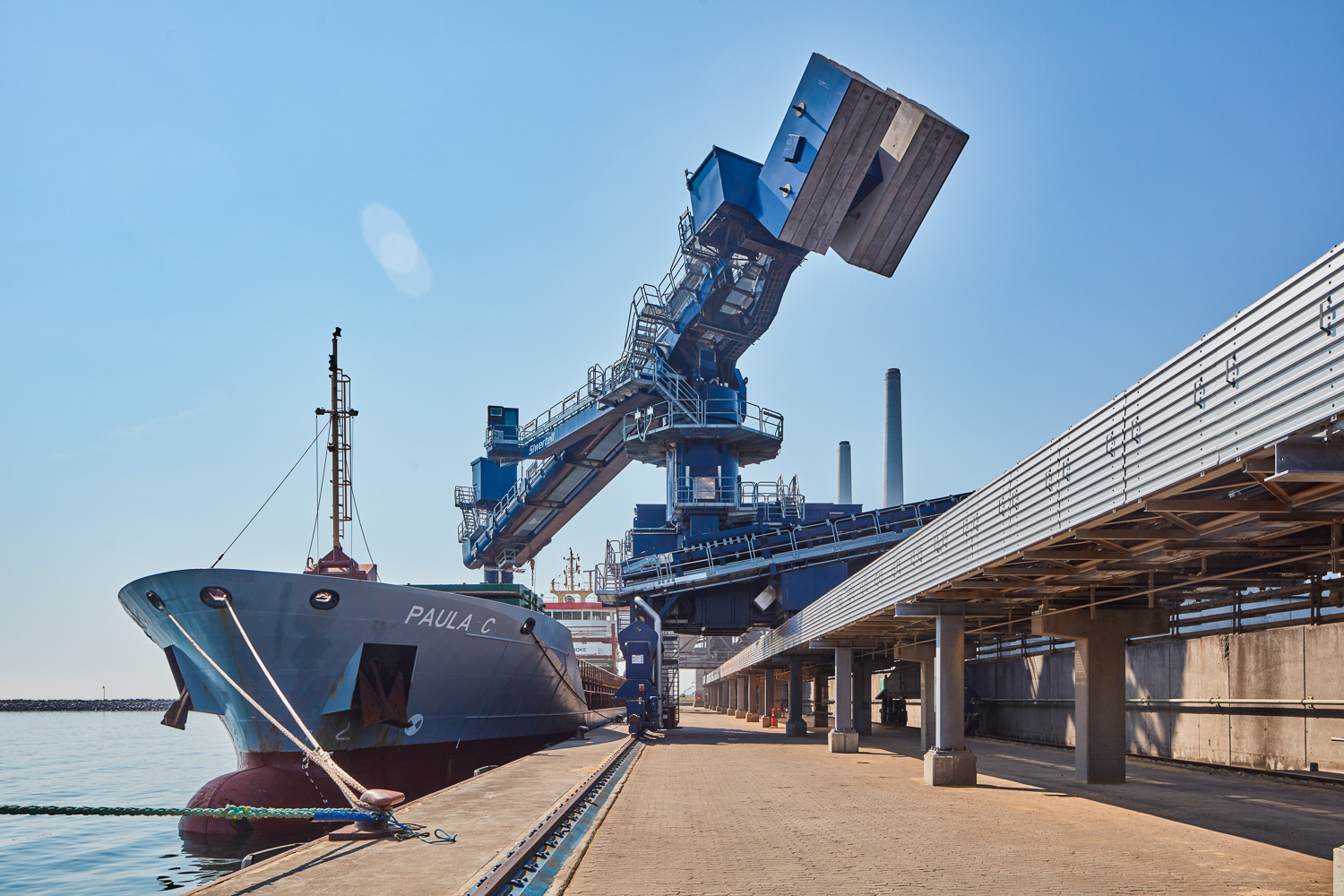 Handling potential energy
All dry bulk biomass products used in the production of biofuels share two main factors: they are required in much larger volumes to generate the equivalent energy produced from fossil fuels; and they have to be more highly processed to release their energy. As a result, biofuel processing and handling equipment must be able to meet the demand for very high capacities and efficiencies. It must also mitigate any safety risks from managing dry bulk biomass materials that naturally hold a lot of energy and can potentially self-combust.
Our equipment is designed to meet these needs with ease, and Siwertell screw-type unloaders are the only high-capacity, enclosed, continuous ship unloaders capable of handling biomass safely.
A biofuel handling portfolio
Bruks Siwertell is able to help biofuel producers and biorefineries at every point in their supply chains. Biomass products are traded on international and national markets and often transported by barge or larger bulk carriers.
In the port, our Siwertell ship unloaders can continuously discharge grain and soybean biofuels at rated capacities of up to 1,800t/h and our lightweight loaders offer capacities of up to 2,000t/h.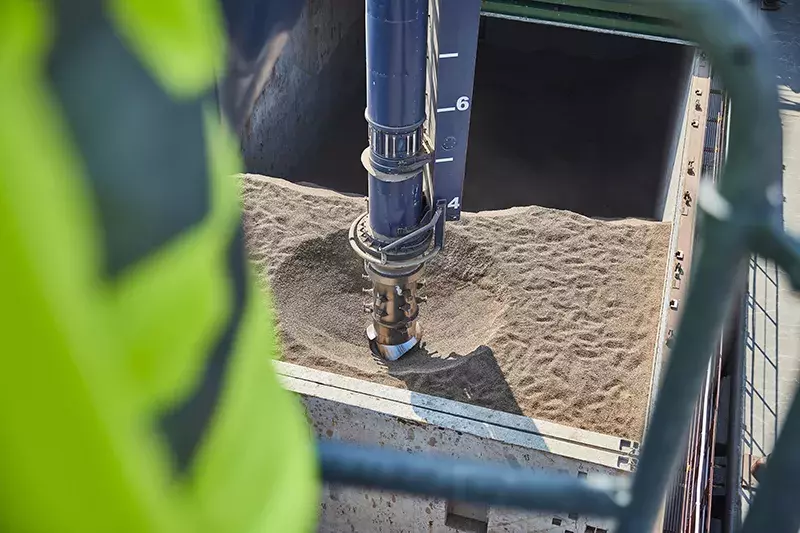 Our wood-processing equipment, truck dump systems, receiving hoppers, woodyards, storage, and stacking and reclaiming systems further add to our comprehensive range of equipment designed for the biofuel industry.
Difficult waste wood
End-of-life timber and waste wood residues that no other industry can use are now frequently used in biofuel production and biorefineries. For some, this wood waste can be a challenge to handle, but our equipment is designed for the task.
Our enclosed disc-scalping screens are often the first-line screen for sorting branches and/or oversized or stringy pieces of different wood-based materials such as chips, sawdust, sawmill waste wood and bark. These have decades of proven, reliable operation and are renowned for their durability, safe operation and low maintenance costs.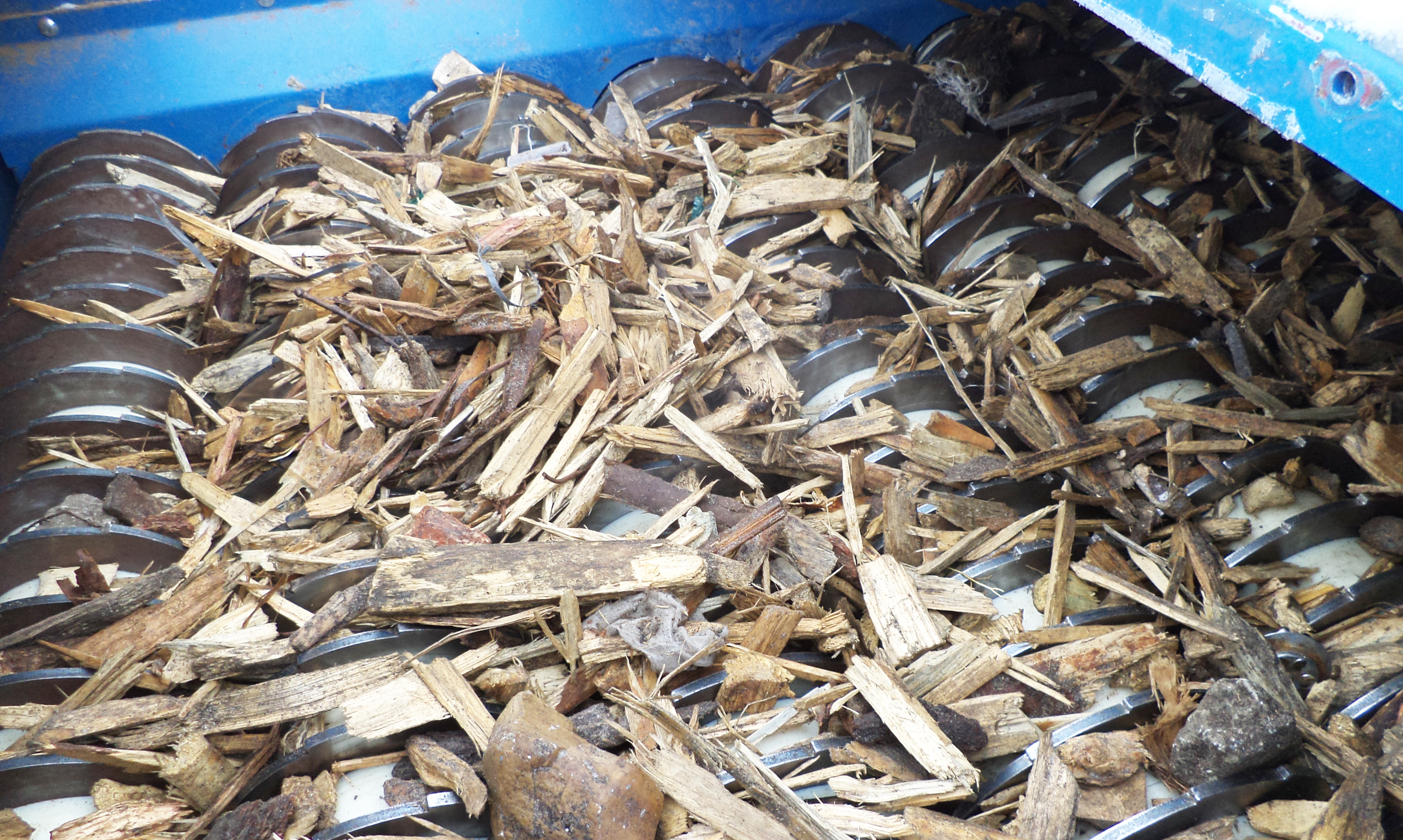 Sorting out sizes
Our screening systems ensures that operators get the size and quality end products that they need and all unwanted pieces are removed or can be processed further, making onward biofuel processing more efficient. Disc scalping screens are complemented by gyratory freeswinging screens, medium thickness screening, and vibratory screens.
Vibrating conveyors are often specified as part of complex processing facilities and are easily customized to meet different needs. They are frequently paired with Bruks screening systems, and in some cases, they eliminate the need for separate screening units entirely.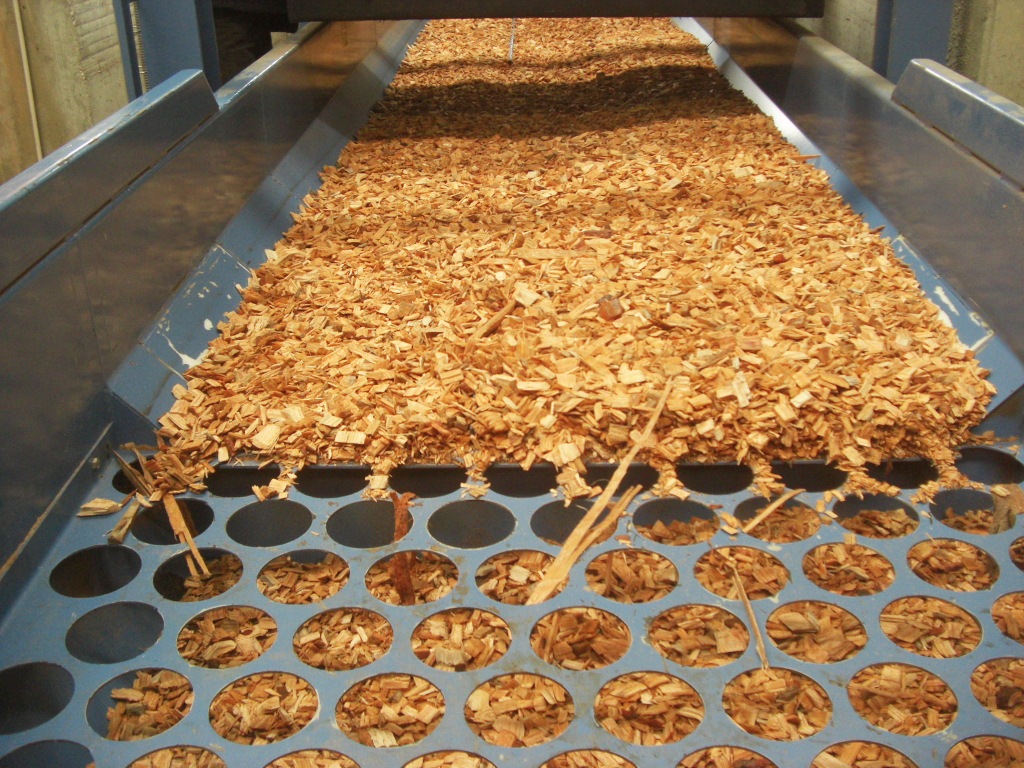 Critical conveying systems
Conveying systems play a critical role in biofuel production, feeding raw materials to processing equipment and power-generation facilities. Tailored conveyors are integral to an efficient operation.
We deliver a comprehensive range of conveyors including high-capacity belt systems and specialist air-supported, low-friction conveyors that are capable of transferring many forms of biomass material at very high rates and efficiencies. They also eliminate the use of rollers, which minimizes maintenance and operating costs. Our innovative air-supported conveyor range includes the Tubulator™ and The Belt Conveyor™.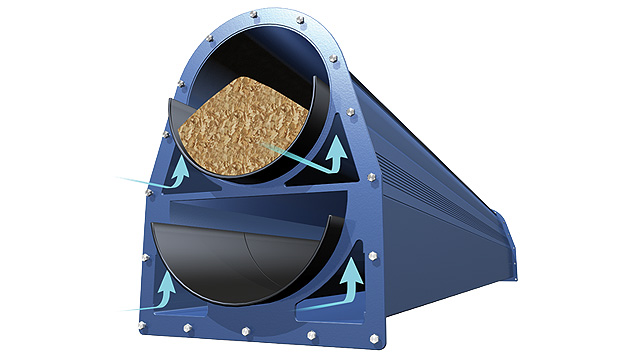 Heavy-duty machinery integral to energy release
Biofuel production is often reliant on heavy-duty processing machinery that is able to break down the cellulose fiber ready for onward processing or fermentation. We have a range of milling and grinding machinery, including Bruks hammer mills, which efficiently processes wood products, enabling producers to gain the highest yields from their raw materials. Hammer mills can be installed as individual units or as a system solution.
In the grinding chamber of the Bruks hammer mill, waste wood is struck by ganged hammers that rotate at high speeds. It is crushed or shattered between the hammers, screens and grinding bars. The perforated metal screens, which surround the mill's grinding chamber, retain coarse material for further processing, while allowing the required-sized materials to pass through.
Bruks hammer mills use extremely robust, low wear beaters and milling segments, and because of their alternating counter-clockwise and clockwise rotation it is not necessary to turn them to ensure an even wear pattern, which further adds to a reduced maintenance profile.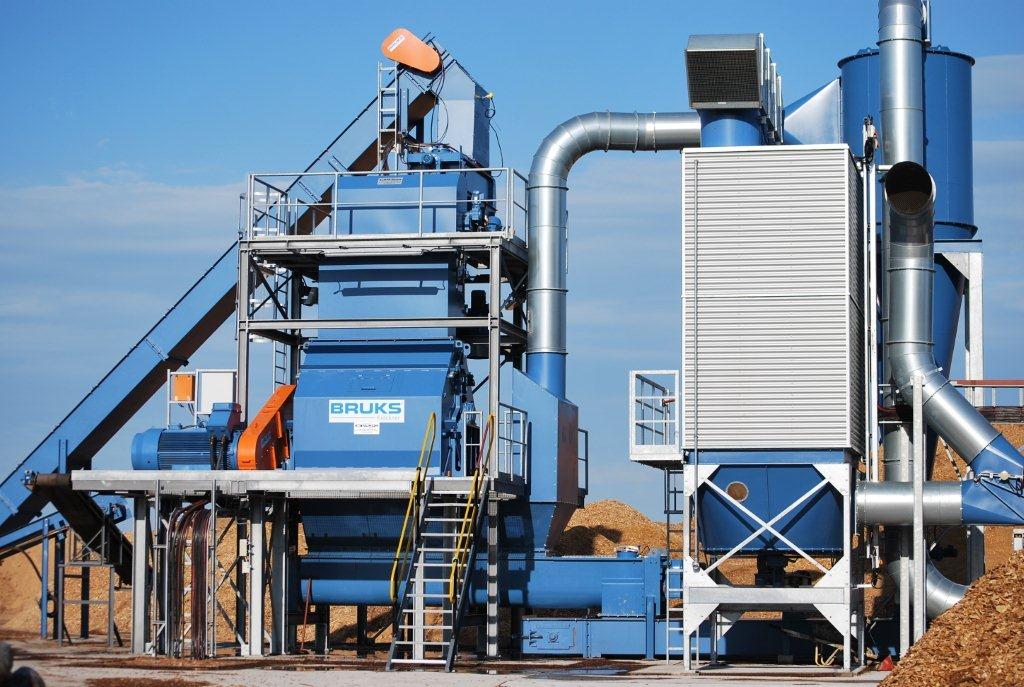 Recycling waste wood
Waste residue processing machinery is also a key element for biofuel producers and has been designed specifically to meet the challenges of handling waste biomass products. Our Bruks Klöckner Rotom hammer hogs feature a two-step size-reduction process. A unique, powerful combination of swinging and fixed hammers makes them ideal for shredding bark, recycling waste wood and other waste timber products.
WOOD RESIDUE PROCESSING SOLUTIONS
Cutting-edge biofuel plants depend on proven wood-processing technology
As the global demand for renewable energy intensifies, biofuel plants are being developed and promise the potential of consigning fossil fuels to the past.
Part of this increasing commercialization is the growing importance of proven, reliable woodprocessing technology.
Bruks Siwertell references include a delivery to the Norwegian Silva Green Fuel plant. The forest feedstock preparation and storage equipment features a screw-type receiving hopper, raw material screening system with vibrating conveyor, a Bruks hammer mill, storage system, and conveyors to efficiently link all processing sections.