About Bruks Siwertell Group
Bruks Siwertell Group has its headquarter in Stockholm, Sweden. The Group consist of a number of companies: Bruks Siwertell AB (Bjuv, Sweden), Bruks AB (Arbrå, Sweden), Bruks Siwertell Inc. (Atlanta, US), Bruks Klöckner GmbH (Hirtscheid, Germany), FTG Cranes AB (Bäckefors, Sweden), UAB FTG Baltic (Vilnius, Lithuania), and West Salem Machinery (US). In addition there are several global representative offices.  All companies are world-leading suppliers of bulk materials handling, wood processing and forestry solutions.
Bruks Siwertell Group is owned by JCE Invest AB (52%) and Cargotec (48%).
Our product brands
Bruks Siwertell Group consists of a collection of strong and market-leading product brands within the bulk handling, wood processing and forestry industries.
The new product brands, which were added through our acquisition of them in June 2023, are West Salem Machinery and Gerlinger Carrier. More information about the products available under these brands, will be added to our website shortly. Until then, please visit westsalem.com and gerlingercarrier.com for more information.
Information on our FTG brands are available on ftgforest.com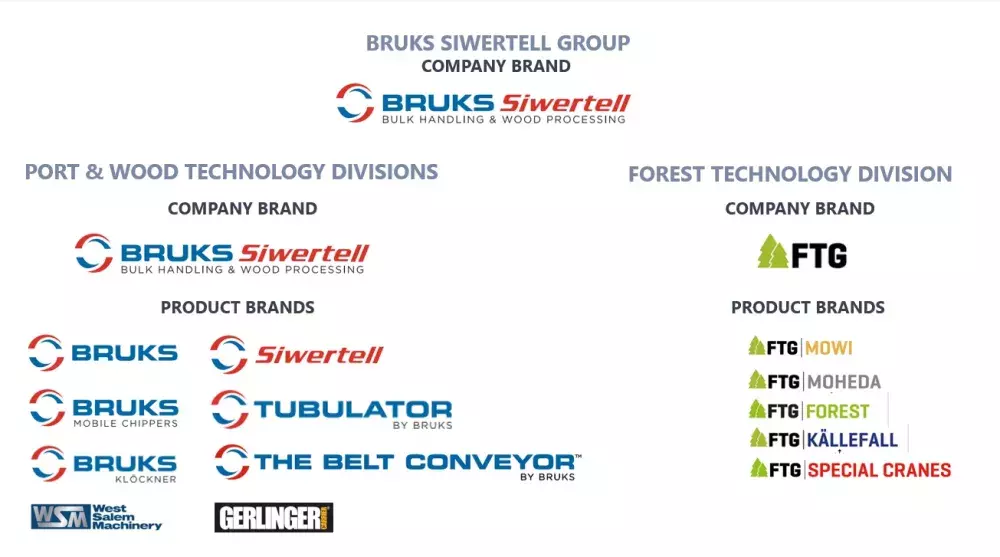 Bulk handling solutions
Bruks Siwertell is a full-line supplier of bulk handling solutions. This includes the Siwertell ship unloader, based on unique screw technology with the original design and invention, ship loaders, idler conveyors, aeroslide conveyors, air-cushion conveyors such as Bruks Tubulator and The Belt Conveyor, storage & reclaiming solutions, as well as truck dumpers. The products combined with decades of experience to build harbor or inland terminals and systems make Bruks Siwertell your ideal partner for loading, unloading, transporting, or storing of dry bulk materials.
See our port technology equipment
Wood processing solutions
To size reduce, process or screen wood material has been a corner stone of our business for more than 100 years. We use our experience and knowledge in order to provide customized solutions and products that cater your needs, independent if you are looking for a chipper, hog, hammer mill or screening solution. 
See our wood processing equipment
Forestry technology solutions
Reliable and efficient equipment is key when you are alone in the forest or on the road far from the closest workshop. Bruks Siwertell's focus is to providing equipment for the forestry industry that operates with the highest reliability and efficiency over time. Our products include trailes, cranes, soil scrapers, road graders and harvester heads. We always want you to have a good day in the forest.