Dry bulk materials: vital to world trade
The safe, efficient transportation and handling of dry bulk materials underpins most aspects of modern global trade including power generation, industrial processes, construction and manufacturing, and food production.
We handle virtually any dry bulk material and have the industry's most comprehensive range of material handling and wood-processing equipment; from standalone units through to complete systems, all of which secure the success of vital industry applications and the bulk commodities market as a whole.
Feeding power-generation fuel lines
The demands of the global energy market are constantly growing. Our ship unloaders, loaders and conveyors serve essential facilities ranging from large-scale coal power-generating plants through to the rapidly growing biomass and bioenergy sectors.
From wood in to power or pellets out, Bruks Siwertell stacking and reclaiming, truck unloading, chipping, milling, screening and wood-residue processing systems can be found at every point of the bioenergy logistics chain.
Advantages of specialist systems
The economic, efficiency and environmental arguments for our ship unloading systems have become ever more persuasive. Operators look to our technology to cut their cargo losses by eliminating spillage and preserve the quality of their shipments, especially delicate materials such as grains and alumina, through gentle, high-capacity material handling. Our totally-enclosed unloaders also protect the environment from dust emissions.
Siwertell ship unloaders offer the safe containment of fire-risk materials like biomass and even more volatile, explosive commodities such as sulfur. They can also seamlessly switch between dry bulk materials with very different properties.
Our ship loaders efficiently deliver extremely high-capacity operations for the transfer of dense, abrasive materials such as iron ore, coal and aggregates, right through to powdery cargoes. Tailored conveying systems, of every type, further enhance operational performance.
Our solutions for entire terminals can be specifically designed to maximize the efficiency of handling one or multiple commodities and can smoothly integrate numerous unloading, loading, conveying and storage systems.
Game-changing
unloading

capabilities for every operation

Bruks Siwertell started a revolution in dry bulk material handling with the introduction of Siwertell screw-type unloaders and conveyors over forty years ago.

Their efficiency, reliability, and environment-friendly operations appealed to operators. The same is true of the unrivalled flexibility that allows them to handle multiple cargoes with little or no adjustment.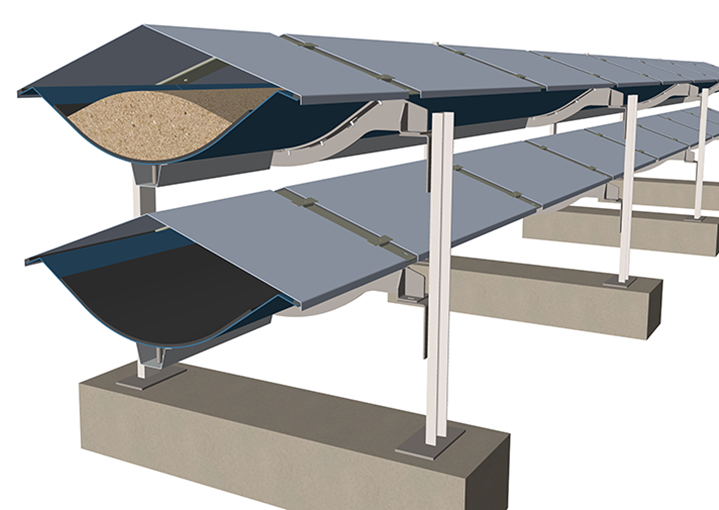 Dual-commodity bulk material unloaders
Some industries and applications often have bulk handling requirements for two specific commodities. The cement industry often needs to handle fly ash as well as cement, while power-generation is making the transition to burning both coal and biomass at the same sites. In both cases, Siwertell screw-type unloaders provide the best bulk material unloading systems for operators wanting to minimize investment costs while achieving the most effective performance. They are more efficient and much cleaner than grab cranes and bucket systems. Siwertell manufactures the only enclosed unloaders that can be safely used for handling biomass.
learn more about dual-handling ship unloaders
Multi-cargo bulk operations
Less specialized ports can also benefit from the efficiency, performance and environmental benefits that Bruks Siwertell offers. Our screw-type unloaders can handle a very wide range of bulk materials. Cleaning is very straightforward when required between commodities or between different grades of the same commodity.
Multiple benefits of flexibility
The obvious economic benefit of one unloader for multiple cargoes is that you only have to invest in a single system. When it is a Siwertell system, the benefits are more widespread. Siwertell machines are lighter than their equivalent competitors and they have smaller physical footprints. Therefore, terminal space is used more effectively and money is saved on jetty construction or reinforcement costs.
Ship loaders that meet ordinary to extraordinary needs
Bruks Siwertell's market-leading ship loaders are based on screw, aeroslide or belt conveying technologies and are delivered as stand-alone equipment or as part of terminal systems. Ship loaders are supplied as stationary or rail-traveling units with telescoping and slewing configurations. For even greater access to all parts of the hold, slewing screw-type loaders can be supplied with a scissor-arm arrangement. Bruks Siwertell can deliver systems with loading capacities as high as 12,000t/h.