Knife ring flaker
High-value processes call for first-class flakes.
Our high-performance knife ring flakers are an essential component in the production of top-quality particle boards as well as in homogeneous or fine layer chipboards. End products of our knife flaker units are also perfectly suited to pellet production. 
They can optimally process wet and dry raw materials and are part of a three-application Bruks Klöckner combi-machine. With the quick exchange of tools, this versatile system offers the wood-processing industry a cost-effective unit, which can also be used as a beating flaker and a refining mill.
The bearing arrangement of our knife ring flaker guarantees an accurate and vibration-free operation, which results in our characteristic high-quality flat flakes with thickness from 0.3mm.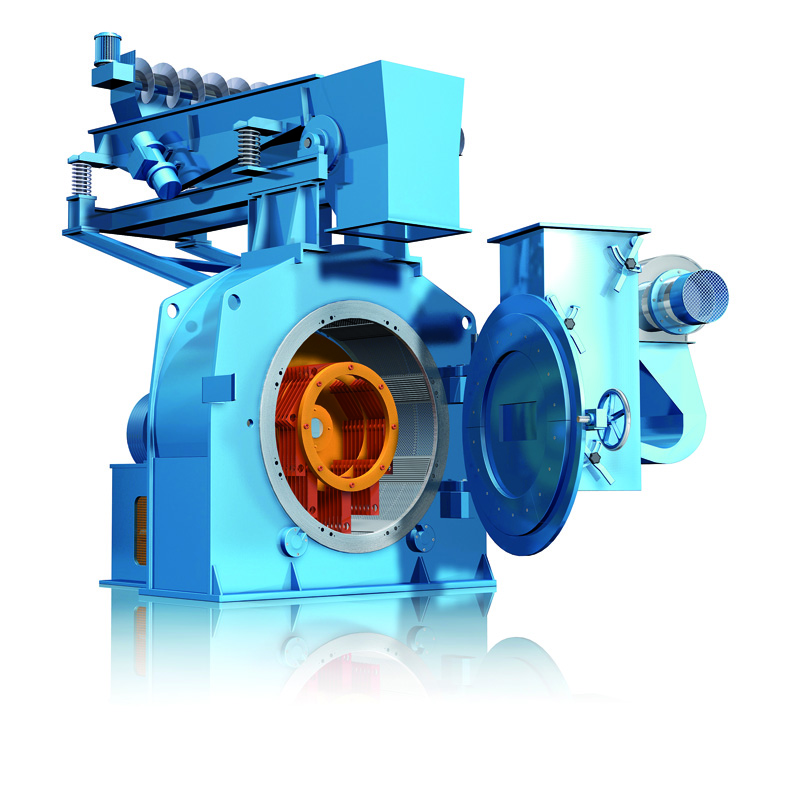 Extended wear rates
With our Klöckner flaking systems, wear parts can be easily reversed and have multiple uses making them very cost-effective. Most wear parts such as screens and milling components, as well as beating arms, liners and edges, can be used from both sides; more than doubling tool life.
Well-controlled air quality also has a positive impact on wear parts. Our units use a patented air flow system for precision air quality control, enabling optimal material distribution in the reduction chamber. This guarantees the best quality end product and prolongs the service life of tools and wear parts. Without this system in place, material can clog and build-up in the machine.
Furthermore, impurities in the wood material can substantially reduce the useful life of wear parts. Our heavy-particle separator removes mineral and metal particles from the load and an additional magnet drum, positioned before the magnet plates in the in-feed chute, ensures the optimum removal of any magnetic parts.
Minimized downtime
When knife ring changes are required, they can be rapidly carried out as a result of the electro-hydraulic braking system, which minimizes the stopping time of the rotor. A complete knife ring change only takes a few minutes as it is electro-hydraulically extracted and retracted. We recommend the use of two knife rings to minimize any machine downtime. 
Efficient operating profile 
Our flake preparation machines have an efficient operating profile, offering extremely low energy consumption demands. This is delivered by a fixed outer ring and rotating turbo impeller that works in combination with the patented air flow system. It is also possible to adjust the distribution of wood chips to avoid irregular wear and reduce maintenance costs.
Share: