Receiving hopper for selfunloading trucks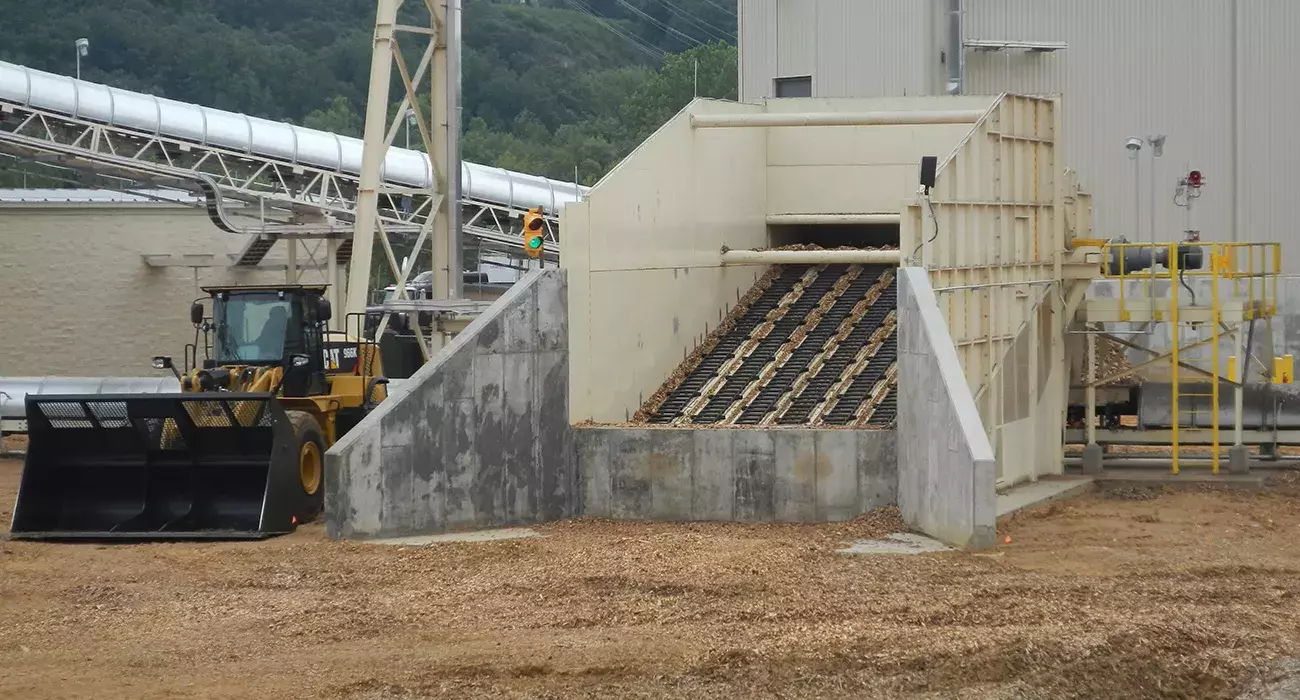 Optimized receiving hoppers smooth cargo flows 
Our Bruks hoppers are used to efficiently receive large volumes of dry bulk materials and can be tailored to suit a wide range of applications.
Bruks Siwertell's market-leading back-on and drive-over truck dump systems offer some of the highest truck-unloading capacities in the world. To fully maximize their efficiency and optimize the entire system, we have designed a perfectly compatible receiving hopper to suit their needs.
For operations that use self-unloading end-dump trailers, these trucks can discharge a load into one of our Bruks hoppers that do not have a tipping platform. The driver backs the trailer into position and the load empties onto a chain deck, which moves it to the reclaim position.
Another hopper type is an emergency by-pass feed hopper, designed to be used in the exceedingly rare event of a general woodyard equipment failure and material needs to get into the system quickly. As these failure events are exceeding rare, these hoppers can have a dual purpose and are often used to receive out of the ordinary materials into the process, such as special fuels added to normal ones in a power boiler feed system, or adding special chips for pulping at a pulp mill.
Most hoppers are sized in the 3.7 to 4.9m (12 to 16ft) width range, with holding capacities of up to 170m3 (6,000ft3).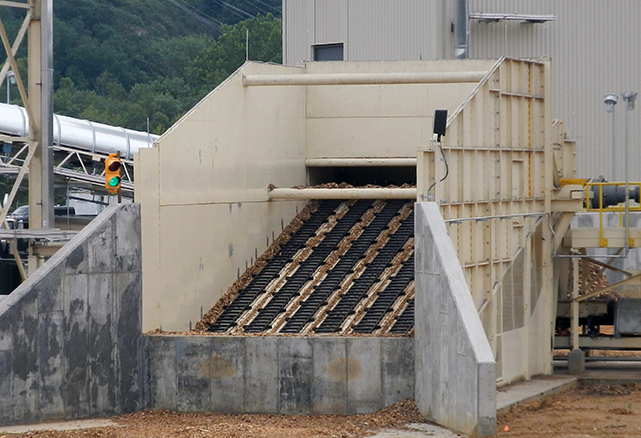 Heavy-duty chains deliver reliable conveying
Our receiving hoppers have an active base that uses a heavy-duty drag chain to reliably convey huge volumes of material through a flow-controlling shear gate prior to discharging onto an onward conveying system. To avoid dust emissions as the materials fall out of the hopper, it is fitted with a discharge hood that covers its main pulley. The hood includes a flange so that chutes, leading to the onward conveying system, can be mounted.
The hopper's conveying capacity is controlled by chain speed and the adjustable shear gate opening. In typical operations these parameters are permanently established as part of the commissioning phase. Stepless chain speed control is delivered via a variable frequency drive (VFD) electric motor, allowing the operator to fine-tune reclaim capacities.
Enhancing material flows
Any dry bulk material handling situations that result in a no-flow condition have a negative impact on efficiency. Most commonly these can include material clumping or bridging. To avoid these, the Bruks receiving hopper can be equipped with ancillary devices to improve and optimize material flow.
Solutions include a spike roll, which can be fitted inside the hopper to break apart large clumps of material that may result in lightly frozen or stringy conditions. The spike roll is designed to reduce the size of these clumps prior to the material passing through the shear gate.
Another option for improved material flow is a levelling roll at the discharge end of the hopper, located just beyond the head pulley in the space above the conveyor below. The levelling roll knocks apart clumps and is designed to uniformly distribute material onto the onward conveyor.
Clean, dust-free environments
Our truck dump systems and their receiving hoppers offer very good dust emission control. To deliver maximum environmental protection, the entire system can be fitted with containment devices or hoods. These have been designed to ensure that any dust created by the unloading process is kept to an absolute minimum.
Share: