Back-on truck dump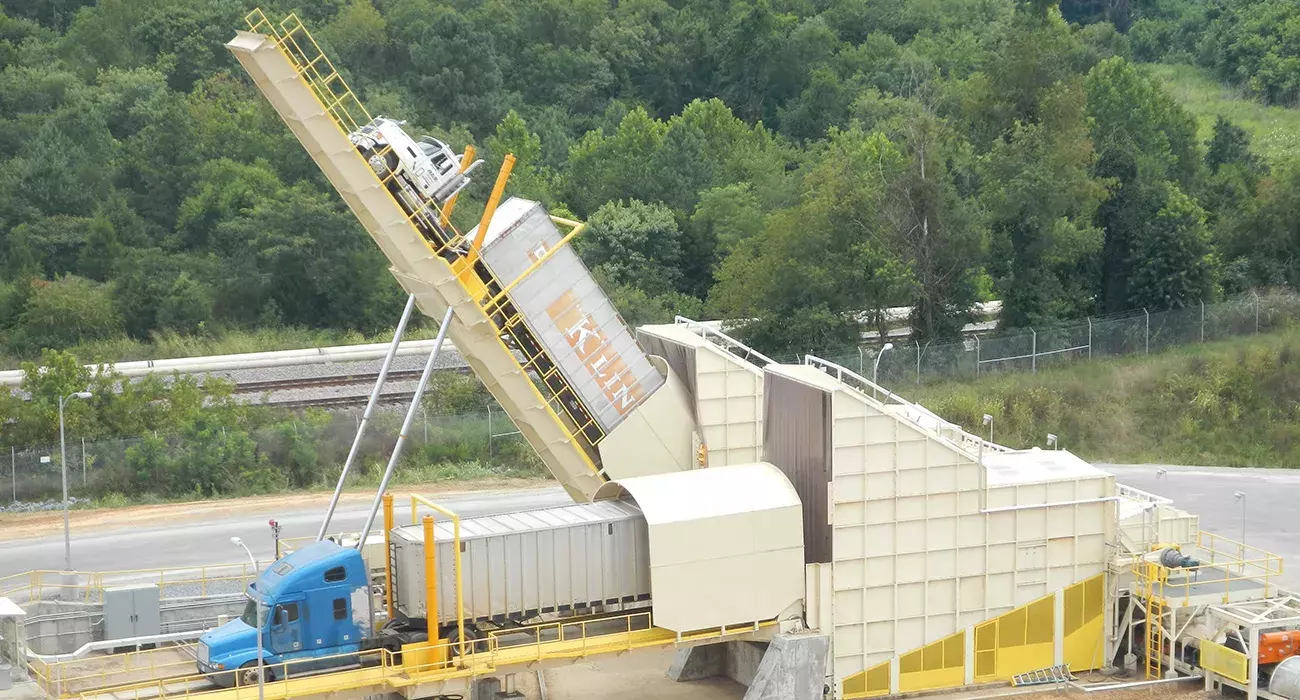 Fast, efficient free-flowing material unloading
Back-on truck dumpers are one of the fastest, most efficient ways to discharge huge quantities of free-flowing bulk materials such as processed wood. Our truck dumpers can reduce unload cycle times and alleviate traffic congestion in almost all operations.
Drivers quickly learn how to guide their trailers onto the platform where raised tire guides keep them positioned as the cab reverses. Average times between trucks is usually less than 10 minutes including backing on, lifting and lowering the load, closing the back doors, and then driving off the platform. Any netting or cover on top of the load is removed before the driver starts to back on.
Accommodating multiple truck sizes, our truck dumpers can be perfectly paired with state-of-the-art receiving hoppers, enhancing their unloading capabilities. A standard length platform, suitable for most applications, is 23m (75ft) long and capable of lifting a cab and trailer with a combined gross vehicle weight of 54,500 kg (120,000lbs). However, we have supplied tipping platforms for trucks with gross vehicle weights as high as 82,000kg (180,000lbs).
For longer cab and trailer combinations, platform lengths of 26m (85ft) and 30m (100ft) are available. We also offer a shorter 12.2m (40ft) platform version as a trailer tipper, where the cab is disconnected and driven forward a short distance and only the trailer is lifted. Material is unloaded either into a receiving hopper, or directly on the ground to be moved by mobile equipment. This arrangement is popular with beauty bark processing companies and others that handle smaller volumes of different materials.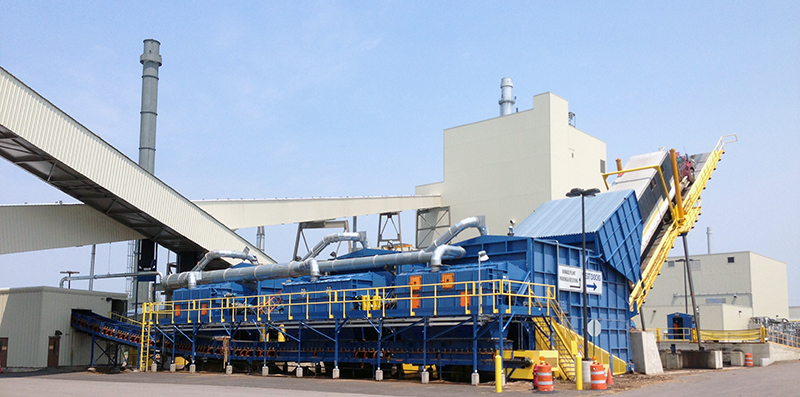 Two million tipping cycles even in extreme conditions
The Bruks tipping platform has been designed to perform under the extreme, high-use conditions typical of most processing facilities. Unlike others, our platform has an expected service life of 2,000,000 tipping and lowering cycles. This will far exceed a 25-year full-time service life, making it an ideal long-term investment.
The platform is designed to rise to a maximum angle of 63 degrees, causing the material to flow freely into the receiving hopper. The full lift and lower cycle is completed in approximately four minutes. The driver operates the lift, making the process 'unattended' by the receiving facility.
To minimize material loss and maximize capacity in cold climates, the backstop can be equipped with hydraulic cylinders or electric vibrators. The hydraulic cylinders allow the backstop height to be adjusted to suit trailers with non-standard bumpers. The vibrators shake the truck trailer once it is in a raised position to encourage frozen wood chips inside the trailer to unload into the hopper.
Dust control for the cleanest environments
Increasing emphasis on fugitive dust control by air quality agencies has spurred the development of containment hoods used on top of our receiving hoppers. Most wet chips and barky fuels are not all that dusty, but dry sawdust, planer shavings, and many agricultural materials are very dusty. Bruks can provide covers over the tripping platform that mate with extended covers on top of the hopper to provide excellent mechanical containment of the air that moves when the load is dumped. This contained area can be coupled to optional air and dust collection systems that actively pull a vacuum on the internal spaces inside the hopper, reducing dust emissions to a minimum.
Truck dump deliveries backed-up by reliable service support
All our truck dump systems benefit from customer-oriented engineering that delivers maximum reliability, even in extremely rough environments. When truck dump spare parts or services are required, Bruks Siwertell offers worldwide service support to ensure the maximum operational availability of your machine.
Share: