Terminal Hoppers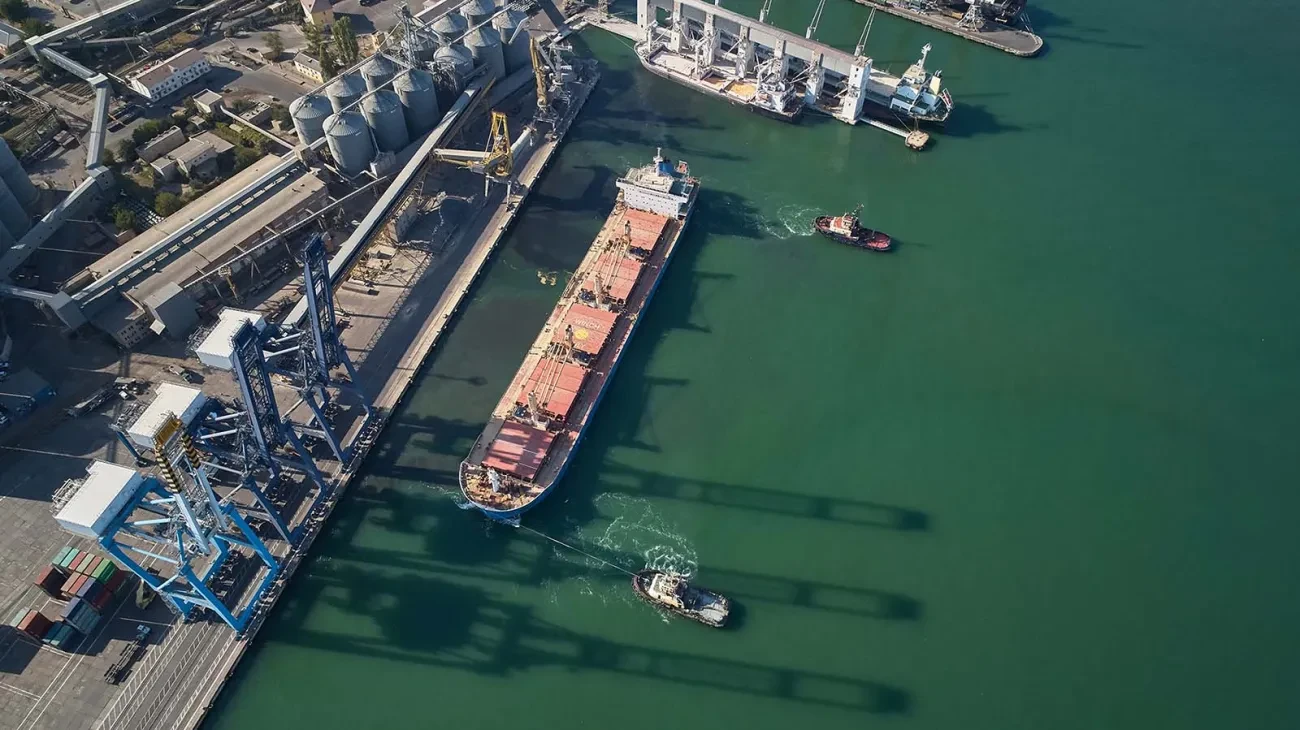 Terminal hopper enhances dust-containment on the quay
Bruks Siwertell offers a terminal hopper, which has been developed to enhance dust control when receiving dry bulk material using a grab crane.
The hopper acts like a funnel, allowing the grab to discharge its load into a wide opening, but has been specially designed to contain dust as the material falls, minimizing environmental impact from emissions.
The receiving equipment adds to our broad portfolio of port terminal systems and can be tailored to suit a range of operations. Comprised of industry-proven technologies, the receiving hopper is able to accommodate the different characteristics of dry bulk materials, from coarse, abrasive cargoes to powdery ones, and sets new standards for hoppers on the quayside.
Designed to suit:
mobile or stationary units are available
a variety of loader, grab or grapple sizes can be accommodated
abrasive and non-abrasive dry bulk materials can be handled
dust-suppression and dust-collection options are available 
easy access for maintenance 
Protection from the wind
Hoppers need protection from the wind, because as air moves over the top of them, a vacuum develops, which lifts dust fines from within the hopper, creating emissions. Our engineered windscreens overcome this issue by slowing the air flow over the hopper's surface. 
Two-part hoppers offer better dust control
Dust-laden air displaced during bucket discharge tends to push outward and rise along the hopper walls. For dusty cargoes, an upper hopper can be provided, which nests within the main hopper. The design creates a closed, internal perimeter capture area at the top of the main hopper where dust, carried by the displaced air, is contained. 
The design arrangement also provides an exterior mounting surface around the perimeter for dust collection located directly above the air flow. This creates efficient dust capture and convenient access for equipment maintenance.
The overall height of the unit's upper hopper allows for the protected discharge of clam shell buckets.terminal bruks hopper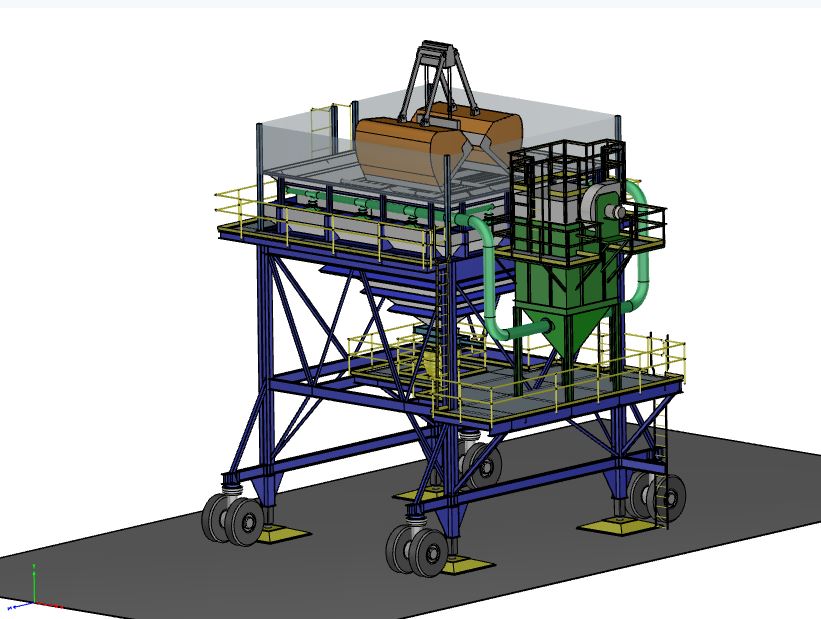 Optimized grizzly baffle system
Our terminal hopper features an optimized grizzly baffle system, comprising a robust steel grid and self-closing flaps. Self-closing baffles open when in contact with the cargo and remain closed in non-flow areas to contain dusty, displaced air inside the hopper. The grizzlies are removable for baffle maintenance and for when the hopper is required to handle multiple cargoes.
Advanced dust collection 
We have developed two main options for the advanced collection of dust. These provide extremely effective ways of preventing any fugitive dust entering the atmosphere:
Bag house with ducting - A central baghouse system has pick-ups and ducting positioned around the perimeter of the hopper. This is provided for applications that require high cubic feet per minute (CFM) dust containment, dust extraction and/or flexibility in dust control. Collected dust can be returned to hopper or removed to suit an operator's requirements.
 
Bin vents - Bin vent-style dust collectors can be located around the perimeter of the hopper. We have designed these units to be compact and efficient, utilizing low-profile collectors with cartridge filters. Collected dust is contained within these units and returned to the hopper.
Service walkways offer easy inspections
The terminal hopper is fitted with perimeter walkways that are ideally positioned for hopper inspection and enable easy access to service all dust collection equipment.
Additional features for specific applications
The hopper can also be equipped with engineered dust-suppression fogging systems, integrated with dust containment features to provide efficient dust capture for suitable bulk materials. Various dust-controlled discharge components are available to accommodate the different requirements of each terminal and the dry bulk material its handles. 
Installation options
fixed (stationary) installations
rail-mounted
rubber-tire mounted
manual movement (towing)
self-powered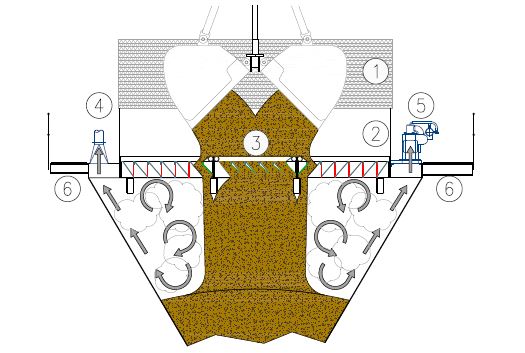 Cargo receiving systems
The terminal hopper is designed to receive material from a grab crane, either those fitted onboard geared or self-unloading vessels, including barges, or using grab cranes as part of 
stockpile reclaiming.
Onward material flows
Our terminal hoppers can discharge received material in a number of ways. It can be gravity-fed directly to trucks, or alternatively can discharge to a belt, apron or other intermediate feeder device connecting trucks, or to a belt conveyor or stacking conveyor for immediate stockpiling.
Bolted or welded construction
To reduce transportation costs and assembly times, the hopper can be supplied as a modular, bolted unit, suitable for containerized delivery. 
Alternatively, it can be supplied fully assembled with a welded construction and delivered as a completed unit on a vessel, ready to be lifted and installed on the quay.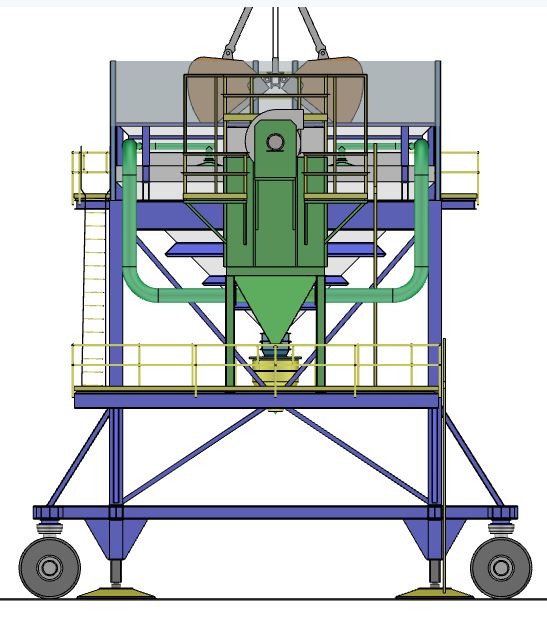 Designs to suit unique operations
We offer a wide variety of hopper designs, and full customization will accommodate even the most unique operations. Hopper outlets can be equipped with belt, apron or any other conveying device to provide a regulated flow to a receiving conveyor. 
Material discharge can be in-line with the hopper or to the side, depending on the operational conditions and site geometry. 
Single-hopper and double-hopper designs are also possible. Double-hopper designs help enlarge the receiving opening for larger grabs, while maintaining a lower inlet elevation to address height constraints. The double-hopper approach also allows for steeper sidewalls to address sluggish and difficult-to-handle dry bulk cargoes.
Capacities matched to receiving rates
The capacity of our receiving hoppers can easily match the rate achieved by the grab crane or self-discharging vessel delivering cargo to the hopper. The hopper discharge system can be gravity fed direct-to-trucks, and the capacity will be limited by the capabilities to circulate and safely load trucks under the hopper.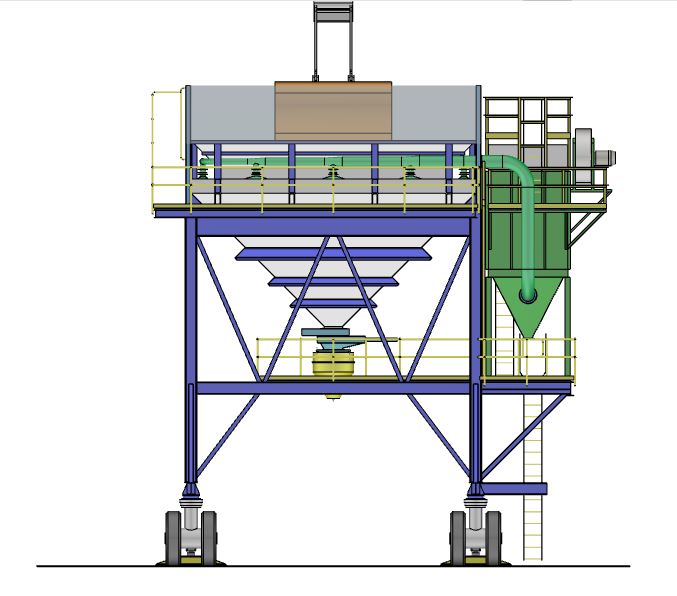 Sizes and volumes carefully matched
The size and volume of a vessel's dry bulk material receiving hopper must be carefully matched to its discharge arrangements, particularly the size of the grab bucket. The volume of the hopper and its geometry is calculated to match the size of the grab bucket to the opening size, and the side-wall angles are dictated by the cargo flow characteristics. If a greater volume is desired, beyond what is provided by the geometry, vertical extensions can be provided at the top of the hopper to increase capacity.
Tailor the terminal hopper to your needs
static, rail- or wheel-mounted installations, with manual towing or self-powered
dust-collection systems: baghouse or bin vent designs
dust-suppression fogging systems
windscreens
ladder or stair access
grizzlies: traditional open-grid or self-closing baffle style for dust containment
retractable truck-loading spout: vertical drop or cascade style for very sensitive and dusty cargos
discharge arrangements to suit operational and cargo-specific needs
any type of feeders below the hopper accommodated
Share: