Port-mobile unloaders
Port-mobile unloaders: Optimized to deliver outstanding material handling
Our product development is driven by adding value and sustainability to dry bulk handling operations. This is exactly what our Siwertell port-mobile unloader can do. They offer full port mobility, excellent efficiency and rated capacities and reduced investment costs.
Able to handle materials such as grain, soybean meal, alumina and cement, the port-mobile unloader has been optimized on many key levels from its stable, low weight steel structure through to its gentle cargo handling, smooth cargo discharge, and cost-efficient operation.
Based on a standardized design to keep investment, maintenance and wear parts costs as low as possible, the port-mobile unloader is available as a (grain) 400t/h or a 600t/h unit; the Siwertell 400 PMU and the Siwertell 600 PMU. They are an ideal solution for operators looking for a port-based system and are able to discharge vessels up to 60,000 dwt.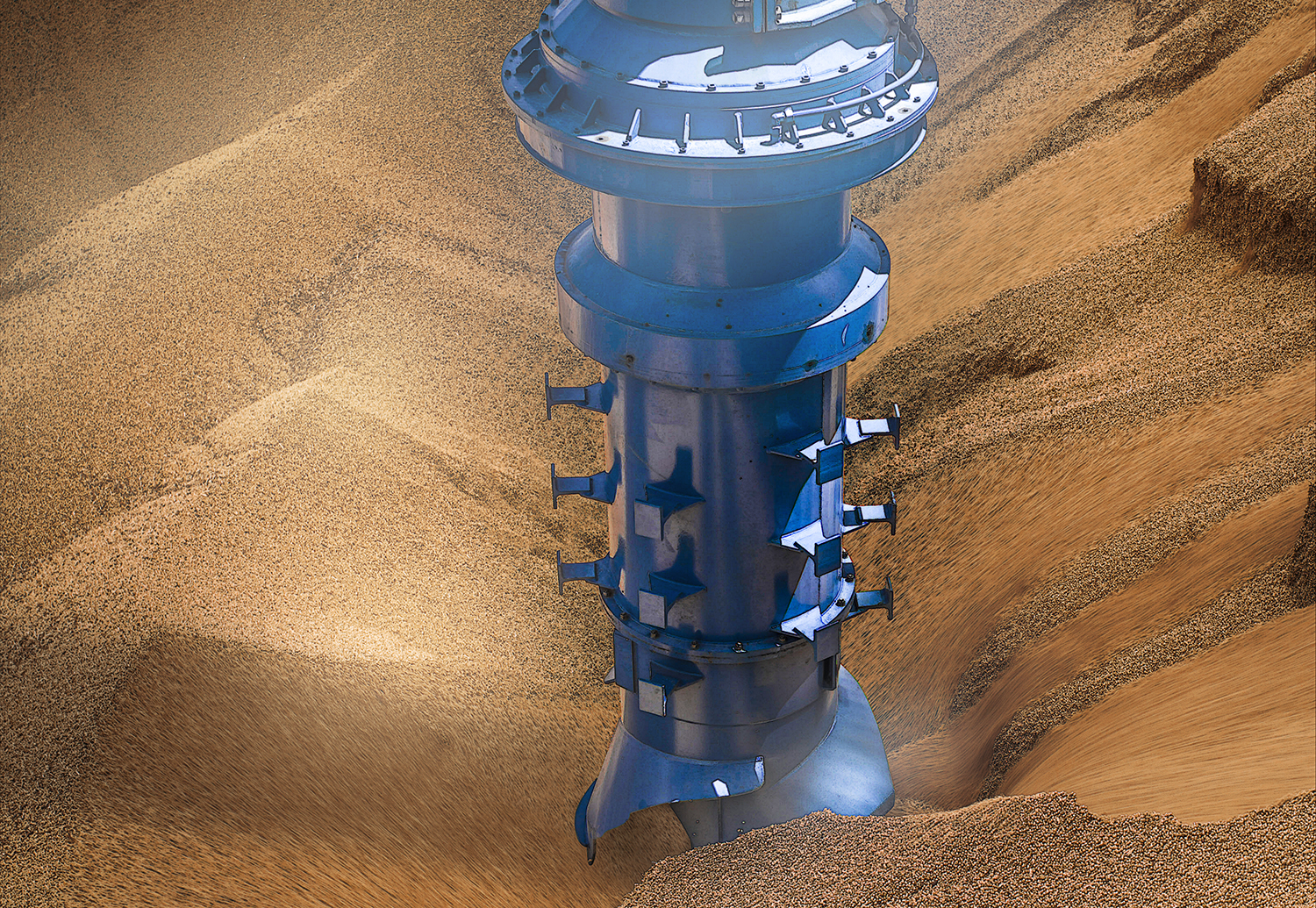 Low material degradation
One of the greatest advantages when unloading delicate agri-bulk and sensitive powdery cargoes, such as alumina, with Siwertell screw-conveyor technology is low material degradation rates. These are delivered through an efficient, continuous conveying velocity, which avoids collisions between material particles and the inner wall of the conveyor, and therefore reduces the production of powdery fines.
 A delicate approach
Fines are problematic for many types of cargo, and particularly so for grain and alumina; posing some significant financial and safety concerns.
For grain, the presence of fines can mean that the whole shipment is downgraded. They can make it more difficult to aerate, which increases spoilage rates, and they also have to be removed before milling. Furthermore, the greater the number of fines produced, the greater the dust emissions, raising the risk of fire and explosion in storage silos and other confined areas.
READ MORE ABOUT GRAiN HANDLING
Whereas, for alumina, aluminum smelting is very energy intensive and the process is extremely sensitive to the amount of fines in the material. Their significant reduction has a huge impact on the smelting plant's energy consumption.
READ MORE ABOUT ALUMINA HANDLING
Terminal operators and third-party specialists have measured the level of fines before and after a Siwertell unloading operation and have confirmed these low degradation rates.
Cost-effective cement operations
The dry bulk cement market is strongly linked to the construction industry and its changes in demand. As populations increase, so does the need for infrastructure.
Being able to respond flexibly and efficiently with a dry bulk unloading system that ensures the dust-free discharge of large vessels, up to 60,000 dwt, is now an essential at many cement import terminals.
Our port-mobile units offer high-capacity unloading, delivering a reliable, asset-light, space-efficient operation with minimal downtime; ideal attributes for any port.
READ MORE ABOUT CEMENT HANDLING
Smooth cargo flows
As standard, the port-mobile unloader features a dual truck-loading system, with the option for a third, which delivers continuous, uninterrupted discharge operations as long as there are trucks available.
As these systems are not interlinked, one, two or three loading positions can be used to load trucks independently and simultaneously, delivering the fastest possible discharge times. 
Furthermore, to minimize the impact of truck changeovers and to allow enough time to position the truck correctly, the unloader is equipped with a large-volume intermediate surge hopper. 
Through-ship efficiency
Operational costs depend on total unloading times and therefore it is important to maintain high average through-ship capacities to reduce any demurrage costs. Unlike a pneumatic unloader, for example, which can only operate its intake nozzle in a vertical direction in the hold opening, a Siwertell unit can reach practically all areas of the cargo hold, including underneath the hatch opening and corners. This is made possible with the +/- 30-degree movement in the unloader's vertical arm combined with a +/- 20-degree luffing motion in the horizontal arm; maneuverability which directly translates into unloading efficiency advances and leaves less material for the payloader to move at final clean-up.
This capability, combined with the overall efficiency of continuous screw-type conveying technology, means that the Siwertell port-mobile unloader offers a higher through-ship rate than a pneumatic unloader.
Winning combinations
One of the port-mobile unloader's stand-out capabilities is that when not in use, it can relocate and stow elsewhere, leaving port thoroughfares and key operational areas clear. It is equipped with a self-propelled rubber-tire gantry and an advanced steering system for full maneuverability between operations. To secure the gantry in all directions when parked, the end pairs of axles, both on the sea-facing and land-facing sides, are turned by 90 degrees
Advantages that deliver a competitive edge
Reduced installation and investment costs
Excellent reach into the ship's entire hold, delivering the highest average efficiency rates on the market
Significantly lower material degradation in comparison with pneumatic conveyors
Rapid truck filling times, with independent truck-loading spouts
Close to zero dust emission
Easy to switch between all kinds of grain cargoes, as well as soyabean meal and feedstuffs, and powerdery cargoes such as cement and alumina.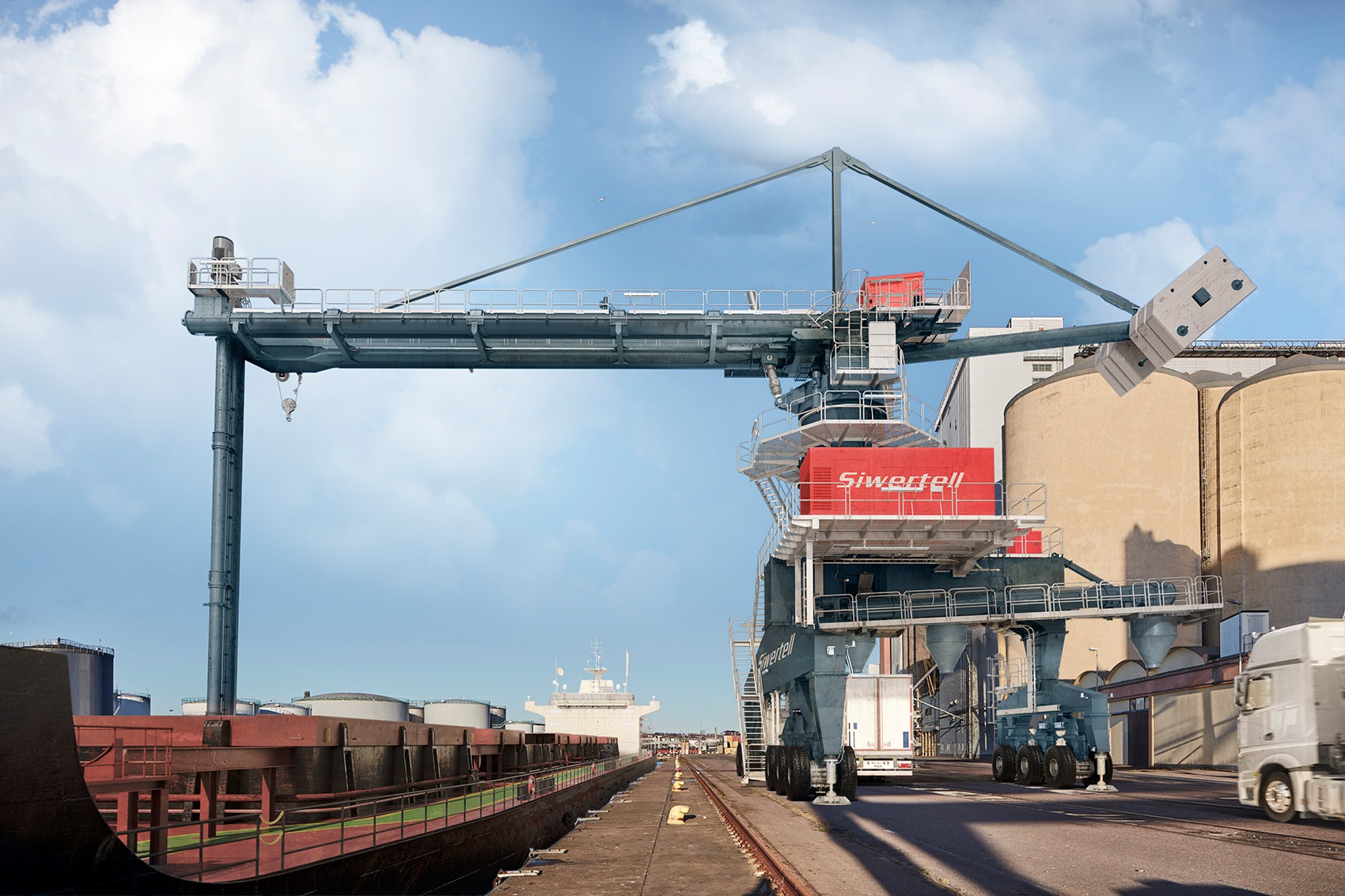 Brochure
Please click below to open our brochure about the Siwertell PMU, which includes technical data of the port-mobile unloader, as well as a few customer cases of grain handling terminals.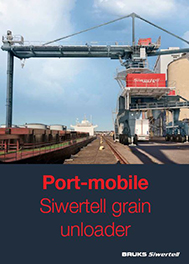 Next Step