Disc chipper (horizontal fed)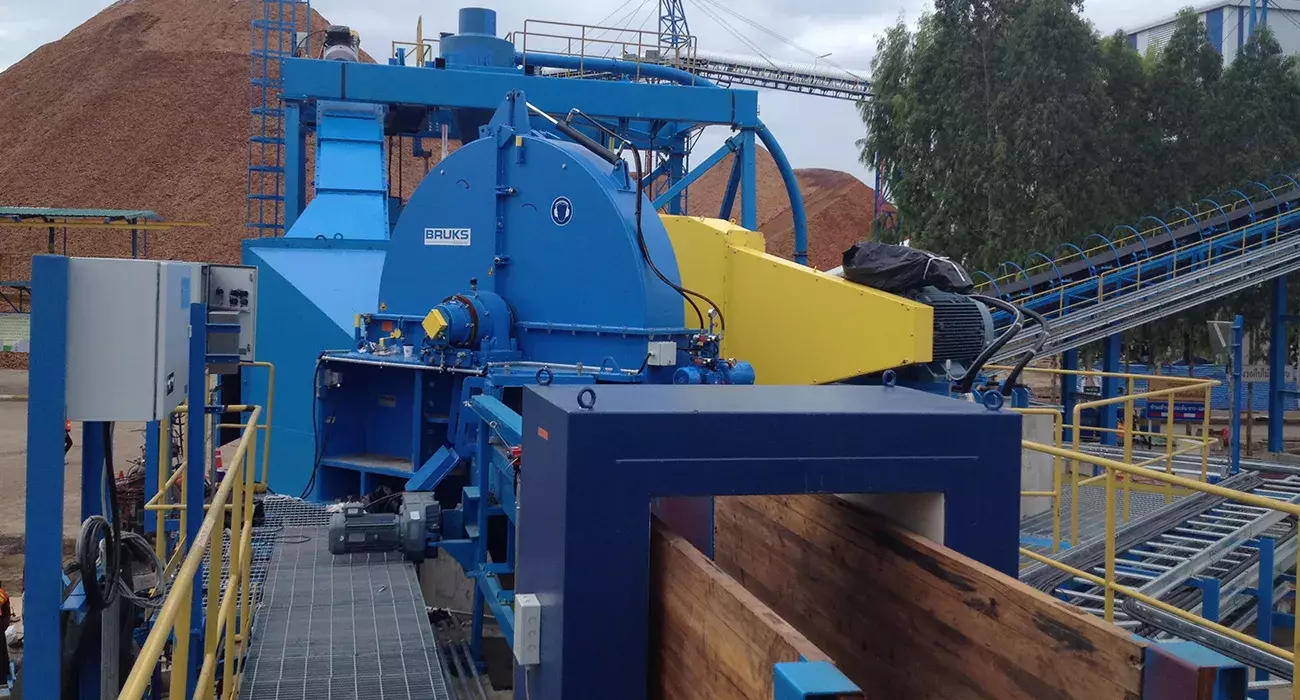 Long logs expertly handled with horizontal feeds
Our disc chippers produce high-quality wood chips that meet the exact specifications of various industries. Over 60 years of continuous development and experience from applications in the board, sawmill, pulp and paper, and bioenergy sectors have resulted in a highly flexible machine program for all possible customer requirements.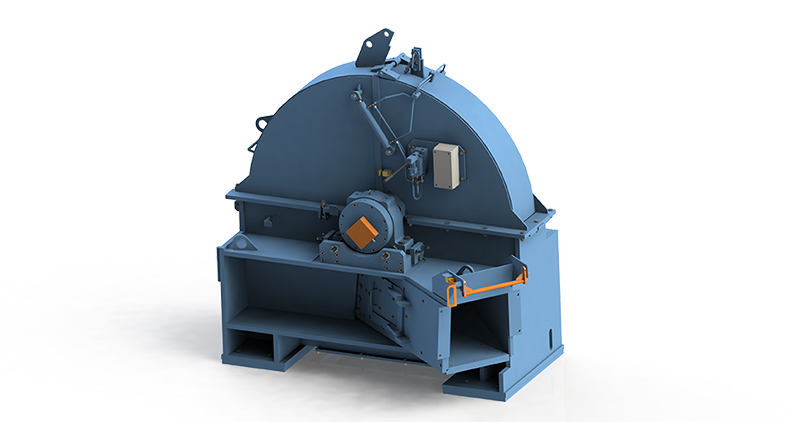 For wood-processing operators that predominantly handle longer logs, we have the ideal disc chipper. The horizontal-fed Bruks disc chipper is particularly well suited for long logs as well as cut offs and slabs, including conversion of any sawmill residues. All wood products are processed into quality chips that are used for the pulp and paper industry.
Our wide product range starts with small diameter discs, up to high-capacity chippers with disc diameters of up to 3.0m and 2,500kW of installed power. Bruks horizontal-fed disc chippers can process up to 650m³ of chips per hour, with adjustable chip lengths from 20-50mm. Options are also available for different knife arrangements.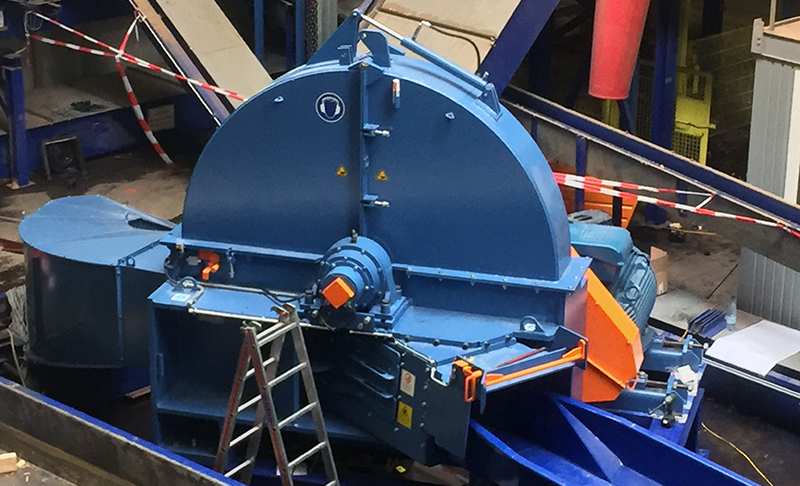 Safe knife control
All our larger disc chippers have a knife holding system to make handling the knives as easy and safe as possible. The knives are fitted in two sections and mounted in cassettes so that light-weight knives can be used.
Knife length can be adjusted using screws prior to fitting, which ensures the correct knife length as well as fast and easy knife changes. Chip length can be altered by changing knife shims and moving the disc. As an optional extra, the disc on our largest chipper can be rotated for a knife change via an electro-pneumatic inching drive.
When knives need to be changed, the chipper hood is raised hydraulically. However, to maximize safety, it is locked while the chipper disc is rotating and cannot be opened until the disc has come to a dead stop. Furthermore, the chipper cannot be restarted as long as the hood is open.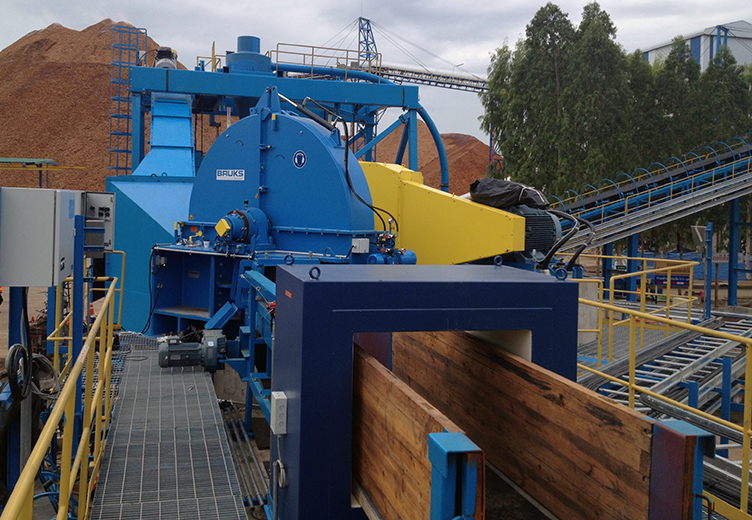 Maximizing wear parts
Like our entire wood-chipper range, we have focused our designs on maximizing the service life of wear parts. The horizontal-fed Bruks disc chipper has a heavy-duty design, easy access for maintenance and replaceable wear parts that ensure long machine life and maximum availability.
All wear parts on the chipper are generously dimensioned and easily exchangeable. Bolted wear plates in sections protect the chipper's in-feed side of the disc and their fittings make them easy to exchange when needed. The same applies to the bolted wear plates on the base and side of the feed chute.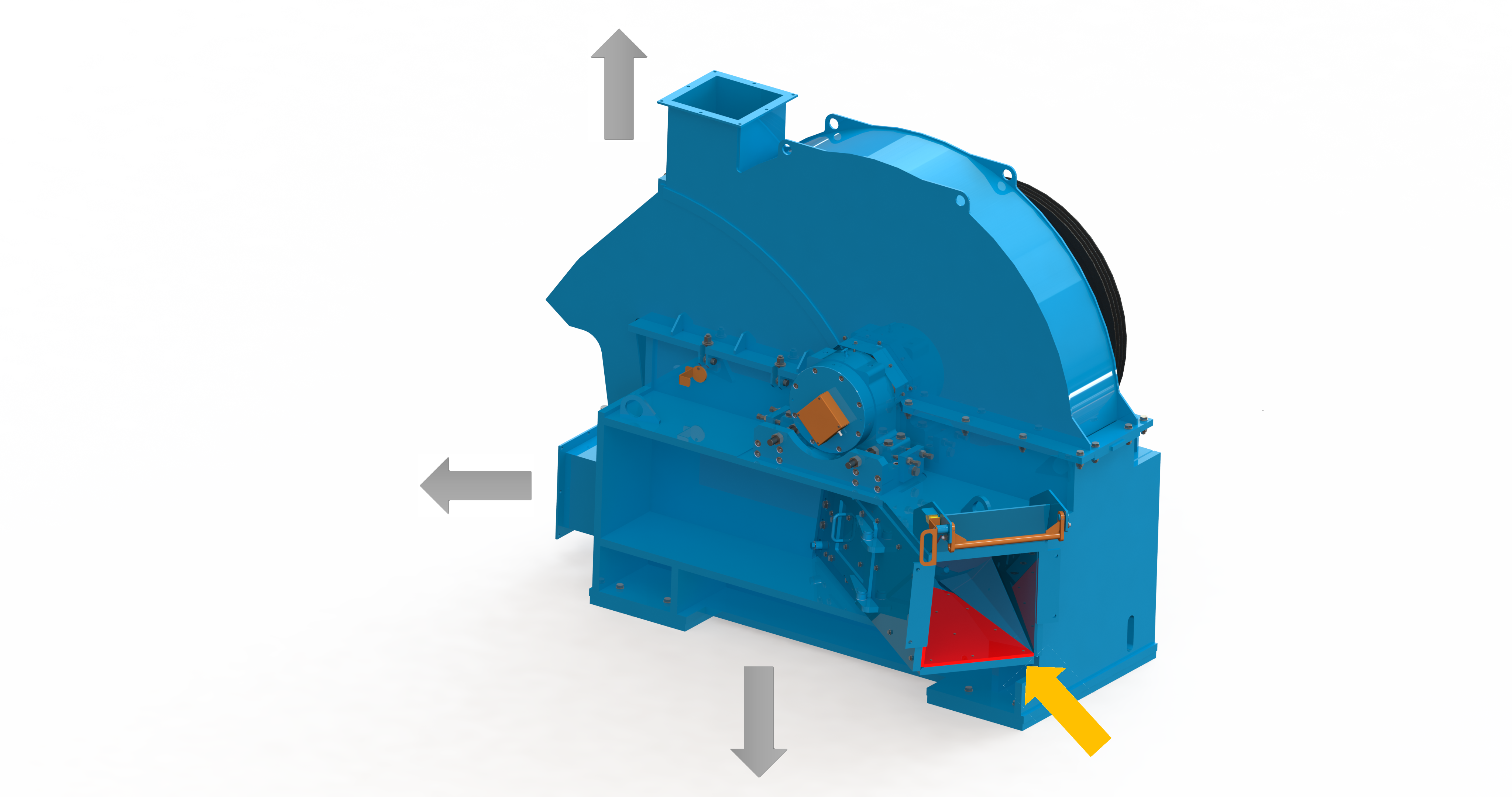 Image: There are three possible discharge directions on the Bruks horizontal-fed disc chipper: upwards, downwards or sideways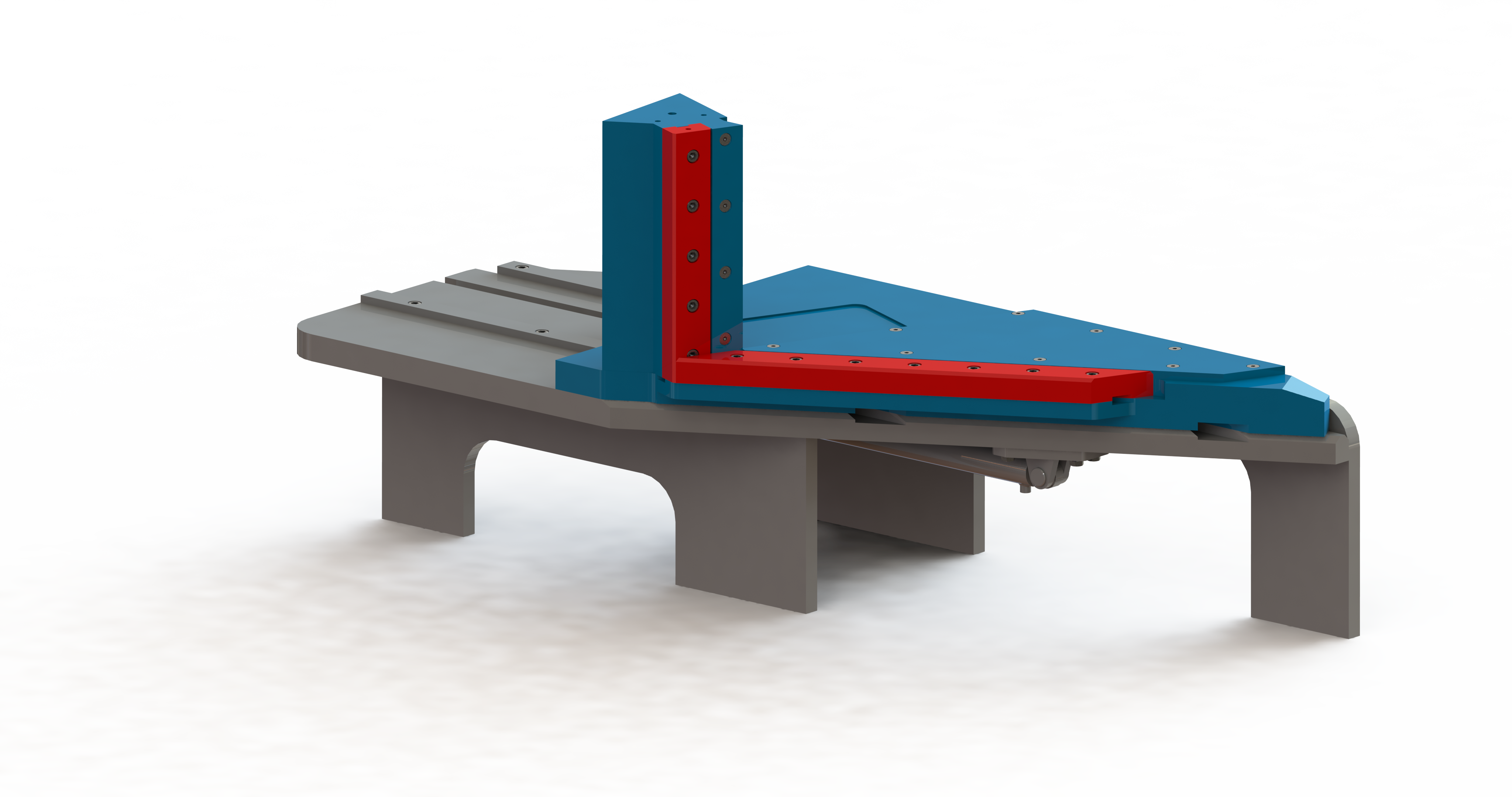 Image: Counter-knife extraction: horizontal and vertical counter knife. On larger
models, hydraulic extraction is an option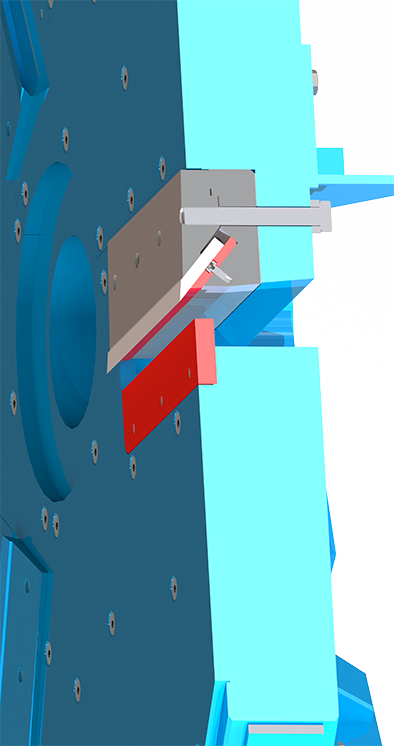 Image: Knife cassettes with wear plates and knives for easy knife handling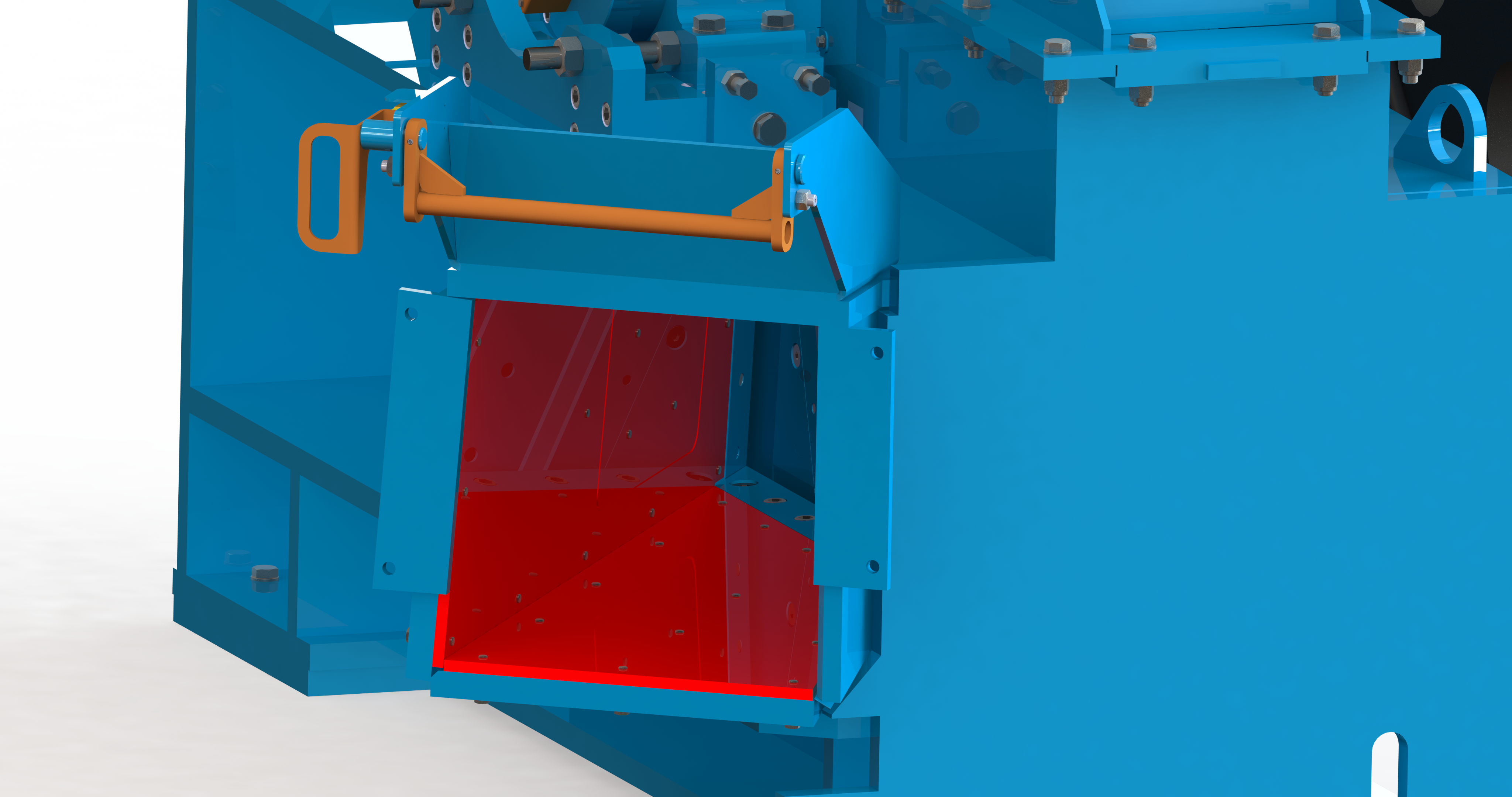 Image: The in-feed chutes (in red) on ware plates are equipped with replaceable wear liners
Technical data
Type

RH 1500

Feeding width [mm]

330

Disc diameter [mm]

1490

Motor power [kW]

110-200
Type

RH 2000

Feeding width [mm]

470

Disc diameter [mm]

1990

Motor power [kW]

250-450
Type

RH 2500

Feeding width [mm]

635

Disc diameter [mm]

2490

Motor power [kW]

400-800
Type

RH 3000

Feeding width [mm]

670

Disc diameter [mm]

2990

Motor power [kW]

1200-2000
| Type | RH 1500 | RH 2000 | RH 2500 | RH 3000 |
| --- | --- | --- | --- | --- |
| Feeding width [mm] | 330 | 470 | 635 | 670 |
| Disc diameter [mm] | 1490 | 1990 | 2490 | 2990 |
| Motor power [kW] | 110-200 | 250-450 | 400-800 | 1200-2000 |

Download this page as PDF
Share: