Rotom hammer hog (drop fed)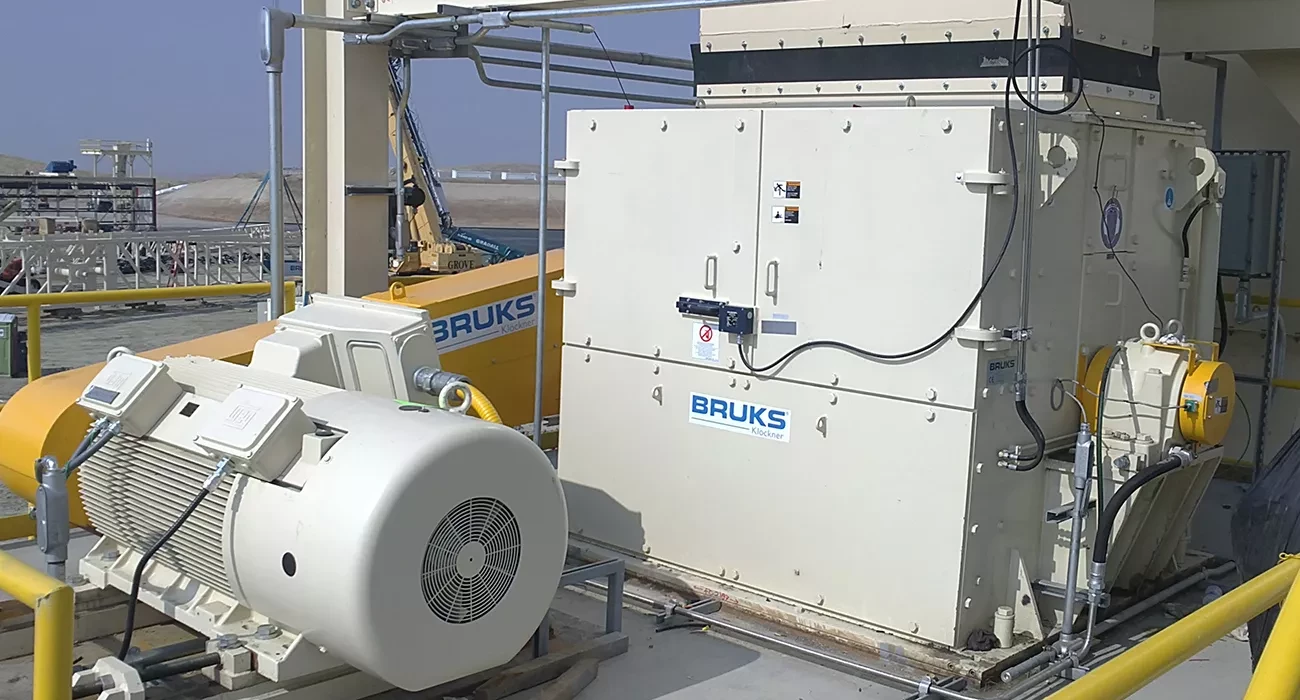 High-capacity waste wood-processing
If an operator can benefit from natural forces, such as gravity, during manufacturing processes, this can be a valuable asset. Drop-fed wood waste-processing units, such as our Rotom hammer hogs, are no exception.
Sharing many of the same proven design characteristics as its horizontal-fed counterpart, the drop-fed hammer hog unit is available in a range of standard sizes and is capable of processing wood waste up to a capacity of over 375 Sm³/h.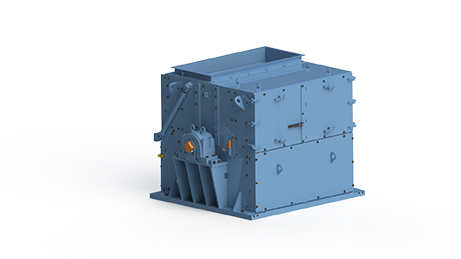 Our drop-fed units can comfortably process many different types of materials like bark, forest residues, industrial wood waste and sawmill waste. They have a compact, robust design, which is easy to service and maintain, and offer reliable performance.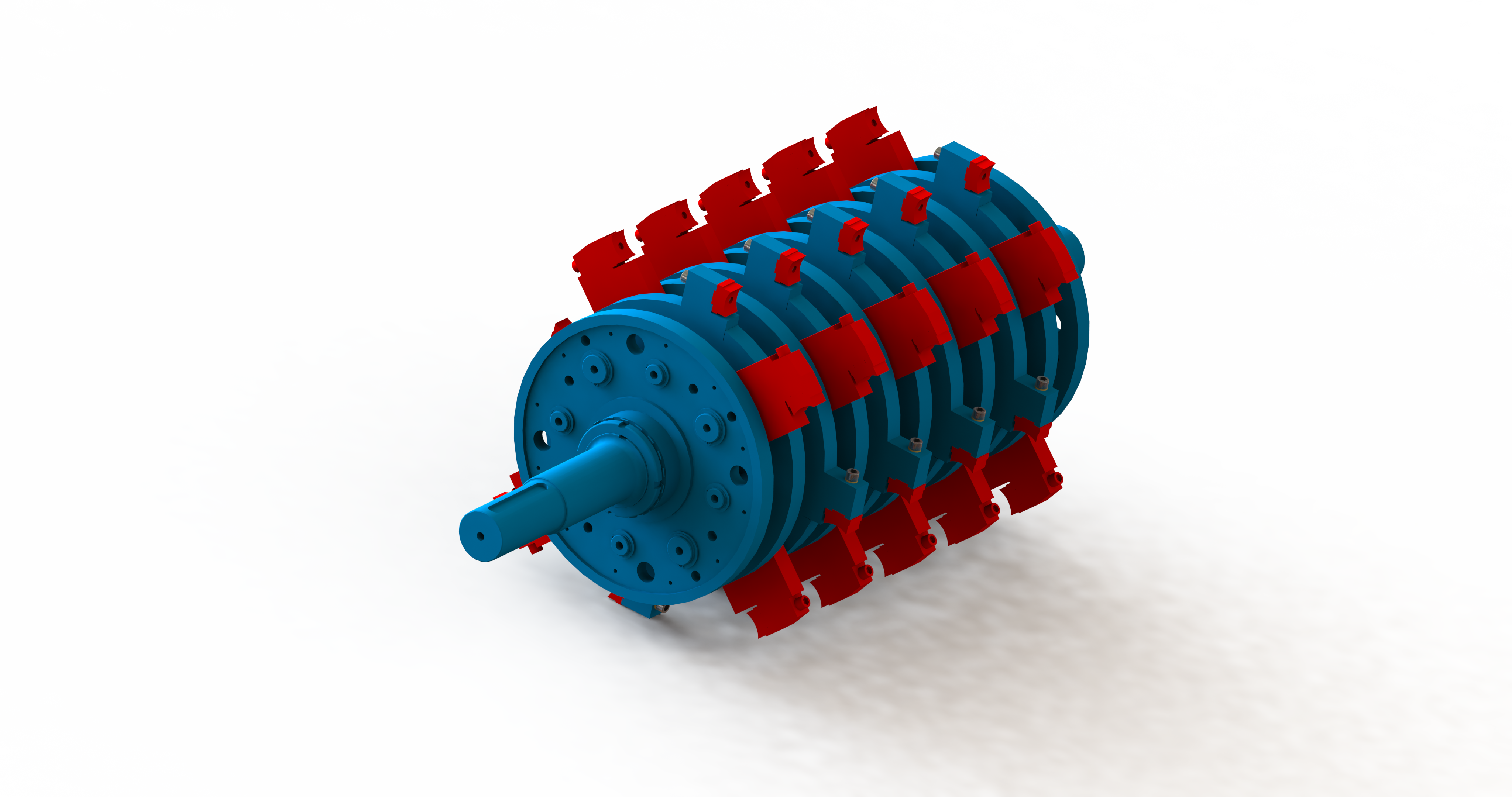 Image: The hammer design depends on each individual hammer hog, this rotor includes fixing and flying hammers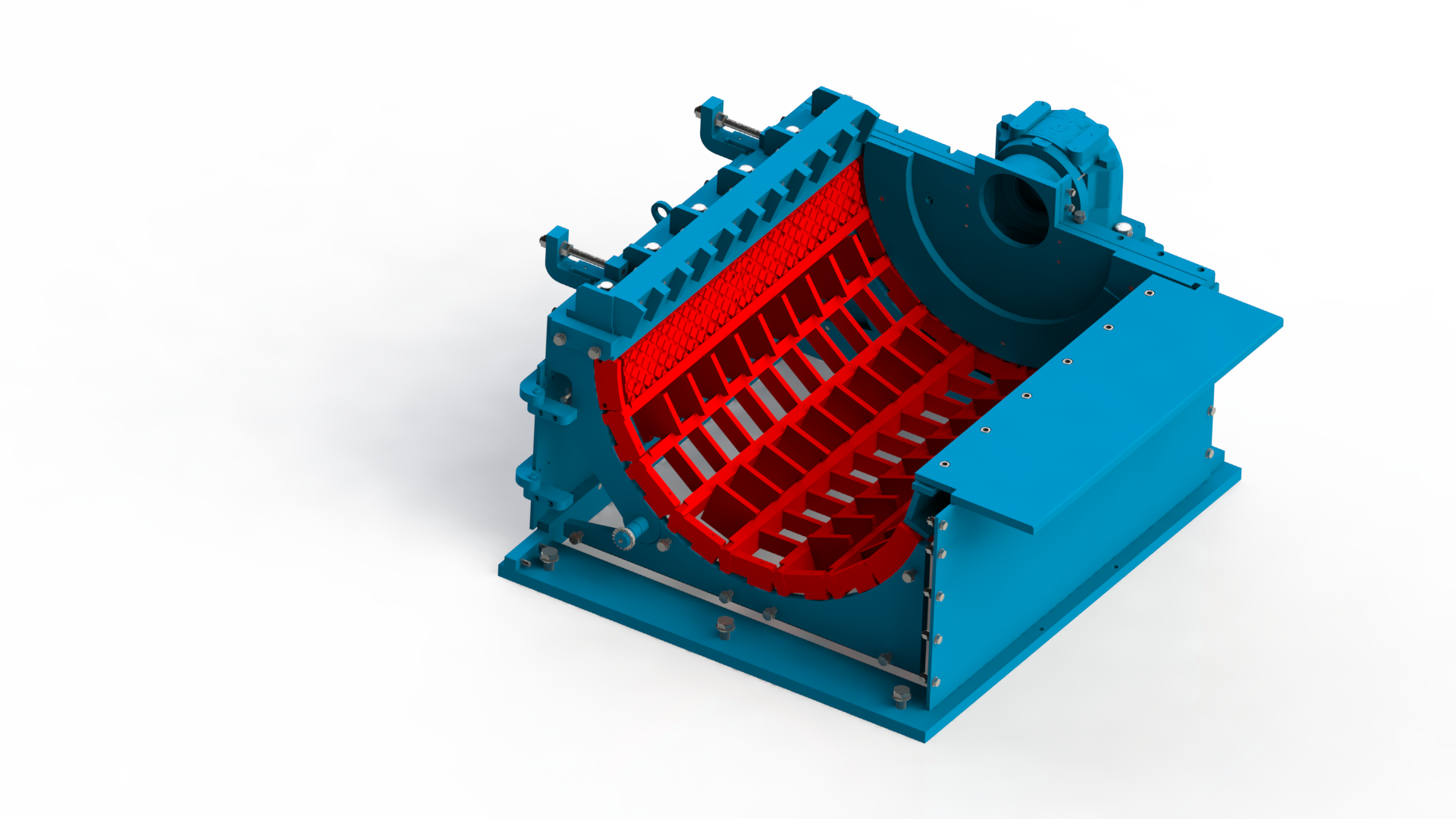 Image: The screens of the screening and milling segments can be disigne din various ways, in accordance to each customers' specific applications. The screening segments are turnable
for easy maintenance.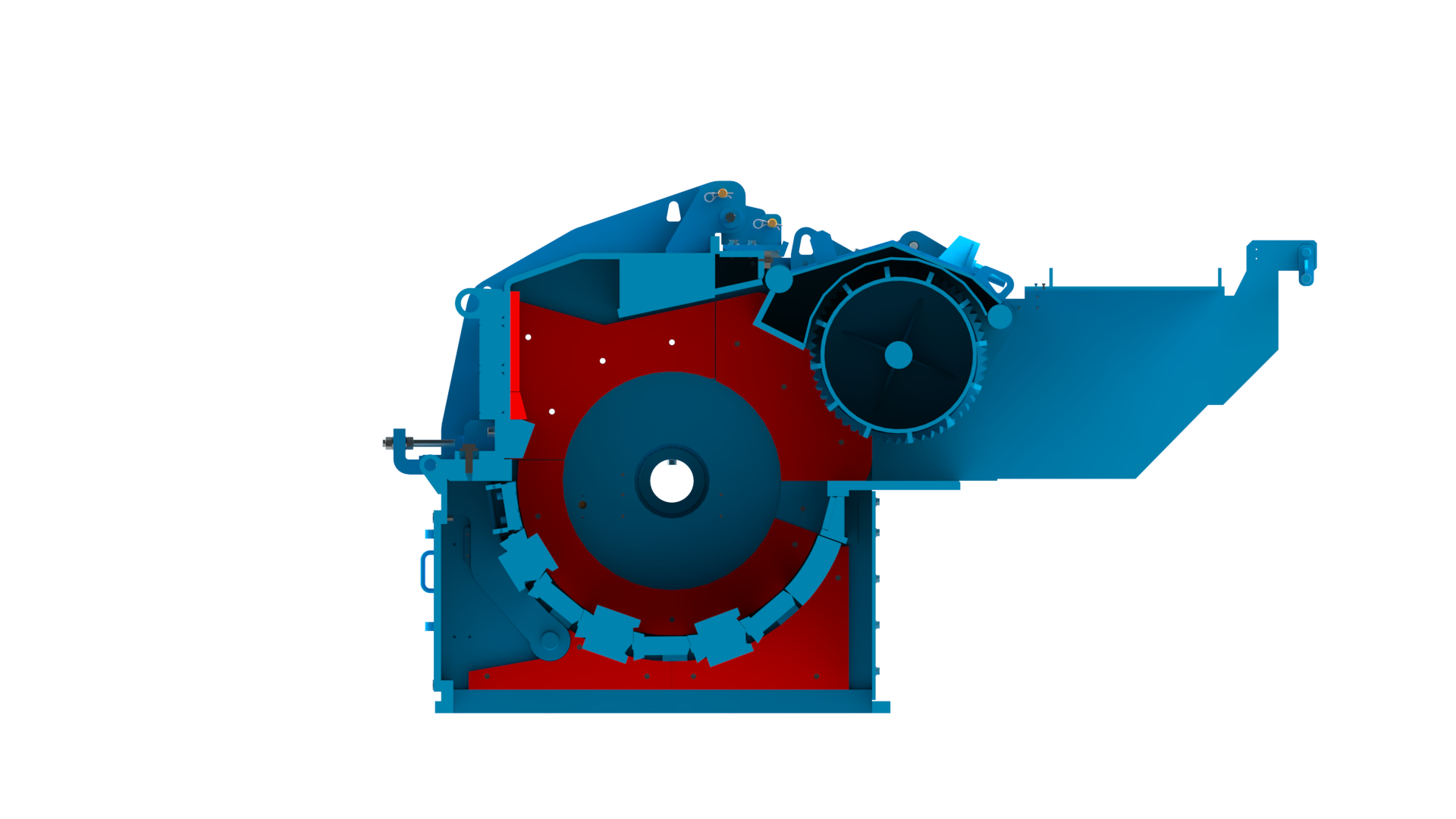 Image: Wear plates inside machine housing, with replaceable wear plates for long-life operation.
Technical table
Type   

8-8

Rotor ø mm

800

Weight Hammer kg

13

Thickness Sidewall mm

20

Thickness Wear Plates mm

30

Motor Power kW

90-132
Type   

8-10

Rotor ø mm

800

Weight Hammer kg

13

Thickness Sidewall mm

25

Thickness Wear Plates mm

30

Motor Power kW

110-160
Type   

10-10

Rotor ø mm

1000

Weight Hammer kg

20

Thickness Sidewall mm

25

Thickness Wear Plates mm

30

Motor Power kW

132-200
Type   

10-12

Rotor ø mm

1000

Weight Hammer kg

20

Thickness Sidewall mm

25

Thickness Wear Plates mm

30

Motor Power kW

160-250
Type   

12-12

Rotor ø mm

1200

Weight Hammer kg

25

Thickness Sidewall mm

30

Thickness Wear Plates mm

40

Motor Power kW

200-315
Type   

12-16

Rotor ø mm

1200

Weight Hammer kg

25

Thickness Sidewall mm

30

Thickness Wear Plates mm

40

Motor Power kW

250-315
Type   

12-18

Rotor ø mm

1200

Weight Hammer kg

25

Thickness Sidewall mm

30

Thickness Wear Plates mm

40

Motor Power kW

250-315
Type   

15-12

Rotor ø mm

1500

Weight Hammer kg

55

Thickness Sidewall mm

40

Thickness Wear Plates mm

50

Motor Power kW

250-400
Type   

15-16

Rotor ø mm

1500

Weight Hammer kg

55

Thickness Sidewall mm

40

Thickness Wear Plates mm

50

Motor Power kW

355-560
Type   

15-20

Rotor ø mm

1500

Weight Hammer kg

55

Thickness Sidewall mm

40

Thickness Wear Plates mm

50

Motor Power kW

400-710
| Type    | Rotor ø mm | Weight Hammer kg | Thickness Sidewall mm | Thickness Wear Plates mm | Motor Power kW |
| --- | --- | --- | --- | --- | --- |
| 8-8 | 800 | 13 | 20 | 30 | 90-132 |
| 8-10 | 800 | 13 | 25 | 30 | 110-160 |
| 10-10 | 1000 | 20 | 25 | 30 | 132-200 |
| 10-12 | 1000 | 20 | 25 | 30 | 160-250 |
| 12-12 | 1200 | 25 | 30 | 40 | 200-315 |
| 12-16 | 1200 | 25 | 30 | 40 | 250-315 |
| 12-18 | 1200 | 25 | 30 | 40 | 250-315 |
| 15-12 | 1500 | 55 | 40 | 50 | 250-400 |
| 15-16 | 1500 | 55 | 40 | 50 | 355-560 |
| 15-20 | 1500 | 55 | 40 | 50 | 400-710 |
Share: