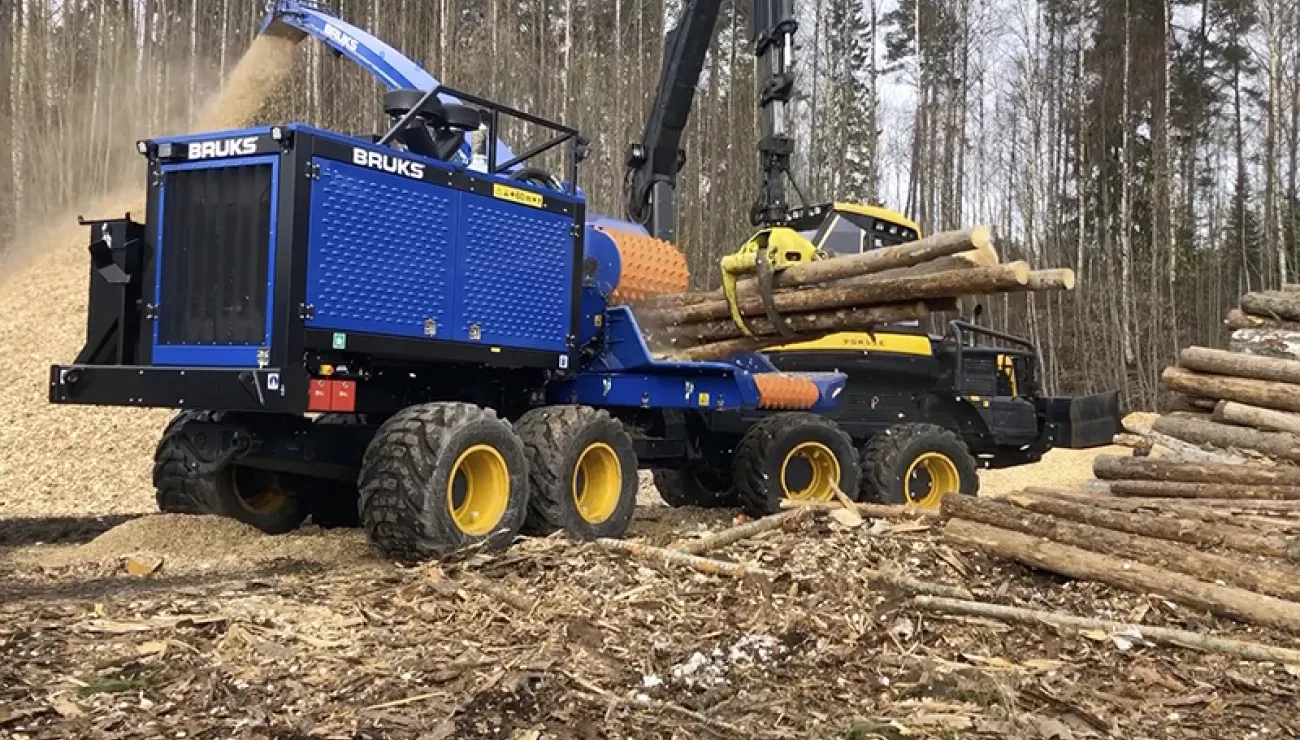 Bruks mobile chipper upgrade program yields more efficient model 
15 Aug 2022
Bruks Siwertell has upgraded its series of 1006 ST model mobile chippers. The developments deliver added value to customers in the forestry and wood-processing sectors through digital advances, higher efficiencies, reduced hydraulic oil requirements, and lower fuel consumption; contributing to the goal of improving sustainability across the Bruks Siwertell product range.
"Our forestry technology ensures that forest owners are able to work efficiently, sustainably and profitably with robust, hard-wearing machinery that offers long, reliable service," says Christian Ehn, Sales and Marketing Manager, Mobile Chippers, Bruks Siwertell. "This new development builds on decades of experience and customer-driven technological advances realizing new efficiencies via digitalization, as well as updating the engine and hydraulic system."
Bruks Siwertell mobile drum chippers offer extremely flexible operations and can be used off road, at the roadside or in terminals to produce quality biofuel wood chips from forest residues, brushwood, logs and full-length trees.
The latest 1006.2 ST unit is fitted with Volvo's state-of-the-art TWD 1683VE diesel engine, which was launched in 2021, and delivers close to 800hp while meeting the European Union (EU) Stage V regulations; the most stringent emissions requirements for non-road engines. 
Over previous models, the new engine has a greater power output of 585kW (796hp) and a much higher torque rated at a maximum of 3,650Nm. Together, this delivers an average of 11 percent more power and torque in the speed range used during chipping.
"Especially favorable for chipping, is the high, straight torque curve down to lower engine speeds where, at 1,000 rpm, the torque is at just over 3,500Nm; representing a 17 percent gain over the previous engine," explains Ehn. "These straight power and torque curves are also extremely helpful when it comes to attaining an even lower fuel consumption during chipping."
Surrounding the engine installation, various improvements have been made to increase the availability of service access. Containers for the automatic fire extinguishing system have been moved down into the frame. The hydraulic oil cooler is now mounted in front of the motor cooler, which is equipped with a reversible fan.
The air intake has been fitted with double pre-separators with extraction fans to suck out the separated particles. This is a system that has been shown to provide significant cost savings for air filters.      
Bruks Siwertell has also designed a new hydraulic system, which now features across a number of advanced Bruks mobile chipper units. The 1006.2 ST hydraulic oil tank has a patented CycloneConcept insert, which vents the return oil and allows the necessary volumes of hydraulic oil to be vastly reduced, around 250 liters less oil compared with traditional technology. This therefore also reduces the size of the stainless-steel tank. The overall result minimizes environmental impact and operating costs. 
With the capacity to process full-length trees and logs up to a diameter of 60 cm, the 1006 ST model is the largest unit in the series of Bruks mobile chippers. It was originally introduced in 2015, with the launch and delivery of the complete series following soon after in 2016. 1006 ST has subsequently become very popular and renowned for its robustness, simplicity and high productivity, as well as low fuel consumption.
"With these latest advances, we have future-proofed a product that is already working hard to deliver the best value to our customers in the forestry and wood-processing sectors, and now it delivers enhanced environmental benefits as well," Ehn concludes.
 
Share:
More News