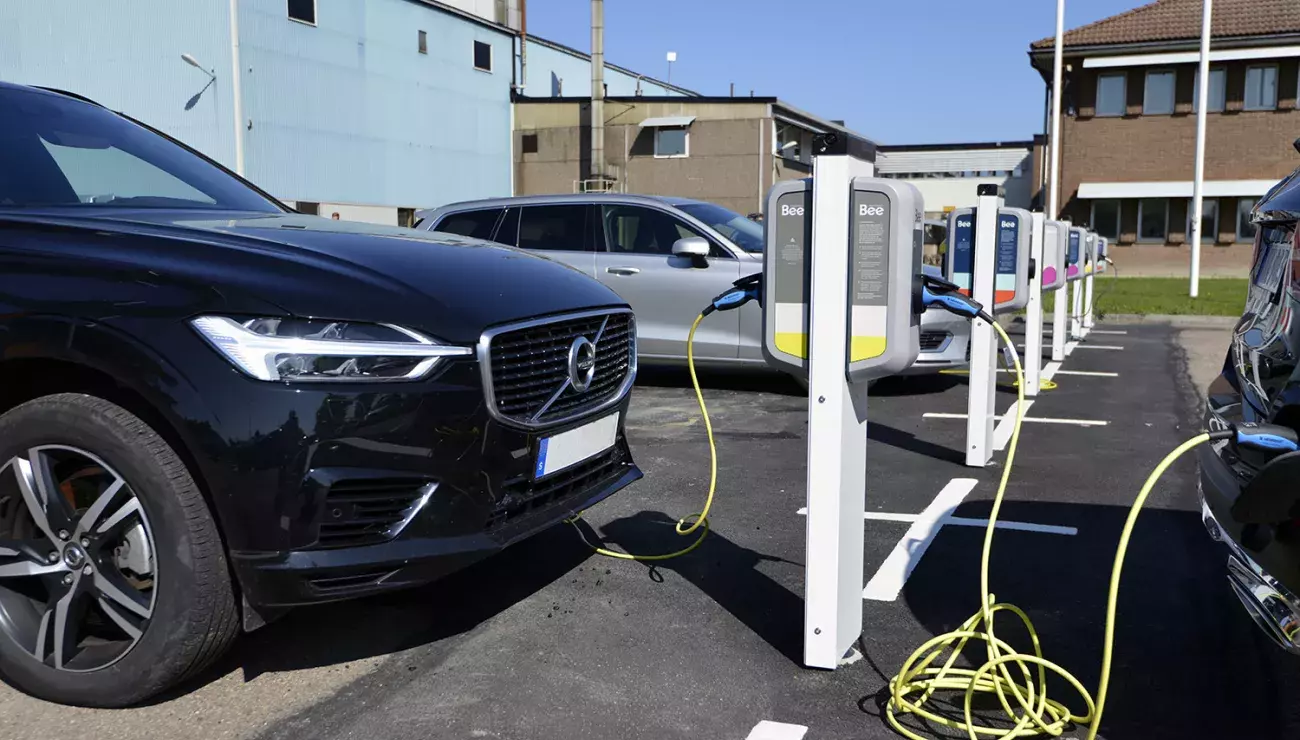 Electric vehicle charging stations support cleaner commuting strategy
Sustainability initiative
29 Sep 2023
Bruks Siwertell Group's Bjuv-based business unit in Sweden has recently fitted 24 electric vehicle charging points for personnel use. They are part of the Group's strategy for reducing its carbon emissions by 50 percent by 2030, both supporting personnel who already use electric vehicles for commuting and offering an incentive to switch.
Sustainability goal: environmental
Bruks Siwertell Group is aiming to reduce its carbon emissions by 50 percent by 2030, in comparison to levels recorded in 2019, and switch to 100 percent renewable electricity in the same seven-year timeframe. 
As part of these ambitions, 24 electric charging points have been installed within the parking area outside the Bjuv office building, offering both an incentive and supporting personnel's use of electric vehicles. 
Solution and results
This environmental initiative is part of a series of measures undertaken to reduce Bruks Siwertell Group's overall emissions. Each business unit is striving to adopt a range of carbon-reducing strategies and electric vehicle charging points are just one. 
Their introduction has now enabled all personnel within the Bjuv office to charge both company and private cars, reducing their carbon emissions from commuting. Any person can apply to use the plug-ins and are given a token, which enables them to charge their vehicle during office hours at cost.
Although not for use with electric bikes, the electrification of commuting is high on the sustainability agenda for the Bjuv office. The company has offered all personnel electric bikes as a benefit, and will do so again towards the end of the year. Currently, around 12 percent of personnel use electric bikes and car charging facilities are seen as an extension of the business unit's greener commuting strategy.
Monitoring and assessing sustainability milestones and achievements
Bruks Siwertell Group's sustainability goals are assessed from an environmental, social, and governance (ESG) perspective, with each initiative falling into one or more of these categories. This is to clarify how different initiatives impact our overall sustainability work, and how their results can be used to maximum effect. It also contributes to our commitment to transparency. All aspects of our sustainability work are designed to be educational, so that we increase our knowledge and adjust our ambitions accordingly.
PLEASE CONTACT US FOR MORE INFORMATION
Share:
More Blogs