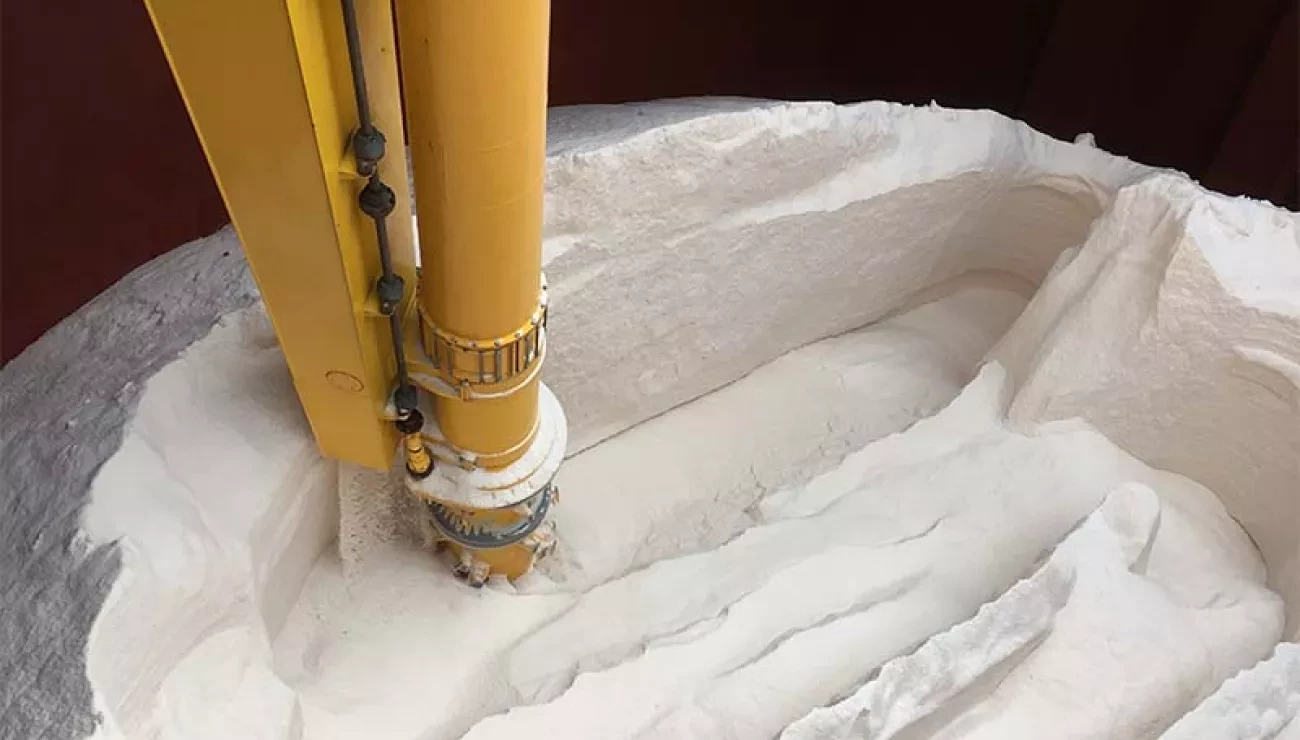 What the world needs now is greater efficiency
7 Feb 2022
Additional cargo handling capacity, and a bit less time sitting in queues, would save the world's global supply chains a lot of headaches right now; here is how high throughputs lend a helping hand, explains Per Hansson, Sales Director, Bruks Siwertell. 
Freight rates for maritime shipping have been sky-high recently, to the point where even those outside the logistics industry are hearing about it. Towards the end of 2021, articles appeared in the popular press advising shoppers to get their holiday purchases in early. This had to do with congestion at ports, and the unprecedented breaking-down of just-in-time supply chains it caused. In the container segment, some vessels picked up an astonishing USD 20,000 per 40ft container.
It is no coincidence that rates in the dry bulk segment have likewise soared. Although bulk carriers are suffering less congestion than containerships, their availability is still diminishing. According to data from independent shipbrokers Simpson Spence and Young (SSY), between April and September 2021, shipping cargoes of coal between Newcastle, Australia and Qingdao, China became around 35 percent more expensive, just in time for China to experience a shortfall in domestic production.
But in the same timeframe, SSY says that the cost of getting iron ore from Australia to China increased by a staggering 85 percent. Furthermore, as Lloyd's List Intelligence reported in August 2021, around six percent of the global bulk carrier fleet was stuck waiting in queues off China. With such a significant level of carrying capacity offline, then, shipowners are reaping the rewards; but the picture is much less rosy for those in the business of getting goods to where they are needed.

Importance of high-throughputs
In a traffic jam, cars further back sit at a standstill, even as those at the front may be speeding away. What the logistics chain is seeing now is something similar; ports are open, and ships are being unloaded, but the devastating after-effects of Covid-19 on supply chains have not gone away. Just-in-time deliveries are excellent when everything is working, but port operators are having to work extremely hard to remove bottle-necks from the system. Right now, it is likely that many are wishing for greater throughput capacity.
That is where Bruks Siwertell's dry bulk material handling equipment comes in, along with its ability to load and unload waiting vessels at market-leading rates. For example, at the Mailiao power plant in Taiwan, five rail-mounted ST 790-D Siwertell screw-type ship unloaders can each discharge coal at a rate of 2,000t/h, moving along the length of a ship as they unload. Typically, the unloaders work in pairs to discharge a single bulk carrier, up to about 180,000 dwt. 
A number of factors can influence the duration of an unloading operation, including the weather, wind speeds and terminal capacity. However, on average, two Siwertell unloaders of this capacity could empty a vessel within 60 to 65 hours.  
Siwertell unloaders at any port would certainly alleviate some of the current capacity concerns. For example, at the end of 2021, Lloyd's List reported around 600 bulk carriers waiting at Chinese ports, or 53 million dwt. Naturally, different dry bulk materials dictate different through-ship capacities, but let us look at some figures. For example, at 2,000t/h, theoretically, it would take one unloader approximately 35,500 hours to clear those vessels. That is equivalent to 1,479 days. If you want to achieve this in 30 days, that would mean 49 ship unloaders. Increasing the capacity to 2,400t/h would require about 40 ship unloaders, and if we go up again to our biggest unloaders, standing at 3,000t/h, they would need 32. If Mailiao took on all vessels, it could clear the backlog in 294 days.
The installation in Mailiao is extraordinary, but not unique. Siwertell ship unloaders are a feature at many Chinese ports, and at ports all over the world. With a few more installations like this one, we could definitely free-up some of that much-needed shipping capacity.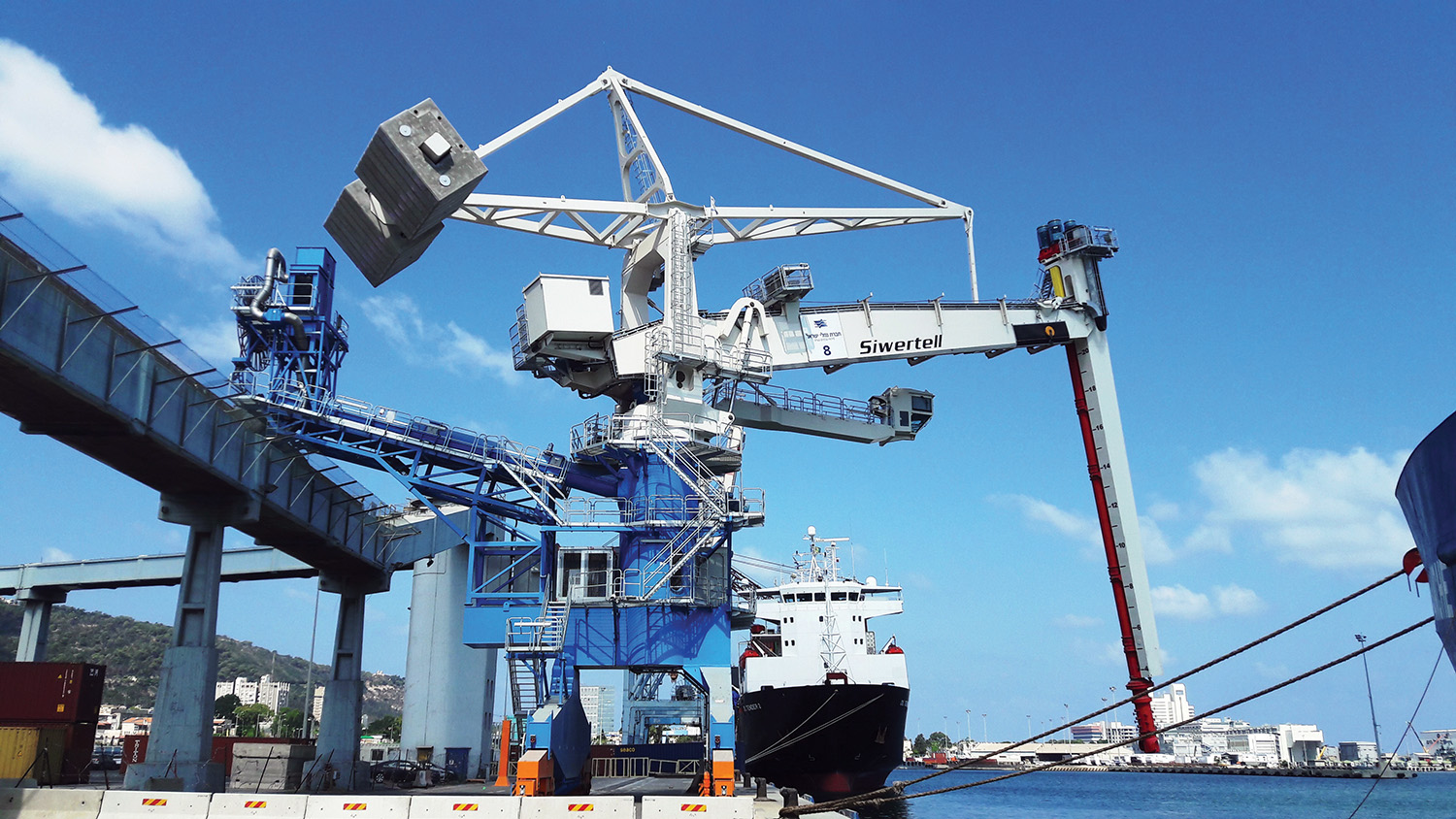 Outstanding in the market
Siwertell screw-type ship unloaders have numerous advantages over all other similar capacity machines. For ship unloading, we define the efficiency of our machines by comparing the actual through-ship unloading capacity against its rated capacity. A grab crane, for example, offers efficiencies of between 50 and 60 percent, and, in comparison, our Siwertell screw-type ship unloaders deliver efficiencies of 70 percent or more.
Also, once the counter-rotating inlet feeder is submerged in the cargo, the system is fully enclosed, preventing dust emissions and any cargo spillages from polluting the terminal facility or the water. This protects not only the environment, but also operators' pockets.
An additional method to increase capacity is interoperability, and this is another way in which Siwertell unloaders come into their own. A Siwertell unloader is a true multi-cargo machine. The same unit can handle free-flowing as well as compacted materials. 
This flexibility to switch between cargoes, without any loss in efficiency, is crucial, particularly in these times. Good examples of managing material extremes are unloaders and loaders that handle both powdery cement and hugely abrasive clinker, which can take a significant toll on dry bulk handling equipment.
In 2021, Bruks Siwertell won a new contract to deliver a Siwertell screw-type ship loader for handling both of these contrasting materials at a new cement plant being built in the Caribbean. It will deliver totally enclosed material conveying, preventing dust emissions and spillage, combined with the ability to withstand the abrasive effects of clinker. 
Contrasting commodities
Other notable examples of multi-cargo capabilities, with very distinct handling characteristics, include the unloaders that serve Formosa Plastics Corporation (FPC). Earlier in 2021, FPC became the biggest repeat customer for Siwertell screw-type ship unloaders ever, when it placed an order for two more 640 D-type unloaders, taking its full complement of Siwertell ship unloaders to thirteen. The pair are scheduled to be in operation by the end of 2022.
Of FPC's Siwertell ship unloader portfolio, nine are used for unloading coal only, two are used for coal and salt, and its latest pair will only be used to handle salt, serving a new terminal at Kaohsiung Port in Taiwan.
For the unloaders that handle both coal and salt, this mix is particularly potent; salt is very corrosive and becomes highly compacted in the hold and coal can present some unique challenges. It often arrives in wet sticky clumps thanks to varying grades and their moisture content, it is abrasive, and can also become heavily compacted. Siwertell unloaders overcome all of these challenges and still deliver very high capacities.
From Siwertell road-mobile and port-mobile systems to the very large rail-mounted units, like the dedicated 2,400t/h coal handling Siwertell ST 940-DOBs at the Ha Tinh steel plant in Son Duong Port, Vietnam, all can switch seamlessly between the two cargoes, effectively putting increased capacity at an operator's disposal. 
This is especially important for those power-generation switches from coal to biomass; an investment has to work flexibly. Operator Ørsted, originally specified a high-capacity Siwertell ST 790-D unloader for its co-firing Avedøre power station. It entered operations in 2013 handling coal, but by 2016, Ørsted converted the plant to full-biomass operation. 
End-to-end solutions
Bruks Siwertell is found at every point in dry bulk handling supply chains. It has systems that, for example, load biomass in the US and unload it in the UK. 
Both the unload and load have to be efficient and environment friendly. At the Port of Whyalla, Australia, a Siwertell SBL 1600 TL ship loader is operated by GFG Alliance, previously Arrium mining company, transferring iron ore into ships at 4,200t/h. At this rate, it can fill all of a typical Panamax bulk carrier's holds in less than 24 hours.
But even this substantial machine is far from the largest Bruks Siwertell has to offer. The high-capacity Siwertell loader can handle some 12,000t/h of iron ore, or 8,000t/h of coal. Iron ore is transported in some of the world's largest bulk carriers. In theory, a Capesize vessel, of around 180,000 dwt, could be loaded in less than 20 hours. However, to deliver a continuous 12,000t/h loading, criteria, such as the rate that a vessel can ballast, must be considered as well. 
When ports want to increase their throughput, as trades grow to much higher volumes, which is a frequent occurrence in dry bulk markets, and when customers are ready to increase their capacity; Bruks Siwertell is ready too. 
Along with this capacity increase, our systems address unnecessary industry waste. This ranges from eliminating the loss of cargo through spillage, and extends to utilization rates at the quayside, reducing vessel turnarounds, and with it the huge expense of vessels just waiting their turn for loading or discharging. 
The advantages that come with our smallest systems scale all the way up to our largest. Our loading and unloading systems offer truly market-leading capabilities and we can deliver tailor-made systems that respond to market demands. 
 
Share:
PLEASE CONTACT US FOR MORE INFORMATION
More Blogs