Rapid equipment deliveries help USA port recovery after hurricane hit
24 Jan 2022
When Hurricane Laura tore through Port of Lake Charles in southwest Louisiana, USA, it caused extensive damage to almost every transit shed, warehouse, ship unloader and loader; Bruks Siwertell is doing its part to help with the port's ongoing recovery. 
The Port of Lake Charles and the Calcasieu Ship Channel (CSC), which connects the city of Lake Charles with the Gulf of Mexico, is one of the country's largest and most important marine thoroughfares.
The port, comprising the Lake Charles Harbor and Terminal District, is central to the local economy, and its Gulf of Mexico connection makes it a key global player. Although not an unusual occurrence for the area, in September 2020, it suffered wide-spread destruction from a particularly powerful hurricane.
"Just about every transit shed, warehouse, ship loader and ship unloader were damaged as a result of Hurricane Laura," Richert Self, Executive Director, Port of Lake Charles, reported at the time. "Our insurance claim for Hurricane Rita was about USD 1 million. This one is going to far exceed our USD 50 million cap that we have for insurance."
Building back stronger
The infrastructure damage was also compounded by the fact that this is a historic port. Much of its foundations and pilings were constructed in the 1930s, and therefore needed to be rebuilt to meet today's standards. Essentially, large parts of the port are currently undergoing a fairly extensive reconstruction, along with the replacement of its dry bulk handling equipment. 
The Port of Lake Charles rapidly ordered a replacement mobile harbor crane, which came on line within a few weeks of the storm. This enabled the port to remain operational, loading and unloading dry bulk cargo, but just not as efficiently as it would be with dedicated ship loaders in place. 
"The silver lining in the cloud of destruction was the port having the opportunity to rebuild to current standards and for the future with the technology available today," says Carl Krielow, Port Board President. "The quick response of our Executive Director, who had only been in the position for 90 days, and his staff to evaluate the destruction, develop an interim plan to continue operations, while expediting the procurement, were key to the Board of Commissioners' ability to quickly approve this opportunity."
"The Port of Lake Charles was essentially devastated by Hurricane Laura, including the loss of its major dry bulk handling equipment," says Daniel Pace, Sales Manager, Bruks Siwertell. "Equipment replacement contracts were put out to public tender, and as a result, Bruks Siwertell was initially contracted to deliver two new Bruks ship loaders. This was quickly followed by an additional order for a traveling terminal hopper, which will serve the port's new mobile harbor crane.
"We have worked with the port previously," Pace continues. "In 2012, we supplied a polar stacker, used in the port's storage area. It essentially stacks petcoke, slewing on a concrete pedestal and also shuttling to expand available storage capacity. Following the storm, we checked to see if any original equipment manufacturer (OEM) support was needed for this machine, but thankfully, it survived intact." 
All new Bruks Siwertell equipment is destined for installation in Port of Lake Charles' bulk terminal number 1 (BT1 Dock).
One ship loader will primarily be used for handling petroleum coke, or petcoke, at a rated capacity of 3,200t/h, while the other is used for loading calcined coke at 2,250t/h. The first loader will be delivered on an expedited schedule of ten months, designed to get the port operating at greater efficiency as fast as possible. It is planned to enter operations, loading petcoke, in July 2022. The second will follow nine months later and be up and running in April 2023. 
Global capabilities, local support
"Our ability to provide the design Port of Lake Charles specified within an aggressive schedule to meet its operational needs for the first loader, while also offering a competitive price for the second loader, were extremely important parts of securing the contract," he says. "We also provide the customer with local, US-based support throughout the project and for the life of the machines.
"Furthermore, we offer a lot of experience with petroleum coke handling and extensive expertise in providing custom-designed solutions, especially with rail-mounted machines," Pace adds.
"We will fully assemble the first ship loader, off-site in Beaumont, Texas, and then ship it, via heavy-lift barge, so that the fully assembled loader can be lifted onto the dock's rails, and up and operational very quickly," explains Pace. "The second ship loader, we will fabricate and fully assemble in Vietnam and then ship it, again via a heavy-lift vessel, so that it can simply be lifted onto the rails. 
"Our ability to use Bruks Siwertell's global procurement abilities, really gives our customers the option for what works best for their application." 
Both ship loaders are rail-traveling with slewing, luffing, and shuttling capabilities. "Even though both loaders have different capacities and dimensions, we are designing them to have interchangeable spare parts," he notes. "This has significant long-term maintenance advantages for the operator."
The terminal hopper will also be fully assembled off-site in Beaumont, and then shipped and lifted onto the rails in the port. It is scheduled to enter operations in May 2022 and will handle barite and rutile at a rated capacity of 850t/h. 
It will be supplied complete with a vibratory feeder to regulate the flow of dry bulk material discharging from the hopper, and a reversing, shuttling conveyor to feed either the existing dock conveyor or to transfer material directly into waiting trucks at dock level.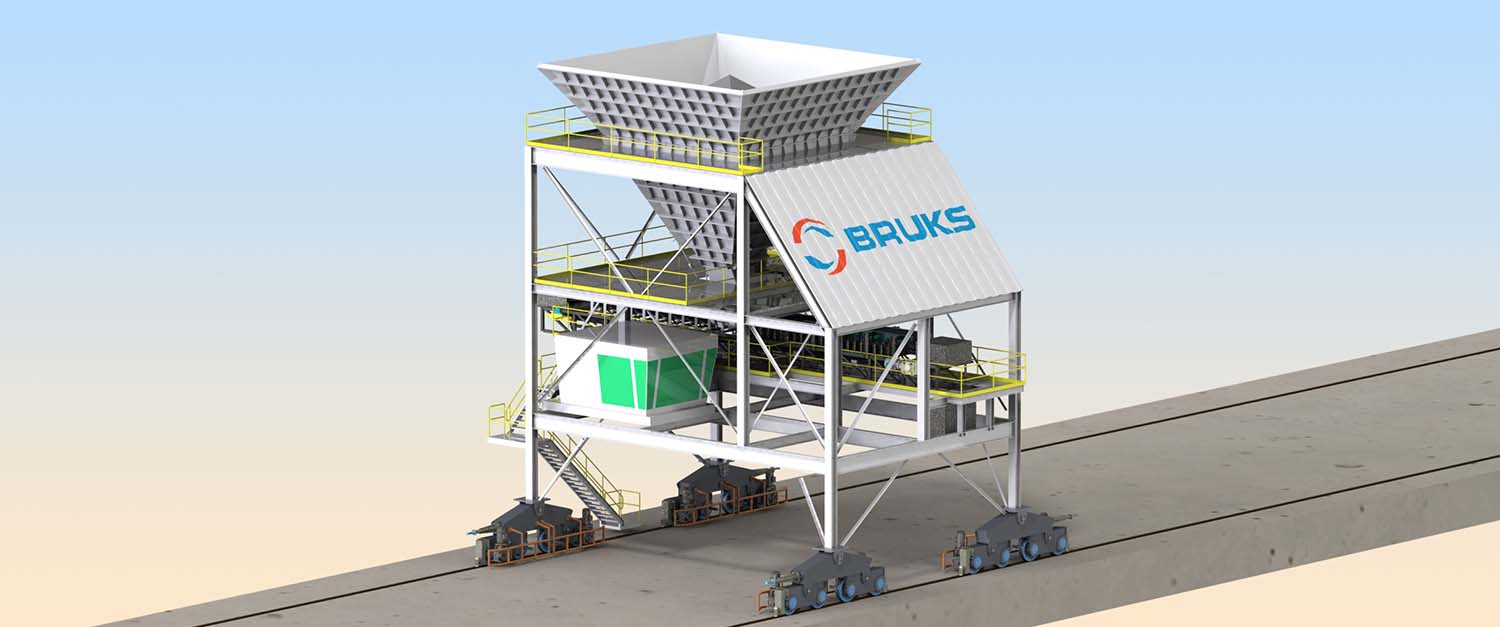 All-round capabilities
"Bruks Siwertell's ability to deliver a package of equipment within a very tight timeframe, which could perfectly meet Port of Lake Charles' needs, was significant in securing all the orders. Added to this, we are also able to work locally with the operator and therefore mitigate a number of supply risks from the COVID-19 pandemic," Pace concludes. 
Port of Lake Charles is recovering, and although not yet at peak capabilities, with the arrival of its new Bruks Siwertell equipment, the facility will be set for many more years of efficient, high-capacity dry bulk handling, taking the port and the region into a new era.
 
Share:
PLEASE CONTACT US FOR MORE INFORMATION
Executive Admin. & Marketing Coordinator
Lindsay Gilliland
+1 770 8490100
More Blogs