Mexico's new ultra-efficient agri-bulk terminal underpinned by Siwertell unloader
14 Oct 2022
The port of Veracruz, in east-central Mexico, is being developed into one of the most advanced port terminals in the world. Accessing global waters via the Gulf of Mexico gateway, the port is undergoing a USD 5 billion redevelopment project, which will quadruple its installed capacity to reach more than 90 million metric tons by 2030. Part of this development is five new terminals and a new cargo processing and logistics area.
Integral to this development is Grupo Gramosa's Puertos Especializados Transnacionales (PETRA) new agri-bulk terminal. It was planned, designed and built for the specialized handling of solid, liquid and semi-liquid agricultural bulk, with a storage capacity of 126,000 metric tons of dry bulk and 38,400 metric tons of liquids.
PETRA is now operational, and from the outset, its dry bulk import facility has been able to offer unmatched grain handling and environmental protection. Underpinning these exceptional capabilities is a single rail-mounted Siwertell ST 640-M ship unloader. 
It has a continuous rated capacity of 1,200t/h and a peak one of 1,320t/h, discharging vessels up to 80,000 dwt. The unloader's seamless flexibility enables it to handle a number of different grains such as corn, soya meal, dried distillers grains (DDGs), and canola seeds without any loss of efficiency.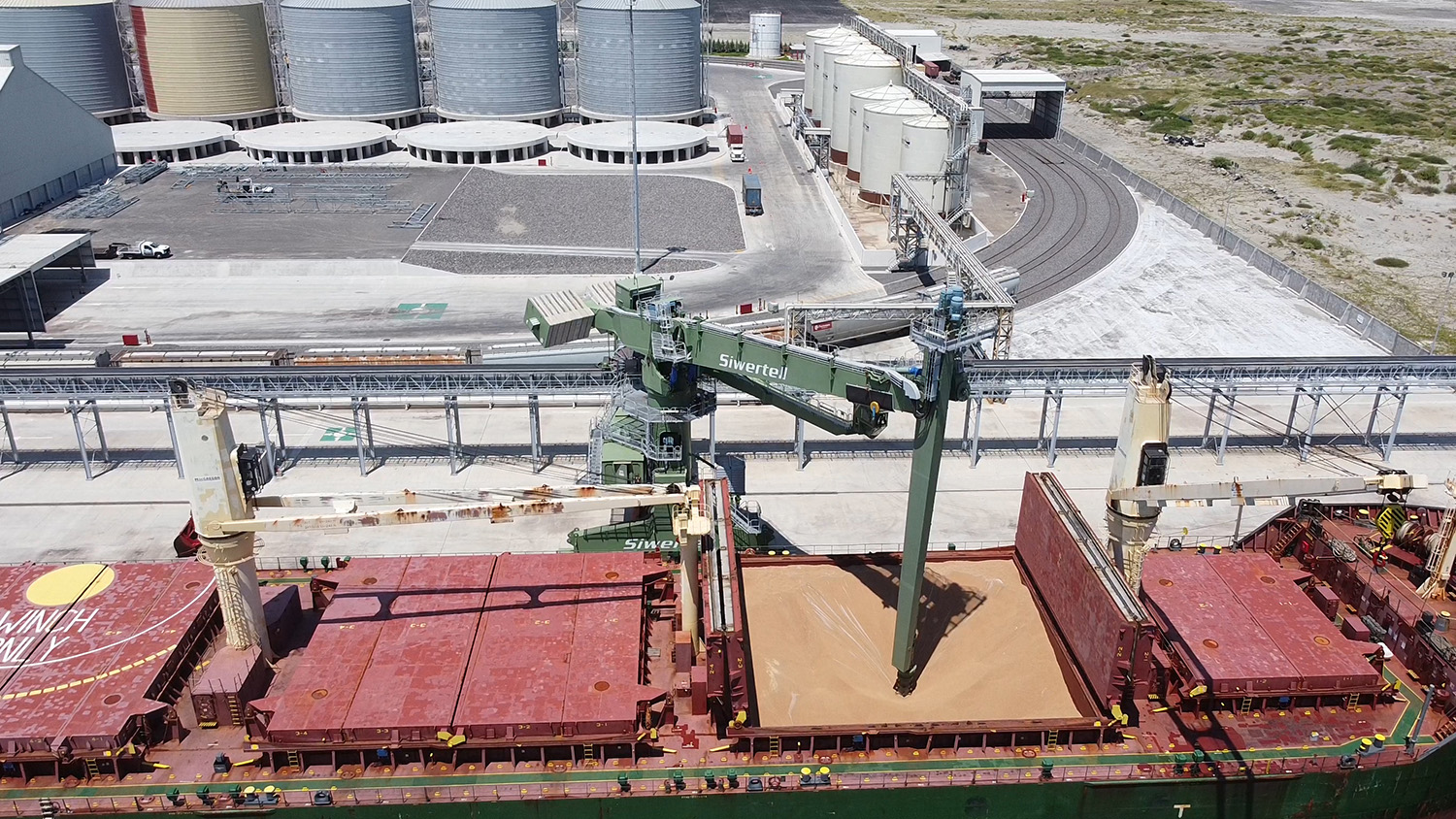 Efficiency reduces costs
"Gramosa Group invested USD 85 million in the PETRA terminal as it saw an opportunity to reduce the cost of raw materials for an animal-feed facility, achieved by getting more materials into the plant at a lower cost due to greater efficiency," explains Jesus Mil Linares, Terminal General Manager, Grupo Gramosa.
Talking about its new Siwertell unloader, Linares could not speak more highly. "The Siwertell unloader is formidable! With this system we are positively contributing to our beloved country, Mexico, reducing the 'market basket' cost by being more efficient in our logistics chain.
 "The unloader minimizes terminal operating costs. In addition, there are close-to-zero dust emissions, no disturbing noises, and no spillage," Linares notes. "This means no cargo losses, which is particularly important when it comes to expensive commodities such as corn, which is currently priced in the region of USD 350 per metric ton and DDGs at USD 650 per metric ton."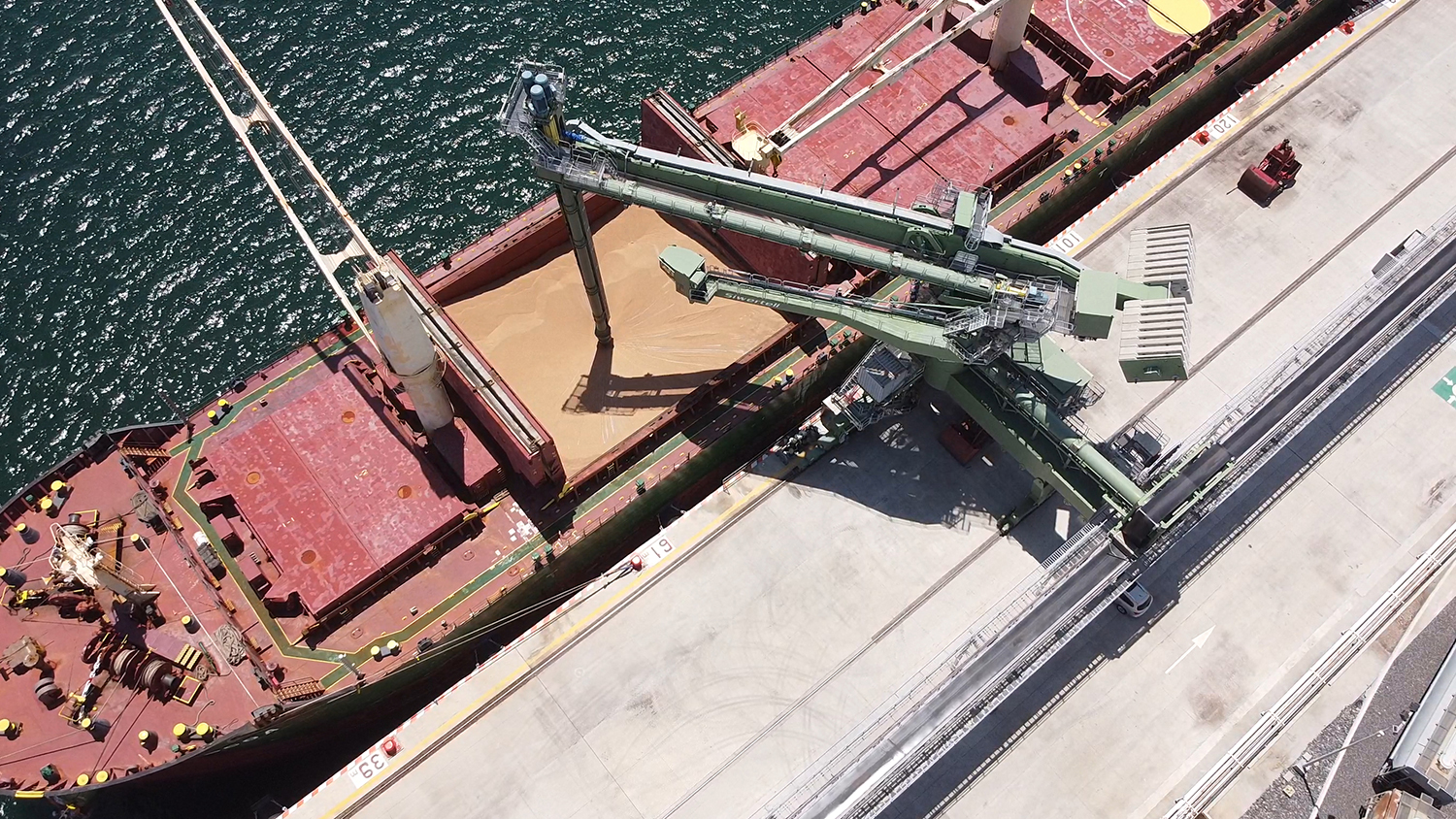 Decades of growth
"Furthermore, if you consider commodity prices scaled up alongside logistics, with a vessel costing up to USD 35,000 a day, we are in a much better position to negotiate more favorable rates. We are faster than any other agri-bulk terminal in Mexico, and offer as low as 0.01 percent losses, with others reaching around 0.5 percent, if not more," he explains.
"One operator is required for the unloader, which means we are using fewer resources as the terminal is fully-mechanized from unloading to truck or rail-car loading," Linares says. "They can comfortably sit in an air-conditioned control cabin, or operate the unloader via remote control, which gives us great flexibility." 
Linares highlights that the efficiency of its Siwertell unloader will meet the terminal's planned growth for the next forty years. Other benefits include the capability of accommodating an extended draft. "We can cater for larger vessels with a draft of 20m, while other terminals are limited to 13m," he says. "The terminal also has a highly efficient, looped rail network, which is connected to the region's two main railway lines, Ferromex and Kansas City Southern de México."
PETRA's main Siwertell unloader operator, Eric Marquez Martinez, compares the Siwertell unloader to driving a Ferrari. "A few times the captains have asked me to slow down as I'm going too fast!"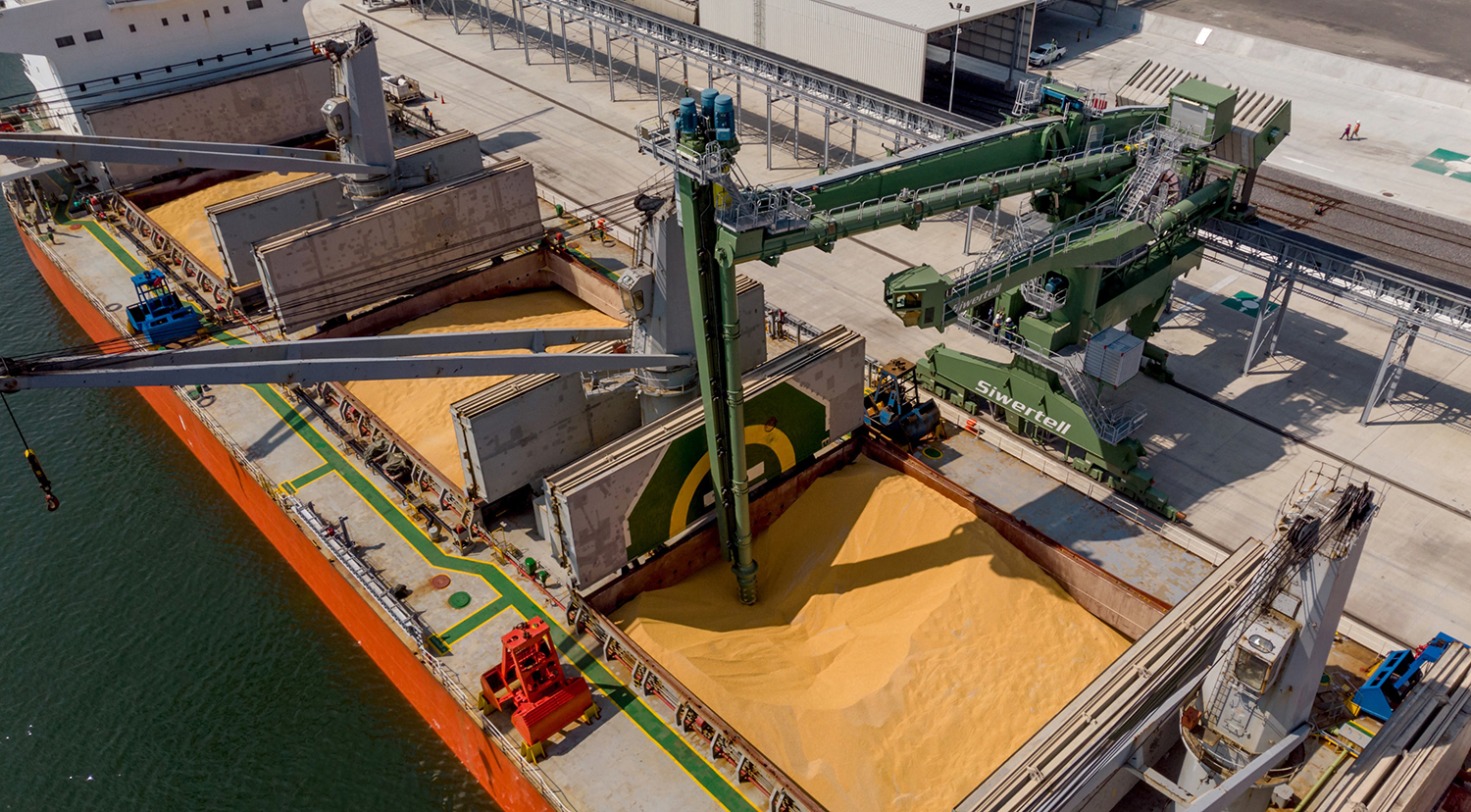 Chosen on performance
Grupo Gramosa is a progressive company dedicated to the commercialization and transformation of agricultural bulk, and the preparation of balanced animal feedstocks. It originally ordered the Siwertell ship unloader in 2018. Bruks Siwertell delivered the unit fully assembled in 2019, with commissioning and operator training being carried out in 2021.
Gramosa chose Siwertell technology because it out-performed all other competitor systems during a four-month selection process; particularly the two 600t/h pneumatic systems it was initially considering. 
The analysis showed that a single Siwertell ST 640-M ship unloader would be a more economical solution in the long term. The operating costs comparing two pneumatic unloaders, delivering an equal total capacity, was lower. Also, the Siwertell unloader offered cost savings from reduced berth occupancy as through-ship efficiency was greater. Furthermore, the quality of grain shipments was also considered. 
A statement from Gramosa at the time of the order states that: "The Siwertell system was selected after considering many factors and multiple equipment comparisons. Analysis included operating principles and mechanisms, investment costs, as well as operating costs. 
"An important factor was cargo loss and damage. We will handle a number of different grains at the new terminal such as corn, rice, wheat, soya beans and canola seeds. The low conveying speed of the Siwertell screw-type unloader means that the grain is not damaged during handling, which will give us added value and differentiate us from our competition.
"Another consideration in the selection of Siwertell equipment was the balance of performance across multiple grains such as soybean meal and DDGs. Other systems on the market did not compare. For example, in the case of pneumatic equipment, it is very efficient at handling grains, but offers very low efficiency, translating to high operating costs, in soybean meal and DDGS."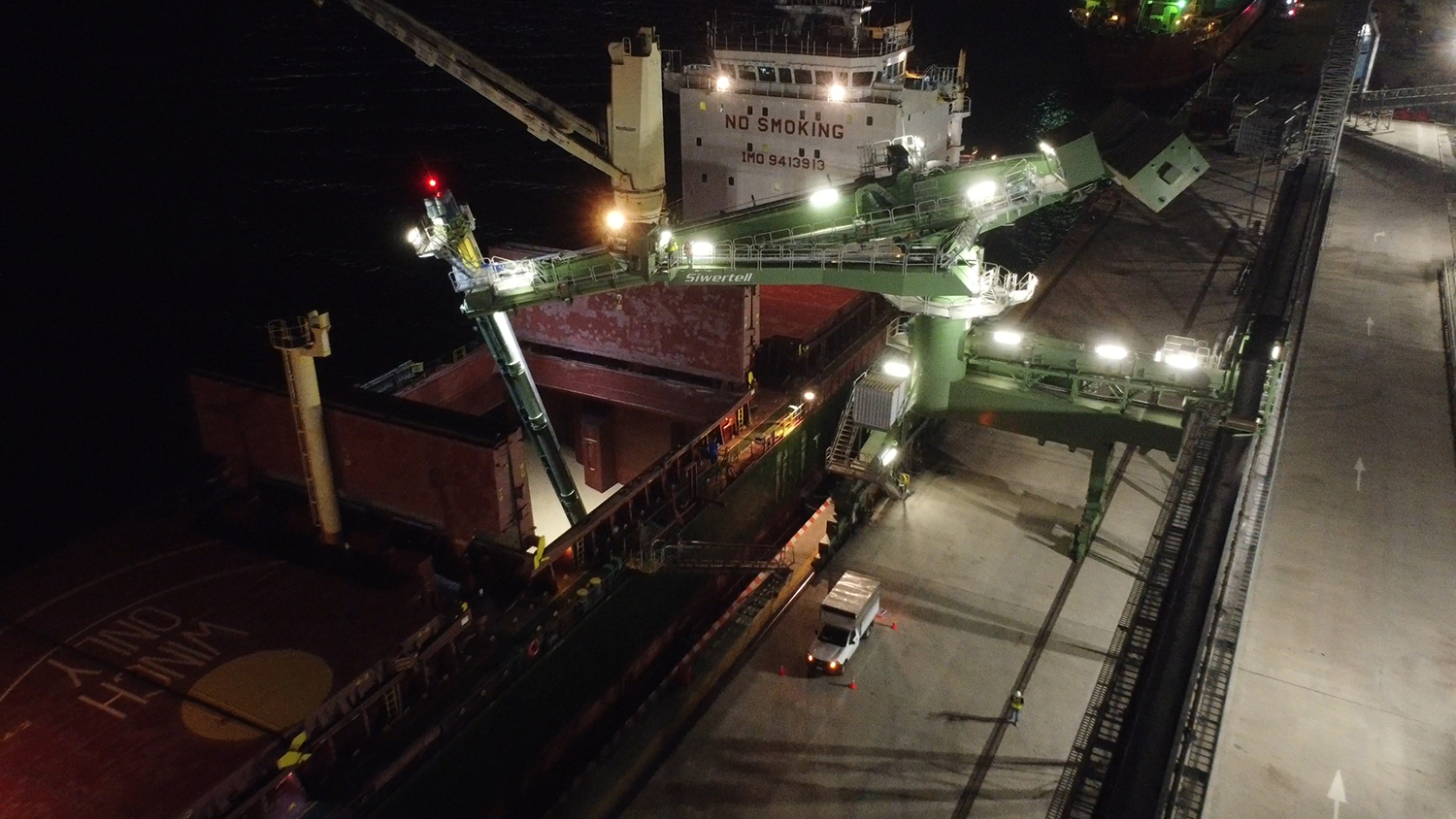 A competitive edge
"It is a great endorsement of our technology, not only for it to be chosen following detailed analysis for several months to compare it with other equivalent capacity systems, but also now that it is operational, for those comparisons to be a reality for the owner," says Patrik Henryson, Sales Manager, Bruks Siwertell. 
"Thanks to the tremendous growth in the agri-bulk segment over the last few years, grain is now the third largest cargo that Bruks Siwertell machines handle," Henryson explains.
"We understand that grain handlers have to meet some of the most challenging dry bulk material demands, and their dry bulk equipment must match these, offering consistently high capacities for maximum profitability, but also maintaining the quality of shipments through sensitive handling.
"We talk about our systems offering grain handlers a competitive edge, and this is exactly what PETRA's new Siwertell system is now delivering. The unloader is very well suited to the job it has been ordered for. It is so efficient that it directly lowers operating costs, and enables Grupo Gramosa to negotiate better commodity rates. 
"The advantages offered are incomparable to other technology, and the Siwertell unloader is so efficient that it will reliably meet the terminal's growing capacity requirements for decades," Henryson concludes.
 
Share:
PLEASE CONTACT US FOR MORE INFORMATION
More Blogs