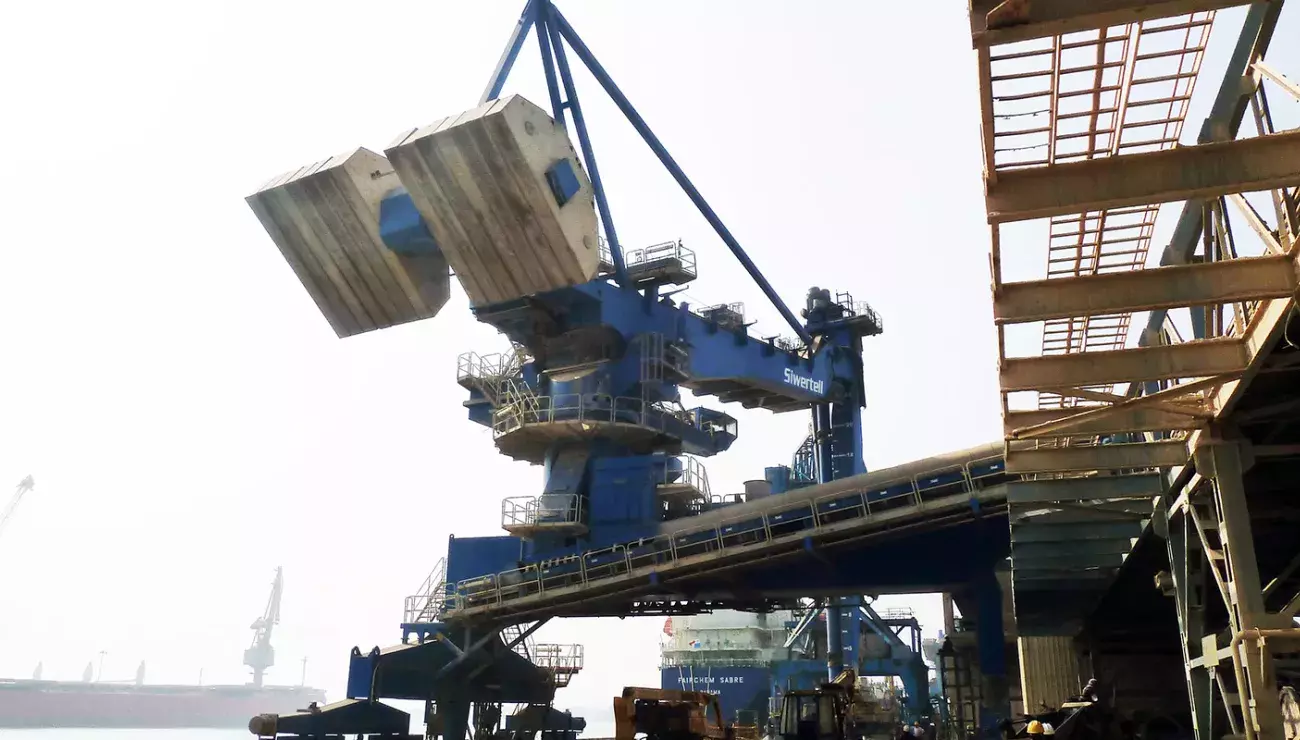 Major environmental and efficiency advantages on offer to India's fast-growing dry bulk markets
11 Sep 2023
India's economy is growing fast and its government has ambitious plans for the future. According to a World Bank update in April 2023, although there are significant challenges in the global environment, India's economy has shown resistance and remains as one of the fastest rising in the world. Its overall growth is estimated to be 6.9 percent for the full year.
In addition to growth, India has committed to numerous sustainability goals. Its Maritime India Vision 2030, created with the objective of propelling India to the forefront of the global maritime sector in the next decade, involves the development of green ports and green shipping.
A pivotal role 
India has over 7,500 km of coastline, and hundreds of ports. So, within this picture, its dry bulk sector plays a pivotal role; approximately 350 million metric tons of dry bulk were imported in 2019 and around 75 million metric tons exported in the same year.
Looking at this in more detail, coal, fertilizer and limestone remain amongst the largest import volumes, while iron ore, grain products and salt are India's main dry bulk exports. Bruks Siwertell is involved in almost all of India's dry bulk markets, with particular prominence in the fertilizer industry and for securing environment-friendly coal handling.
Deliveries to the fertilizer sector include four Siwertell ship unloaders for the importation of rock phosphate and sulfur, which are important ingredients in its manufacture. 
Fertilizers underpin India's national food production. With India's population predicted to be the largest in the world by the end of this year, surpassing China, food security is a growing concern.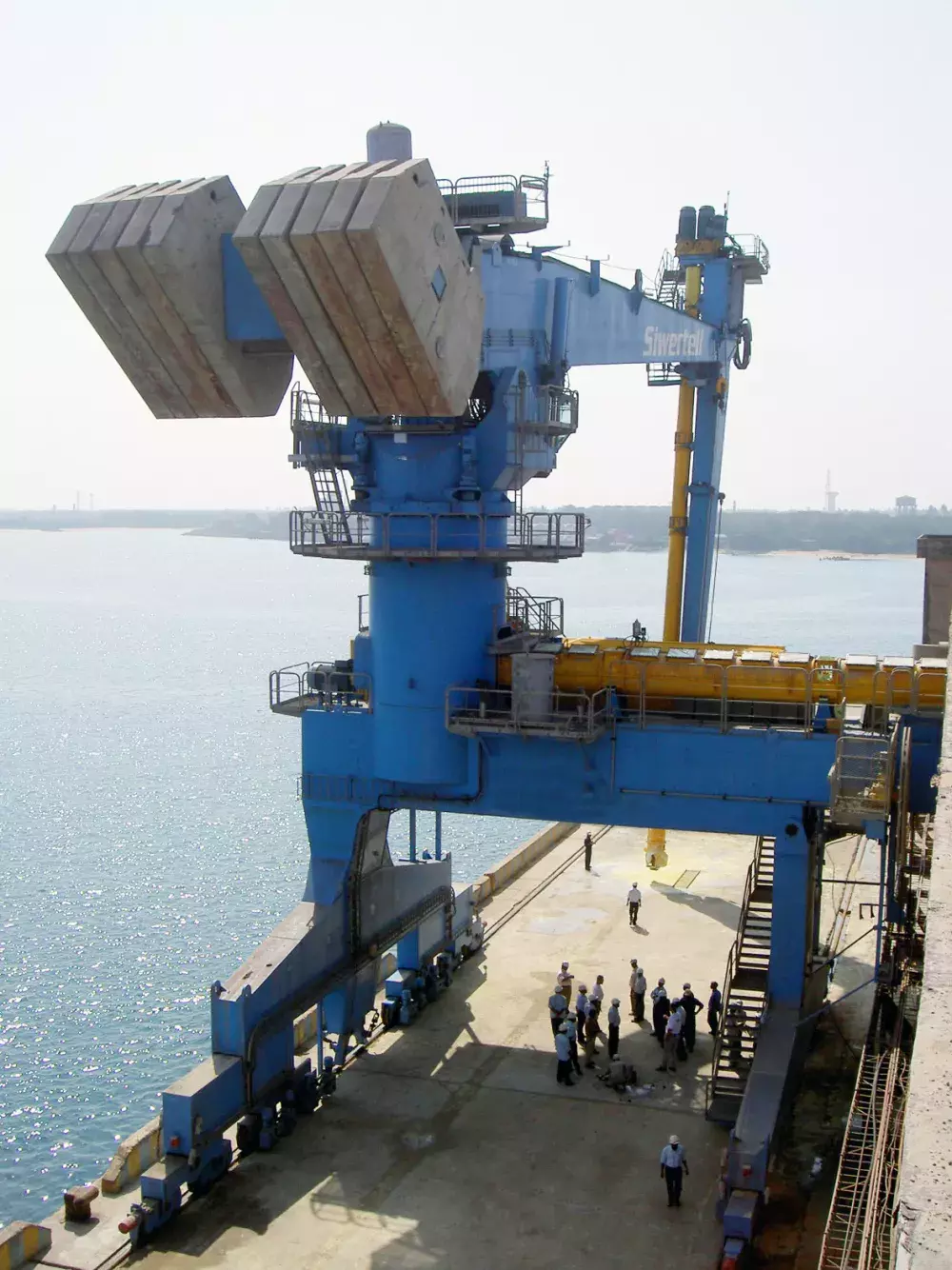 Food needs fertilizers 
Working hard to secure these imports is, for example, Paradeep Phosphates Limited (PPL), a leading fertilizer industry company operating in the state of Odisha, India. PPL is headquartered in Bhubaneswar, and is a major manufacturer of phosphatic fertilizers, ranking as Asia's second largest producer of diammonium phosphate (DAP).
Since 2006, a rail-mounted Siwertell 640 D-type ship unloader has been serving the company. It has been a critical part of the port's environmental transformation, supporting a switch from open-air handling of sulfur with a bucket-type unloader, to safe, fully enclosed, dust-free operations.
The installation has now been in operation for more than 15 years and has been so successful at speeding up vessel turnarounds for PPL, and thereby reducing freight costs and demurrage, that a return on investment has been achieved in a short space of time.
Highlighting this success further, in 2021, Bruks Siwertell won a contract to deliver a second Siwertell 640 D-type ship unloader to PPL, enabling the company to keep pace with its expansion plans and an increase in volume demands in the most sustainable and environment-friendly way possible.
Expanding sulfur imports 
Like PPL's first unloader, the new rail-mounted ST 640-D unit has the capacity to discharge sulfur from vessels up to 60,000 dwt in size, at a rated capacity of 1,500t/h. It will alternate handling sulfur cargo with rock phosphate at a rate of 1,200t/h and muriate of potash (MOP) at 1,050t/h. It will have a similar set up as the existing unit, but will also feature updated, modern components and Industrial Internet of Things (IIoT) solutions.
Both units, like all Siwertell ship unloaders that handle sulfur, are fitted with the Siwertell Sulfur Safety System (4S), which was first developed over 30 years ago to minimize the risk of explosions when handling this extremely volatile and corrosive dry bulk material in a contained environment. Siwertell technology is the only ship unloading system that is able to offer safe and totally enclosed sulfur handling, offering a lifeline to sulfur importers like PPL.
PPL's new unloader has now been delivered and is currently undergoing its installation and commissioning phase, which are planned for completion later this year. It will work on the same jetty as Bruks Siwertell's previous delivery and double the operator's material handling capacity, delivering a very efficient terminal with top of the line environmental credentials.
The high efficiency of the Siwertell unloaders means that vessel unloading times will be kept to an absolute minimum, reducing demurrage, and maximizing the utilization rate of the jetty. Furthermore, the totally enclosed Siwertell conveyor systems minimize dust creation and eliminate spillage, maximizing the terminal's environmental protection.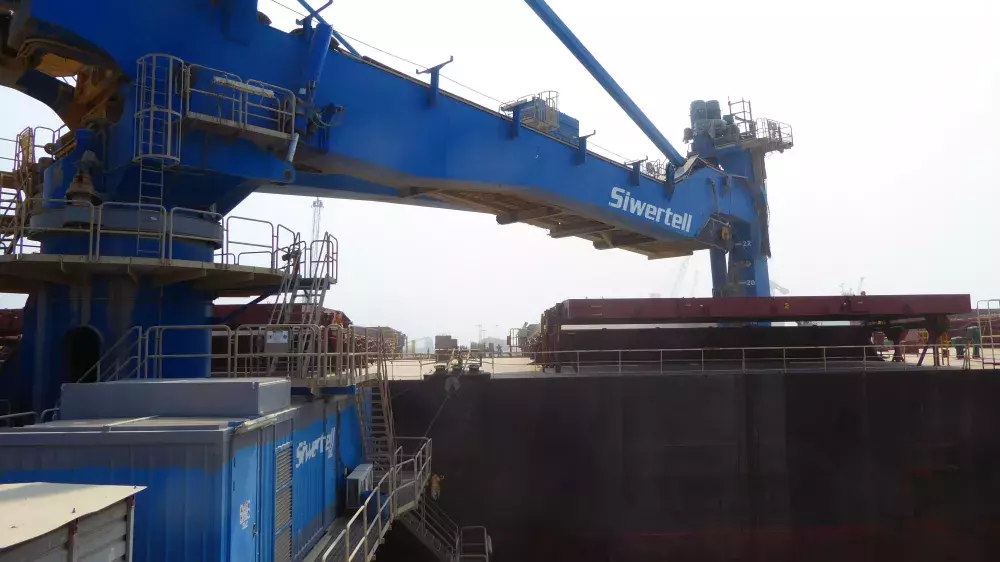 Long-serving machines
Since 2011, Paradeep Port has also been served by a high-capacity, rail-mounted Siwertell ST 790-D unloader, which was delivered to Indian Farmers Fertiliser Cooperative Limited (IFFCO). IFFCO is another leading player in India's fertilizer industry and runs one of the world's largest DAP plants, producing around two million metric tons of fertilizer a year.
The plant needs raw materials, including rock phosphate and sulfur, and this is where the Siwertell ship unloader makes its mark. Able to unload sulfur from vessels up to 75,000 dwt at 1,800t/h, the Siwertell unit, with its fully enclosed conveying system, also replaced a grab crane and prevents dust emissions, further improving the environmental conditions at the port.
By switching from open grab systems to enclosed Siwertell unloaders, both IFFCO as well as PPL's Siwertell ship unloaders have significantly increased the dry bulk handling efficiency of the terminals and vastly improved the local environment. This move away from grab cranes can also be noted in Visakhapatnam, the most populous city in the Indian state of Andhra Pradesh. In 2002, Coromandel Fertilisers Ltd, was facing two issues that needed to be addressed: an existing 30-year-old grab unloader needed a replacement and environmental claims from the naval base opposite the terminal had to be dealt with.
In 2003, the operator made the switch to a Siwertell ST 490-F unit, eliminating spillage, minimizing dust emissions, and substantially increasing the cleanliness of the port. The unloader's high capacity material handling also significantly outstripped the through-ship efficiency of the terminal's aging grab crane.
Insatiable appetites for energy
Rising populations also demand energy. The Indian energy sector is heavily investing in non-fossil fuel and renewable energy production, especially solar and wind. However, it recognizes that this will not be enough, quickly enough, to meet the country's insatiable appetite for energy. Like the rest of the world, India is trying to balance demand with supply and its government currently sees coal-fired power stations as the only viable alternative for some time to come.
According to India Energy Outlook 2021, India is the world's third-largest energy-consuming country, and energy use has doubled since 2000, with 80 percent of demand still being met by coal, oil and solid biomass.
Even though India has significant reserves of domestic coal, there is a growing demand for imported coal. Like the fertilizer sector, in many coal import terminals where grab cranes are traditionally used, there are significant environmental problems with spillage and dust creation. Grab cranes can lose up to two percent of a shipment. Through the use of enclosed Siwertell technology and services, we can help operators decrease their environmental impact when handling coal.
For example, Siwertell ship unloading technology handles coal in a way that absolutely minimizes the environmental impact of the ship to shore link. Enclosed systems minimize dust and eliminate spillage. Installing Siwertell unloaders for coal handling can make very significant positive environmental impacts within import terminals and their surroundings.
Benefiting from this is Essar Bulk Terminals; a company that developed the port of Salaya, in the Indian state of Gujarat, into a world-class terminal to meet the region's power-generation needs.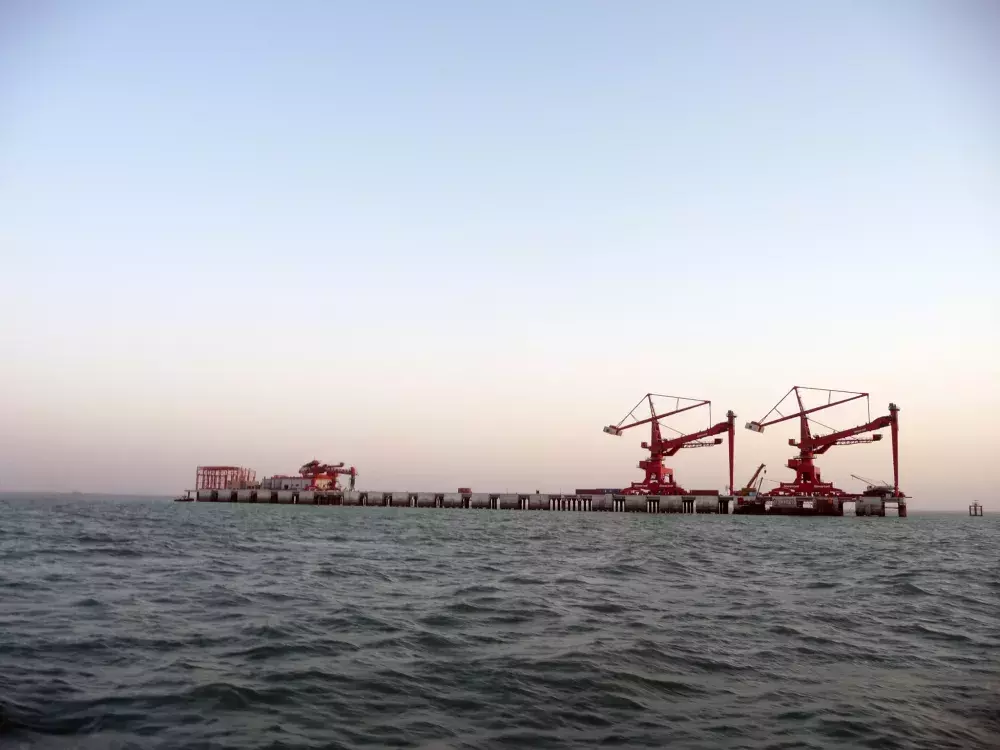 Ensuring environmental protection 
Salaya hosts the region's busy fishing industry and is located close to a national nature reserve and bird sanctuary; therefore, extremely strict environmental protection regulations are in place. Meeting these are two screw-type Siwertell ST 940-DOB ship unloaders and one belt-conveyor type Siwertell ship loader, which were delivered in 2011.
Accommodating vessels up to 180,000 dwt, each unloader is designed to discharge coal at a rated capacity of 2,300t/h. The loader can handle ships up to 70,000 dwt and is designed to load petroleum coke at a rated capacity of 1,500t/h.
In addition to environmental and capacity advantages, a further benefit of the Siwertell equipment was its relatively low weight, which reduced the cost of constructing the new jetty. Each unloader weighs 912 metric tons and the loader weighs 289 metric tons.
Essar Bulk Terminals, part of Indian multinational conglomerate Essar Group, also operates another Siwertell ship loader in the port of Paradeep. Since 2011, it has delivered reliable, efficient iron ore pellet handling at a rated capacity of 4,000t/h.
For those operators who are ultimately looking to switch from handling coal to renewable biomass pellets for energy production, for example, Siwertell ship unloaders and loaders are able to handle multiple materials, efficiently and safely. They support coal-fired power plants with co-firing – burning coal and biomass – through to their complete transition to only burning biomass.
Biomass pellets are fragile, and break down if not handled correctly. They are also very dusty and prone to self-ignition. Totally enclosed Siwertell unloaders are capable of mitigating these risks, and minimizing any material degradation. This maintains the quality of the shipment and combustion efficiency.
The benefits delivered by Siwertell technology is not just limited to India's fertilizer and coal handling sectors. A growing environmental movement in the country is putting ever greater pressure on local governments and port operators to improve their operational practices and deliver cleaner environments.
Switching from grabs 
Bruks Siwertell is active in most of the country's dry bulk markets, with its technology delivering substantial environmental advantages compared to today's prevalence of traditional grab crane technology in many Indian ports.
By offering the market state-of-the-art ship unloading and loading equipment, with the highest possible environmental credentials, Bruks Siwertell contributes to making dry bulk material handling as clean as possible, minimizing the impact from spillage and dust.
Furthermore, Siwertell technology delivers market-leading capacities and efficiencies, enabling operators to maximize port throughput. The well-known phrase, a ship only earns money when it is at sea, emphasizes the importance of equipment that delivers the shortest vessel turnaround times. If terminals can handle more vessels with the same investment, jetty utilization rates are raised along with profitability.
Given India's population growth and its rapid economic development, the future holds an increased demand for the import of all dry bulk cargoes. This will require modern, efficient, high-capacity ship unloading equipment, which also minimizes the environmental impact of dry bulk material handling.
Bruks Siwertell wants to lead the industry's sustainability drive, and believes that the installation of enclosed Siwertell technology is an ideal solution from both an economic, and an environmental perspective.
 
PLEASE CONTACT US FOR MORE INFORMATION
Share:
More Blogs