Innovative loading technology delivers operational excellence 
5 Nov 2021
Boliden is working hard to automate its mining facilities and drive advances in environmental protection, safety and production; as part of this, its Ireland facility now features Bruks Siwertell's first fully automatic loader and conveyor coupling technology
At Europe's largest zinc mine, Boliden Tara Mines, near Navan, in County Meath, Ireland, around 2.6 million metric tons of ore is mined annually for the production of zinc and lead concentrates. 
The 1,000m-deep facility has been in production since 1977 and was acquired by Swedish company, Boliden AB, in 2004. Over this time, more than 85 million metric tons of ore has been extracted. The mine is also one of the most automated. Boliden says that it has increasingly digitalized its mining facilities to make them among the safest in the world and also to keep production running non-stop, round-the-clock.

An environmental agenda
In 2018, Boliden Tara Mines processed 2,200 kilotons of ore into metal concentrates containing zinc, lead and silver. In the same year, the company turned to Bruks Siwertell for its expertise in developing a unique material handling system to serve the company's new terminal located in Dublin Port's Alexandra Basin. As the equipment is only 150m away from a popular docklands area, close-to-zero dust emissions were stipulated in the contract.
"The system needed to be installed in the downtown area in the port of Dublin, just beside a new concert hall, office buildings and an exclusive hotel," notes Bengt Svensson, Contract Manager, Bruks Siwertell. "The cruise ship port was also a close neighbour. We therefore had to meet low noise requirements and very high environmental standards. Also, to comply with planning regulations, architectural restrictions, relating to the color and shape of machinery, had to be met." 
Echoing the need for strict environmental requirements in the machinery, Peter Göransson, Sales Manager and Senior Advisor, Bruks Siwertell, explains: "Zinc and lead are extremely hazardous, not only to the environment, but also to humans, so we needed to find a way to limit any atmospheric pollution from the loading and conveying process, but also any physical contact that operators had with the materials. 
"A high loading capacity, combined with easy system operation and low service and maintenance costs, were also significant factors for the company, along with our technology's ability to comply with best available technology (BAT) and reference document (BREF) regulations," adds Göransson.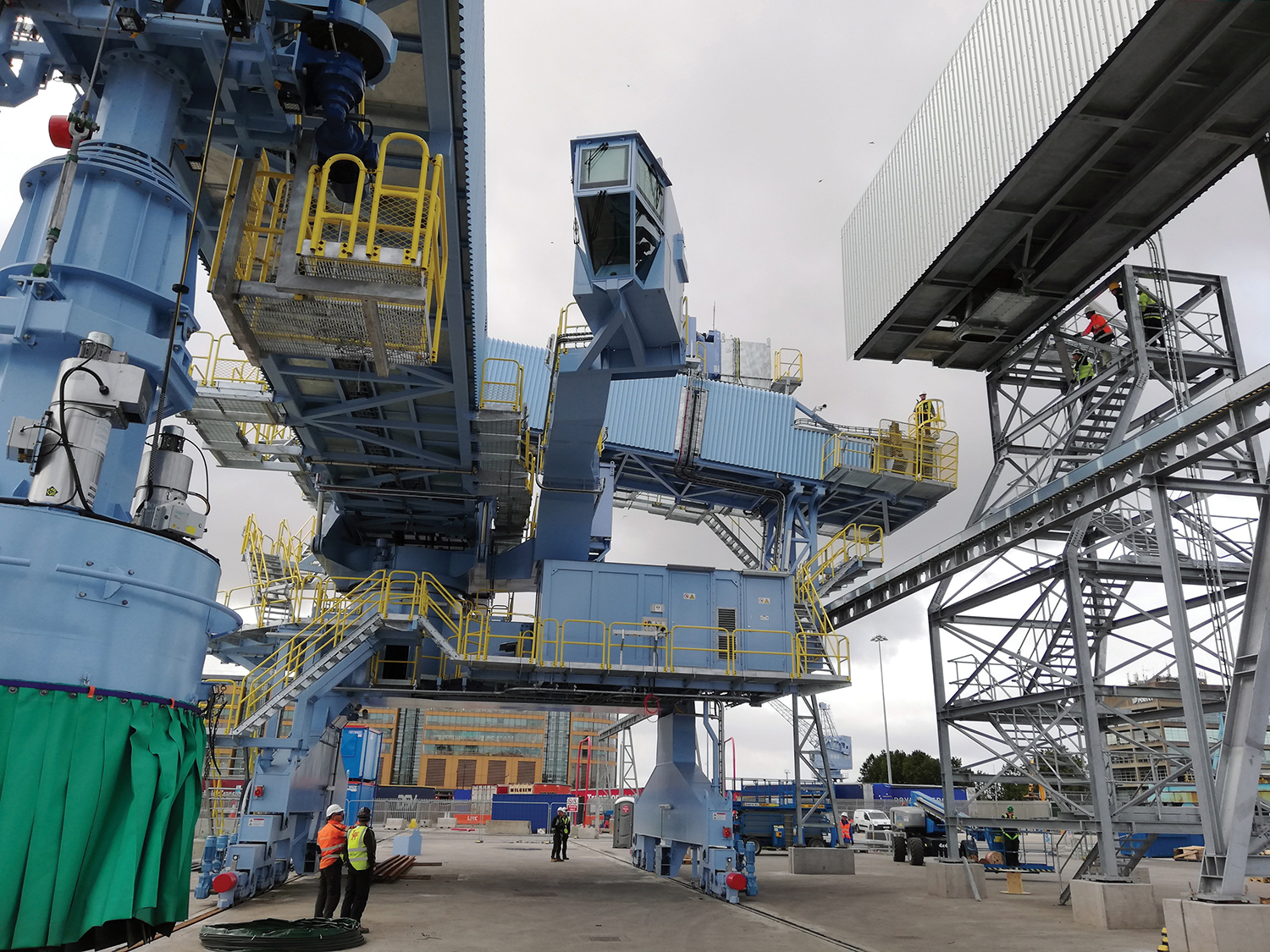 Collaborative design
Working together with the operator, Bruks Siwertell developed a totally new system. It comprises a triple-enclosed belt-type ship loader, with luffing and slewing capabilities, a reversible shuttle-belt conveyor, with double-embedded covers, and dual remotely-operated connection points, as well as a triple-enclosed jetty and overland conveyor. The conveyor and its walkways are also embedded. 
"Great effort has been made to comply with the zero emissions strategy set up for the project," he notes. "For the dust extraction system, which was tailor-made for the application, it meant a new approach; a two-stage filtration process. This is achieved by collecting initially filtered, clean air from the dust collector, and passing it through a second filtration unit with special high-particulate air (HEPA) filters, forming the final stage of the process. Only at this point is the air released into the atmosphere.
"The HEPA filters in the second filtration process reduce the amount of airborne particles in the clean air from traditional milligram levels to non-measurable emissions. 
"Not only hazardous, lead and zinc are also very sticky materials and require specialist machinery to handle them," Göransson continues. "To stop material clogging up the loader we designed it to have different angles and rounded corners, which prevent any ore build-up. Other measures include a stainless-steel base plate, with built-in vibrators and heating elements; all designed to keep the material flowing."
The zinc and lead concentrates are transferred from the mine in rail wagons to a receiving storage warehouse. From here, a conveyor belt leads to a new quayside facility in Alexandra Basin. Siwertell units are well-suited for these sticky and hard-to-handle materials and the new system is capable of loading ships of up to 10,000 dwt at a continuous rated capacity of 600t/h. 
"Boliden required a completely new concept, but one that was also capable of flexibility, handling its variety of cargoes and a wide range of vessel sizes," says Göransson. "Our lengthy experience and expertise in bulk material loading was a significant factor in Boliden opting to work with us on developing this technology."
Best on the market
The system was built and commissioned at Dublin Port in partnership with local Irish sub-contractors in 2019. "Construction supervision was part of the delivery scope, ensuring that the designs were closely followed and any queries quickly dealt with. The system required a number of carefully selected components from Swedish and other European sub-contractors," continues Svensson.
"The timescale was very tight, but we had good cooperation with local support; we combined expertise, working together to build a very special installation," Göransson notes.
"The system has now been in successful operation for almost a year and delivers the highest safety standards and environmental protection, " adds Svensson. "It really is the best available technology on the market, with fully automatic coupling between loader and conveyor. This maintains very high loading capacities, vital to the mine, but also minimizes all human contact with lead and zinc, which is vital for health and safety." 
For peace of mind, Boliden also has a spare parts package and a two-year planned service agreement in place, which schedules eight service visits, four a year, to the operator over the course of the contract.
 
Share:
PLEASE CONTACT US FOR MORE INFORMATION
More Blogs