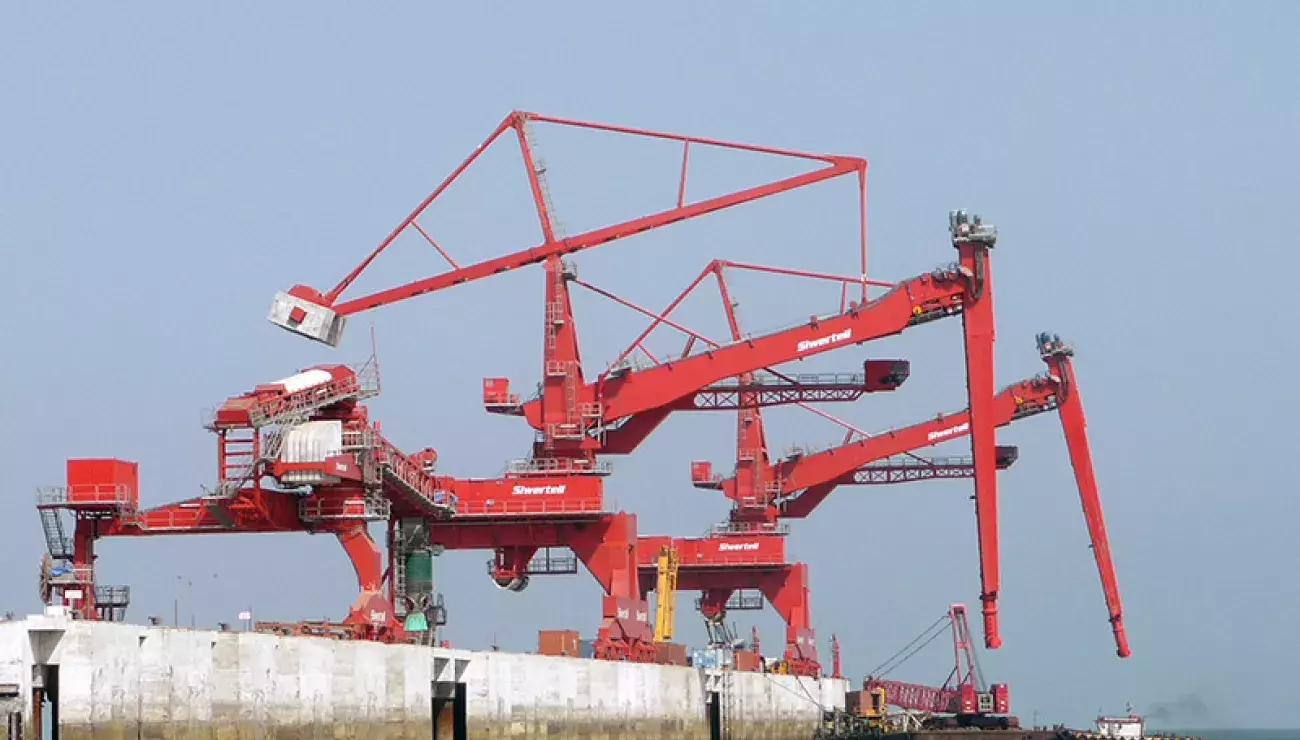 India sights fastest-growing green economy and sets to transform its ports 
11 Jul 2022
In its Trade and Development Report 2021, the United Nations Conference on Trade and Development (UNCTAD) said that India's economy is expected to stand at around 6.7 percent in 2022, competing with China for the world's top spot. But India's ambitions do not stop there.
In March 2022, a leading Indian Government official addressed the seminar, Only One Earth, a discussion on Environment, at the India Pavilion, EXPO2020 Dubai and said: "While we are proud to be the fastest-growing economy in the world, we hope to become the fastest-growing green economy across the planet."
During the seminar, India's status as a leading agri-bulk producer was outlined along with its drive to reduce the country's dependence on crude oil imports and look to renewable alternatives. At the same time, India has huge plans for its maritime infrastructure, which is being delivered through its Maritime India Vision 2030 and created with the objective of propelling India to the fore¬front of the global maritime sector in the next decade.
7,500km of potential
It is not difficult to see the potential. India has over 7,500km of coastline, and hundreds of ports. Part of both the green economy drive and the Maritime India Vision 2030 involves the development of green ports and green shipping in India. This is where Bruks Siwertell can, and is, helping.
Siwertell ship unloaders are highly-efficient and offer the most environment-friendly and cost-effective dry bulk material handling on the market. But they go beyond that, delivering incredible through-ship efficiencies that have the capability of literally transforming ports in terms of their profitability and environmental impact. 
In comparison with traditional 'clamshell' grab cranes and their discontinuous operating profile, Siwertell ship unloaders are able to handle 45 percent more cargo, reducing discharge times by almost half, courtesy of their continuous high-efficiency through-ship performance. 
It was these attributes that Paradeep Phosphates Limited (PPL), a premier fertilizer industry company operating in the state of Odisha, India, needed when it approached Bruks Siwertell for its first Siwertell ship unloader.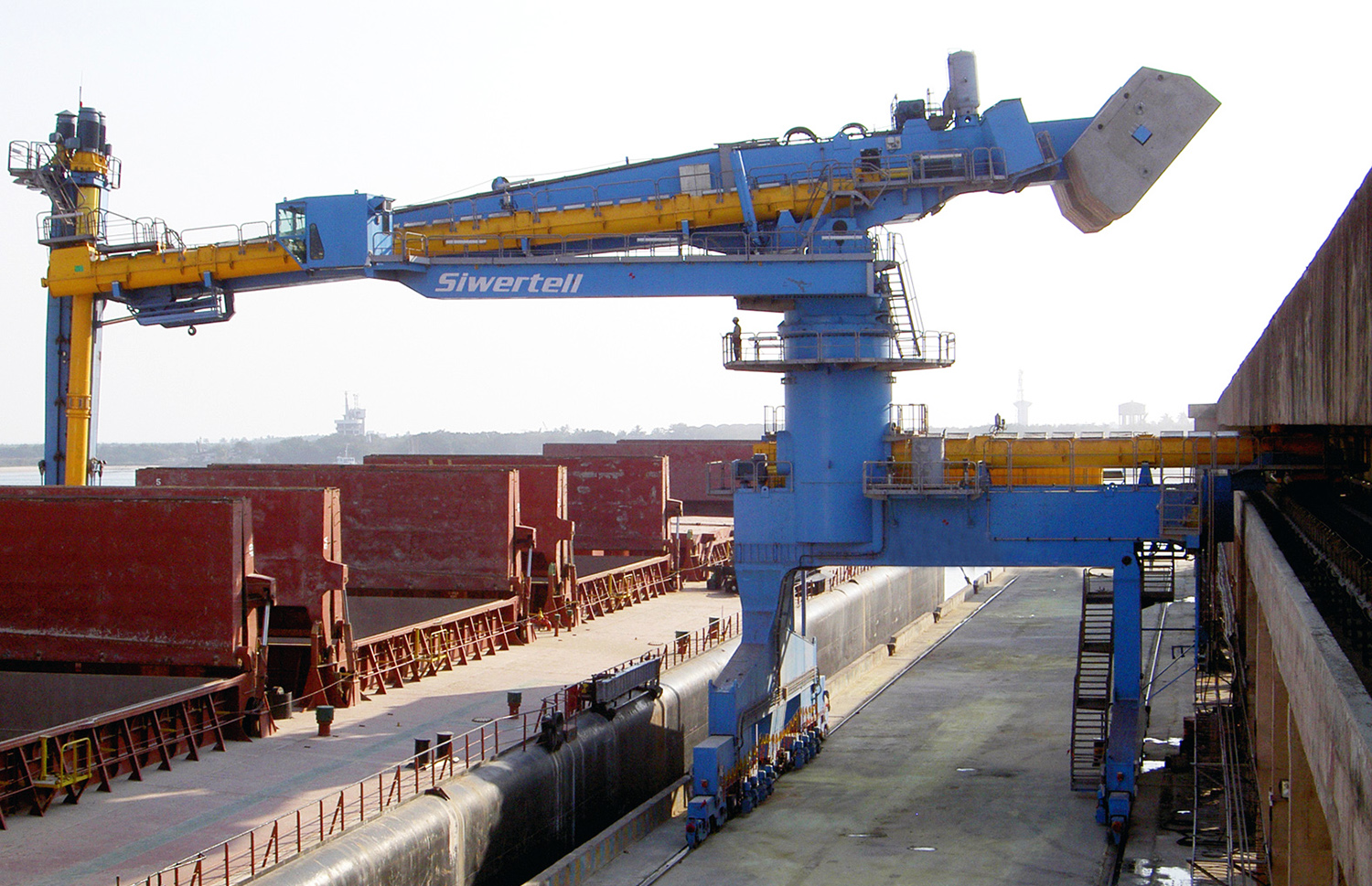 Paradeep Port's clean-up 
PPL, which is headquartered in Bhubaneswar, is a major manufacturer of phosphatic fertilizers and ranks as Asia's second largest producer of diammonium phosphate (DAP). Facing environmental problems at its Paradeep jetty from the spillage of sulfur, PPL was looking for a new ship unloading solution. 
After a visit to a Siwertell installation in Australia, PPL was convinced that a continuous, screw-type Siwertell ship unloader was the answer to its needs. The rail-mounted Siwertell 640 D-type ship unloader has been serving the company since 2006. It has been a critical part of the port's environmental transformation, encompassing a switch from open-air handling of sulfur with a bucket-type unloader, to safe, fully enclosed, dust-free operations.
The installation has been so successful, with PPL benefiting from faster vessel turnarounds, which have reduced freight costs and demurrage, that a return on investment has been achieved in less than two years. Highlighting this further, in 2021, Bruks Siwertell won a contract to deliver a second Siwertell 640 D-type ship unloader to PPL, enabling the company to keep pace with an increased demand in the most sustainable and environment-friendly way possible. 
Similar to PPL's first unloader, the new rail-mounted ST 640-D unit has the capacity to discharge sulfur from vessels up to 60,000 dwt in size, at a rated capacity of 1,500t/h. It will alternate handling sulfur cargo with rock phosphate at a rate of 1,200t/h and muriate of potash (MOP) at 1,050t/h. 
Both units, like all Siwertell ship unloaders that handle sulfur, are fitted with the Siwertell Sulfur Safety System (4S), which was first developed over 30 years ago to minimize the risk of explosions when handling this extremely volatile and corrosive dry bulk material in a contained environment. Siwertell technology is the only ship unloading system that is able to offer safe and totally enclosed sulfur handling, offering a lifeline to sulfur importers like PPL. 
The new unloader will work on the same jetty as Bruks Siwertell's previous delivery and double the operator's material handling capacity. It will be delivered to the port in preassembled parts, with final assembly on site at the end of this year.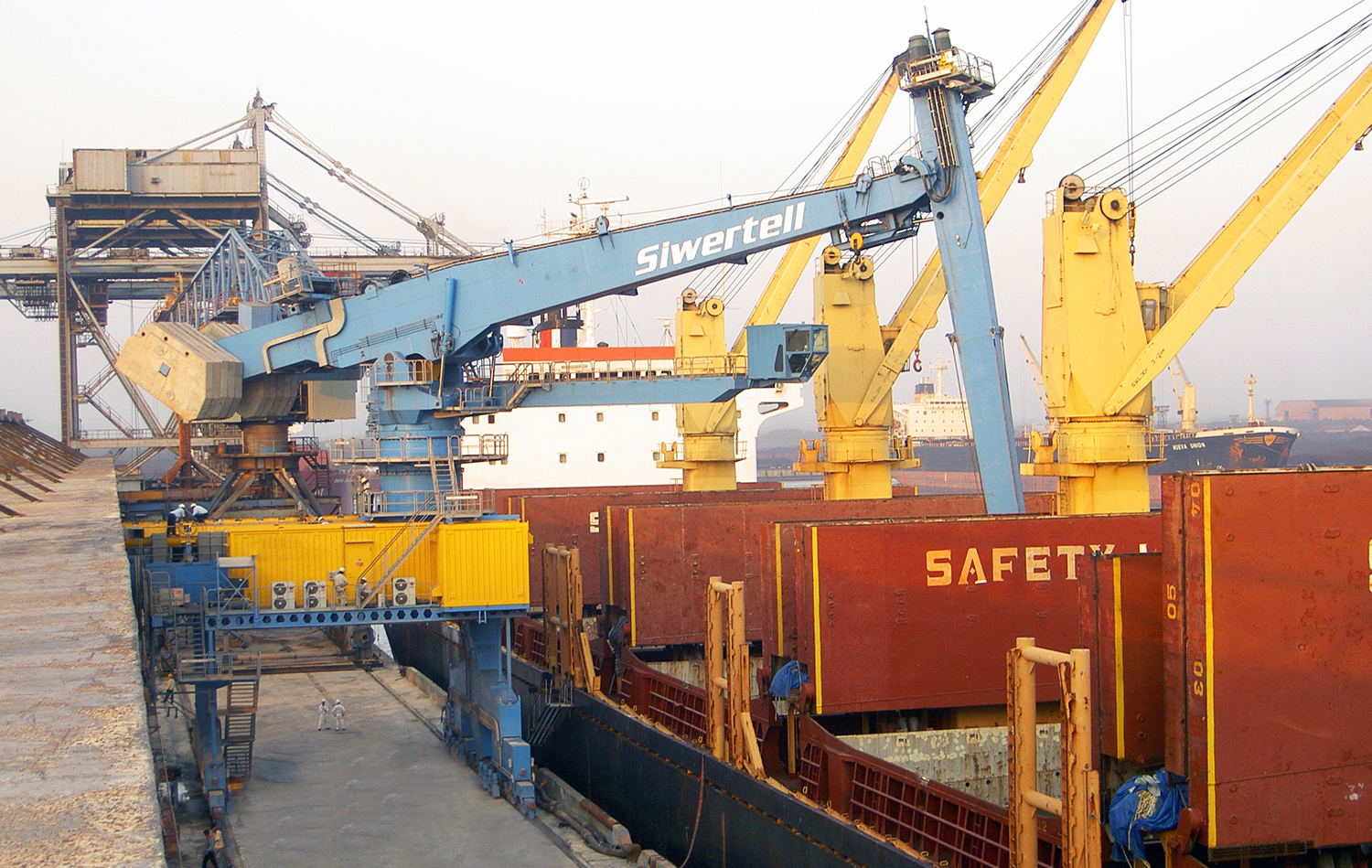 More moves from grabs
Paradeep Port's transformation has continued. Since 2011, it has also been served by a high-capacity, rail-mounted Siwertell ST 790-D unloader, which was delivered to Indian Farmers Fertiliser Co-operative Limited (IFFCO). IFFCO is another leading player in India's fertilizer industry and runs one of the world's largest DAP plants, producing around two million metric tons of fertilizer a year. 
The plant needs raw materials, including rock phosphate and sulfur, and this is where the Siwertell ship unloader makes it mark. Able to unload sulfur from vessels up to 75,000 dwt at 1,800t/h, the Siwertell unit, with its fully enclosed conveying system, also replaced a grab crane and prevents dust emissions, further improving the environmental conditions at the port. 
IFFCO is one of many operators that have approached Bruks Siwertell looking to increase their unloading capacities, while at the same time safely reducing environmentally damaging dust emissions during dry bulk handling operations.
In 2011, the port also became home to a Siwertell ship loader. It has been in service for Indian multinational conglomerate, Essar Group, for over a decade, delivering reliable, efficient iron ore pellet handling at a rated capacity of 4,000t/h. 
The move from grab cranes has continued across Indian ports, for example, in Visakhapatnam, the most populous city in the Indian state of Andhra Pradesh. In 2002, Coromandel Fertilisers Ltd, was facing two issues that needed to be addressed: an existing 30 year-old grab unloader needed a replacement and environmental claims from the naval base opposite the terminal had to be dealt with.
The solution was delivered by Bruks Siwertell in 2003, a continuous screw-type ship unloader. The switch to a Siwertell ST 490-F unit, away from an existing grab crane, eliminated spillage and dust emissions, substantially increasing the cleanliness of the port. It also ensured high capacity material handling that significantly out-stripped the through-ship efficiency of the aging grab crane.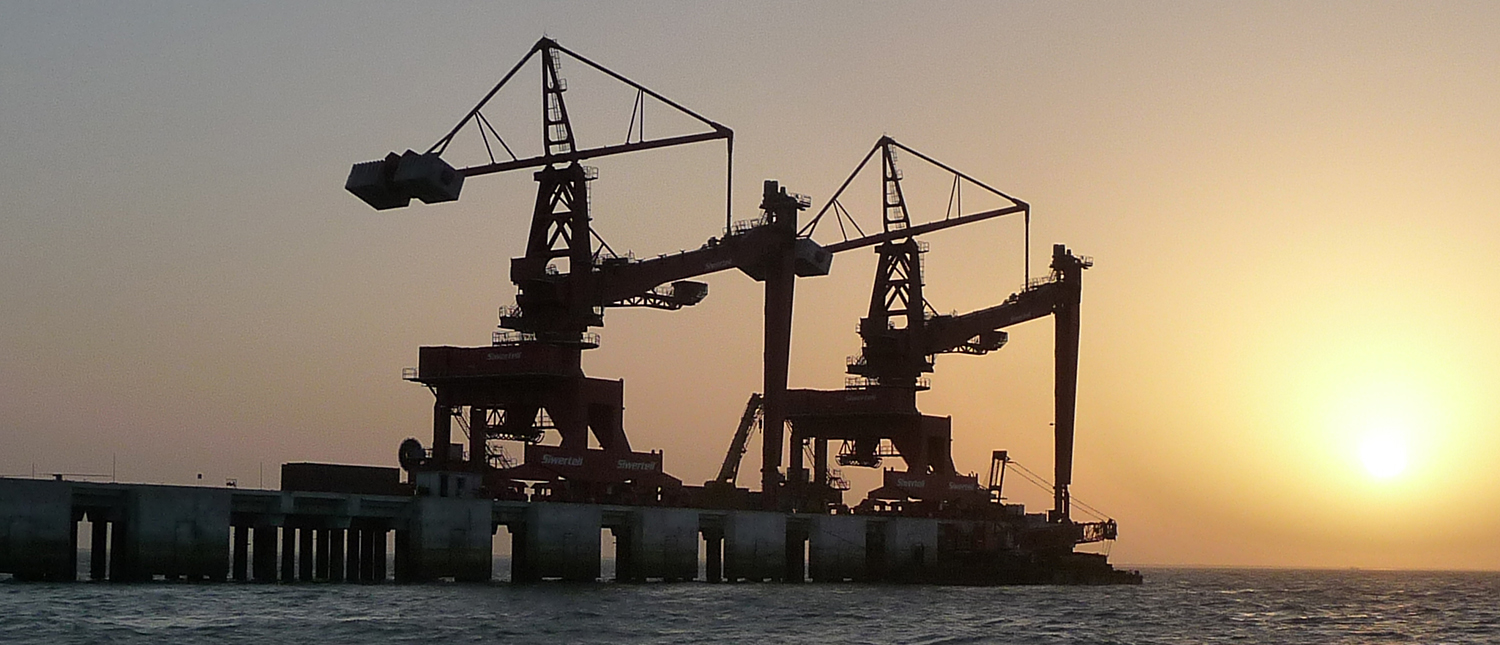 World-class terminals
Benefiting from both the efficiency and environmental impact of Siwertell ship loaders and Siwertell unloaders is Essar Bulk Terminals; a company that has developed the port of Salaya, in the Indian state of Gujarat, into a world-class terminal to meet the region's power-generation needs. As Salaya is located close to a national nature reserve and bird sanctuary, and also to protect the region's thriving fishing trade, it operates under extremely strict environmental regulations. 
Two Siwertell ship unloaders and one Siwertell ship loader meet the company's capacity and environmental protection requirements. In 2011, Siwertell delivered the components for two screw-type ST940-DOB ship unloaders and one belt-conveyor type ship loader, carrying out final assembly and testing on site.
The unloaders can accommodate ships up to 180,000 dwt and are each designed to discharge coal at a rated capacity of 2,300t/h. The loader can handle ships up to 70,000 dwt and is designed to load petroleum coke at a rated capacity of 1,500t/h.
A further benefit was the relatively low weight of the Siwertell equipment. It reduced the cost and impact of constructing the new jetty at Salaya, which was specifically designed to accommodate it. Each unloader weighs 912 metric tons and the loader weighs 289 metric tons.
Look to the future
Although just a sample of Siwertell installations, individually and collectively, they are contributing to the transformation of India's ports. All new and existing ports and terminals will not only have to eliminate spillage and dust emissions, they will have to meet higher annual volumes because of increased populations. Therefore, their utilization rates will have to improve. 
We believe that the only way to achieve this is to switch to enclosed dry bulk material handling and increase unloading rates and/or improve unloading efficiencies. The most cost-efficient way to realize this is to replace aging equipment or design a new terminal from the outset with high-capacity Siwertell technology. We need to look to the future and not rely on traditional approaches to deliver the extraordinary needs of tomorrow.
 
PLEASE CONTACT US FOR MORE INFORMATION
Share:
More Blogs