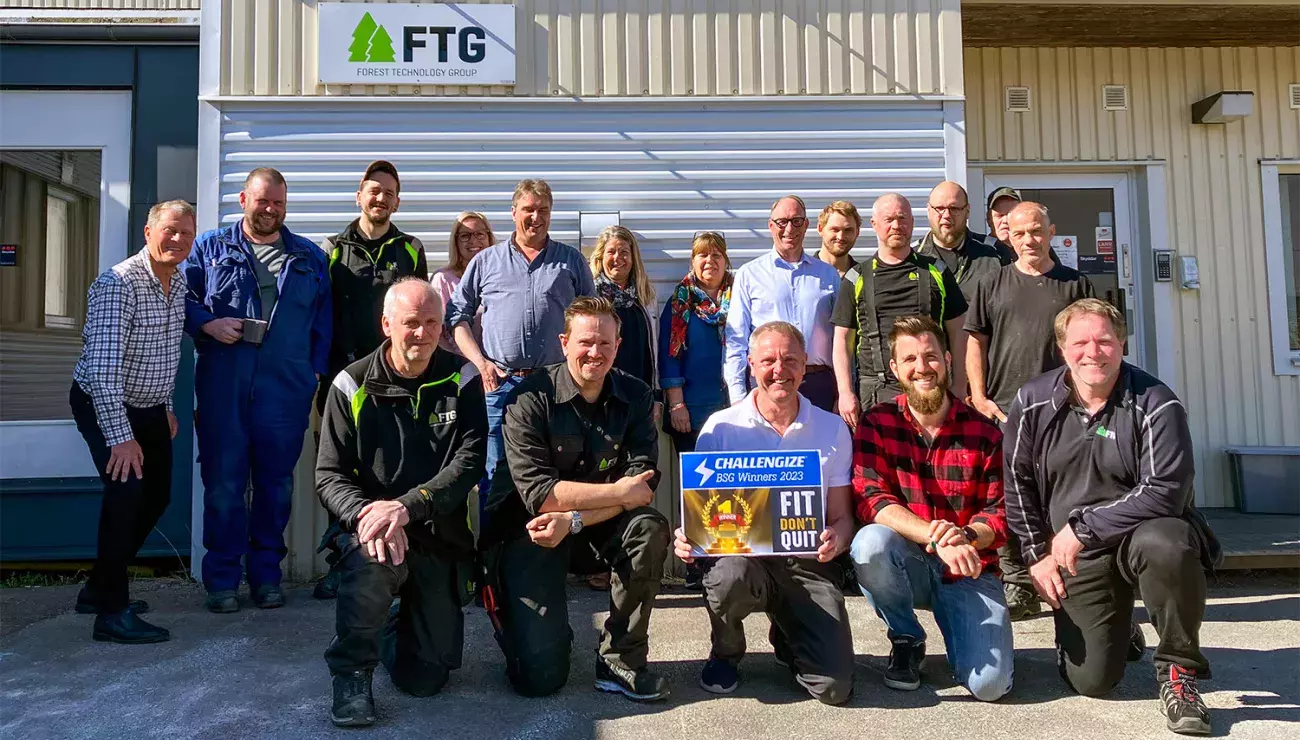 Health challenge initiative boosts activity levels and teamwork 
Sustainability initiative
24 May 2023
Happy, healthy people create happy, sustainable companies. Our first voluntary health challenge, carried out on the Challengize app, has resulted in an 8.2 percent increase in physical activity as well as immeasurable fun. The initiative was designed to address both Bruks Siwertell's target to increase personnel satisfaction levels and contribute to the United Nation's (UN) Sustainable Development Goal 3, 'good health and well-being' (SDG 3).
Sustainability goal: social
In line with addressing the UN's Sustainable Development Goal 3 (SDG 3) and with a view to raising overall personnel satisfaction levels, Bruks Siwertell has carried out an eight-week voluntary personnel health challenge. Held between February and April 2023, the initiative used an app called Challengize.
SDG 3 is part of a collection of 17 interlinked goals designed to guide reflection and action on the most critical sustainability challenges. Bruks Siwertell Group's main sustainability agendas are linked to these. 
As part of this work, a system for Group-wide employee satisfaction surveys has been introduced. The results are recorded as an employee Net Promoter Score (eNPS), which is scaled from -100 to 100. The eNPS value is one of Bruks Siwertell's new key figures and formulated as an ambitious goal of achieving a score of 30 by 2030. A survey indicating the company's eNPS score has only been established once before, revealing an outcome of 25. This demonstrates a positive result with many content personnel, but the aims are higher.
"We believe that happy, healthy people create happy, sustainable companies. This initiative is designed to help increase healthy habits amongst our personnel and the motivation for them to continue; contributing directly to SDG 3," says Anna Halling, Chief Strategy Officer, Bruks Siwertell.
"The health challenge was both social and digital. It inspired individuals and the establishment of teams to challenge and motivate each other, encouraging activities and movement. It was also fun, with an element of competition as well. Points were awarded for achievements and the winning team was able to nominate a charity of its choice," Halling adds. 
Solution and results
The results were positive, with 149 people choosing to participate in this first round, and 19 teams formed to compete against each other. Through decisions to cycle instead of driving, participants contributed to a 590kg reduction in CO2 emissions, which is equivalent to flying 0.3 times around the globe. In terms of distance, they managed to clock-up 18,594km, equivalent to climbing Mount Everest 2,102 times or traveling almost half way around the world. Results also revealed an increase in sleep quality, reduction in stress levels, and an increase in overall wellbeing.  
All activities were easily registered and recorded in the Challengize smartphone app or on its web-based platform. It could also be connected to other activity apps, such as Runkeeper or Strava, or users could use Challengize's own GPS tracker function to register, for example, walks or runs. Participants achieved points for every activity they registered, ranging from as little as 25 points to 1,500 points, depending on what the activity was and for how long they did it.
The Challengize app has over 300 activities to choose from, and apart from more traditional forms of training like running, it also includes for example housework, steps up and down stairs, standing up at work, as opposed to sitting down, and meditation. The app's social feed helped motivated and encouraged participation as well. 
"Some took the challenge very seriously and aimed to get the top score every day, while others mainly saw it as a fun activity to do with colleagues," explains Halling. "The main take-home point though was that everyone who joined in, moved a bit more throughout each day, and that some of the activities undertaken created new habits for a heathier life style. 
"It was also a way to remember that doing a little bit of exercise, even if it is just five minutes of dancing or leg lifts, is more than doing nothing at all, and this is what makes all the difference in the end," she notes. 
The winning team's nominated charity organization was UNICEF, which gratefully received a donation of EUR 2,200 (SEK 25,000).
Later this year, a seminar will be held to share the impact and results of this Group-wide initiative with personnel, along with follow-up activities. Bruks Siwertell hopes to be able to run it again next year.
Monitoring and assessing sustainability milestones and achievements
Bruks Siwertell Group's sustainability goals are assessed from an environmental, social, and governance (ESG) perspective, with each initiative falling into one or more of these categories. This is to clarify how different initiatives impact our overall sustainability work, and how their results can be used to maximum effect. It also contributes to our commitment to transparency. All aspects of our sustainability work are designed to be educational, so that we increase our knowledge and adjust our ambitions accordingly.
Photo:
The winning team of the BSG Health Challenge 2023 is based in our Forest Technology Group (FTG) unit in Bäckefors, Sweden – they called themselves 'Fit don't quit'.
PLEASE CONTACT US FOR MORE INFORMATION
Share:
More Blogs