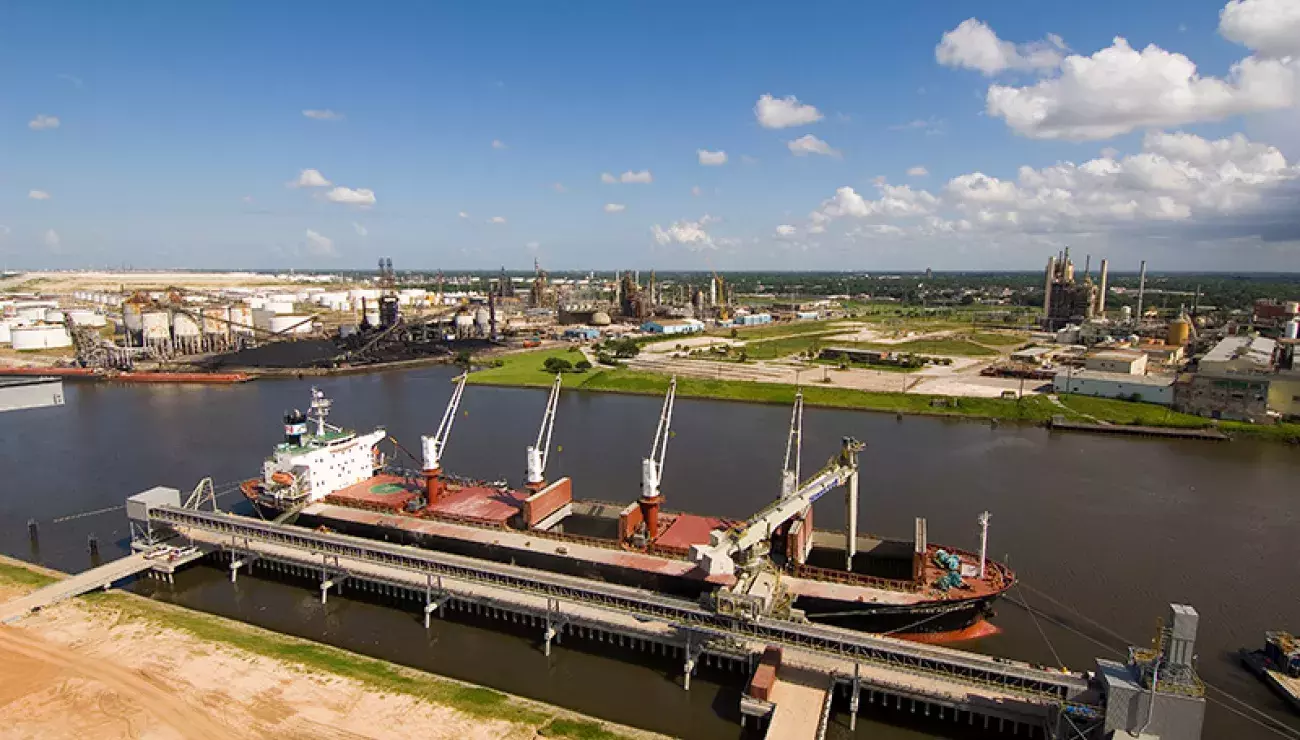 Green governance: a decade's progress in one year or less
2 Dec 2022
Recently, hub ports in Europe have made agreements with their Asian counterparts aimed at addressing shortcomings within the maritime trade framework. A hurry-up-and-wait regime has ships speeding through the Suez Canal, or around Africa's Cape, only to queue up outside their destinations, burning fuel to keep vital functions running, and generating CO2 emissions for no benefit. 
Not everything in shipping is about containers, however. Operated on less predictable schedules, it can be tougher to see where dry bulk trades and ports will fit in to the green corridors framework, despite the need to decarbonize being every bit as pressing in this sector.
The European Sea Ports Organization's (ESPO) Green Guide highlights various steps for ports to become 'EcoPorts', the main environmental initiative of the European port sector, which was fully integrated into ESPO in 2011. These steps include making a full inventory of existing greenhouse gas emissions; reducing energy use in port equipment, by switching to electric vehicles or light-emitting diode (LED) lighting, for example; and helping ships to reduce their emissions at berth by at least 50 percent. But the guidelines also acknowledge that any serious effort to tackle the environmental impact of ports, will incorporate dealing with more than just CO2 emissions. Noise pollution can have an impact on the surrounding environment, as can the air and water pollution resulting from open dry bulk handling. 
Prospective ports must demonstrate that they are addressing all these things. Some of the barriers to ports gaining EcoPort status, and becoming less environmentally damaging in general, lie within the scope of cutting-edge quayside equipment. For its part, Bruks Siwertell can assist port operators in reducing energy usage, shortening the time vessels spend at berth, and reducing waste, spillage, and clean-up intervals to help get ship queues moving and cut off-hire time to a minimum.
No problem at Houston
Where the environment is concerned, there is more than one reason to prefer Bruks Siwertell unloading systems for bulk cargoes. For example, in 2006, a Siwertell 640 D-type ship unloader, delivered and tested in Houston, set a then-world record in its cement unloading rate of 1,646t/h, while simultaneously exceeding expectations for low energy consumption, at just 0.39kWh/t. 
The ability to conserve energy lies in the steady and ultra-efficient mechanical process of the Siwertell unloader, since it does not share the operating profiles of its competing pneumatic and grab counterparts, with steep peaks and lows in mechanical load, like a car in city traffic. After all, engines and motors perform best when there are no interruptions, and like driving on a long straight road, Siwertell unloaders exert a continuous rotation, with a stable power demand throughout the unloading process.
On top of the low-and-steady energy usage of the equipment itself, Houston's Siwertell unloader gave visiting ships a 50 percent emissions reduction at the quayside right from the get-go, by halving the berth occupancy times.
But time is not the only concern. With conventional bulk handling systems, spillage is also a major issue, and with few dry bulk materials is this more pronounced than with cement. In the case of Houston, the Siwertell technology addressed this problem as well.
Once the rotating screw head and counter-rotating inlet feeder are submerged in the cargo, fully enclosing the system, there is no chance of dropping the cargo, or of creating swirling air currents around the feeder inlet which could lift material into the air. It is therefore not a surprise that terminals the world over use fully enclosed Siwertell screw unloaders to eliminate risk to the surrounding environment. Causing no spillage also compounds the time savings, since it negates the need for clean-up operations, once again reducing wasted time and energy consumption in port.
A sound investment
The issue of noise pollution is one that is often overlooked, but not, notably, by ESPO. Noise can be deleterious to local ecosystems, since many animals rely on sound for hunting and evading predators, and this is doubly true underwater, where loud noise can be agonizing to marine life. Quite apart from this however, many ports are located close to urban centers, where humans live and work close to terminals operating, in many cases, round the clock.  
Even the loudest of Siwertell machines are considerably quieter than other systems. Grabs and bucket chain unloaders exhibit the rattling and grinding of metal on metal; meanwhile, ports operating pneumatic systems, which are essentially scaled-up vacuum cleaners, can expect a high-pitched whine, which can carry for miles.
Bruks Siwertell's electric-drive versions of its road-mobile and port-mobile unloading systems are the quietest of all, such as the Siwertell 10 000 S next-generation road-mobile unloader currently handling alumina in Marseille, France. Its operator reports that environmental issues were a key concern, and with this electric Siwertell version both emissions, and the noise of the engine, are reduced.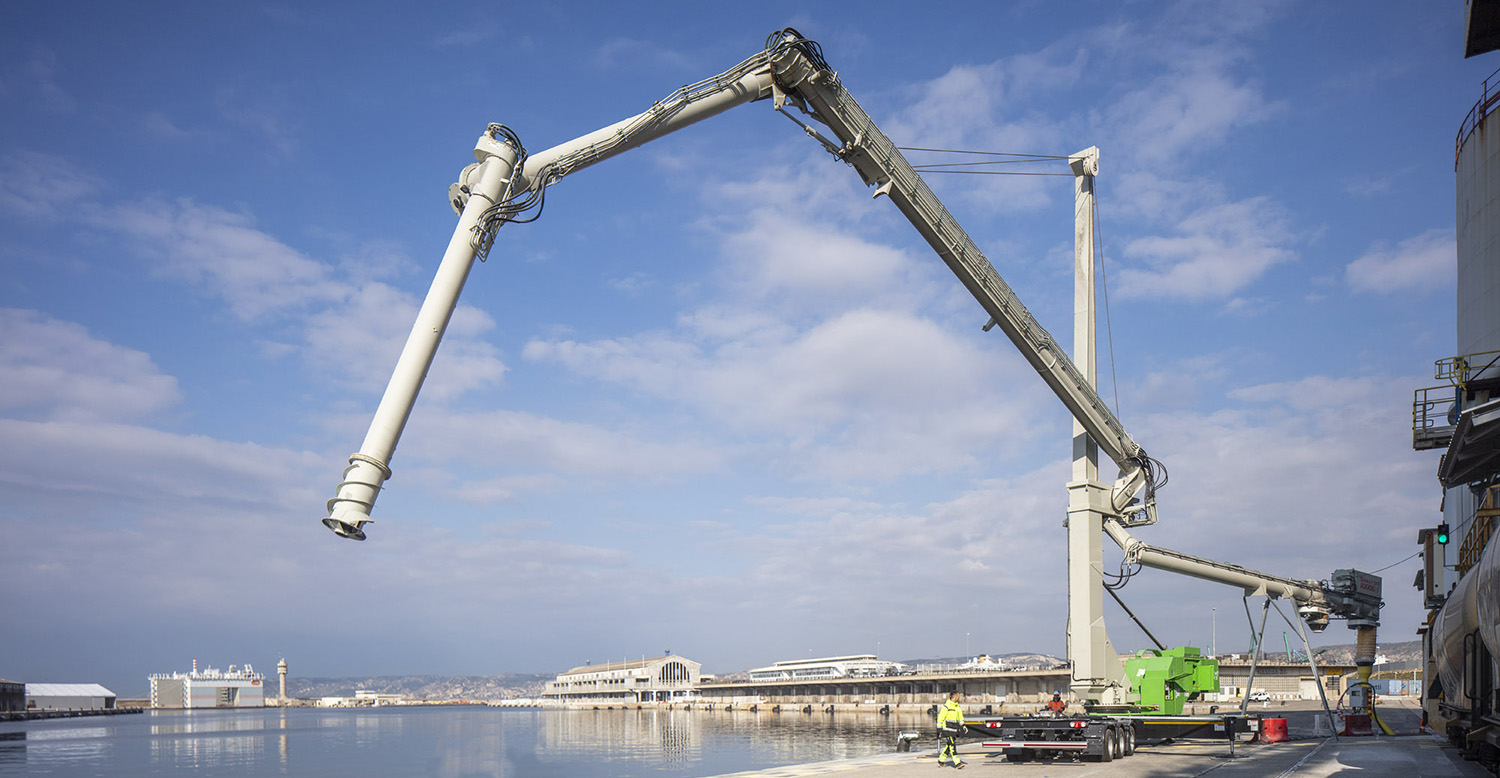 An unseen cost
It may be that for all the talk of green port operations, the cargo itself is not considered an element in the equation. But perhaps it should be. Cargoes arrive via ship or barge and burn fuel to get there. So, when some handling systems degrade up to five percent of the cargo per shipment during the unloading process, those inefficiencies can be frustrating, and more so if this impacts efficiencies down the line.
This is exactly what happens in the smelting process for alumina if its fines content is too high through material degradation. Powdery fines can also lead to shipments of grains being spoilt and downgraded and can affect the combustion process in burning biomass.  
All over the world, Siwertell ship unloaders handle huge volumes of pellets for power stations that have made the switch from coal to renewable energy and for those that co-fire both coal and biomass. They do this with minimal material degradation.
The wait is over
Though they account for staggering trade volumes moving around the world every day, bulk cargoes make up only a fraction of ports' operations. Fortunately, dry bulk terminals have an environmental quick-win available by switching to bulk handling technology from Bruks Siwertell. 
In comparison to equivalent capacity equipment, Siwertell ship unloaders enable operators to reduce wait times, energy usage, cargo and noise pollution, waste, off-hire time, and CO2 emissions; not over a timescale of five to ten years, as the ESPO guidance suggests, but in the few months it takes to order, deliver, and install a Siwertell unloader. Though decarbonization is a long road for everyone, not everyone can take such a sure first step.
PLEASE CONTACT US FOR MORE INFORMATION
Share:
More Blogs