Flagship export terminal sets US grain handling standards 
9 Dec 2022
Agricultural giant, Archer-Daniels-Midland (ADM), the American multinational food processing and commodities corporation, understands grain handling more than most. Headquartered in Chicago, ADM's US operations comprise more than 160 ingredient manufacturing plants and more than 300 crop procurement facilities, located across 29 US states. 
Many ADM facilities are focused in the country's major grain-producing states, and one, in particular, now stands out, the Ama, Louisiana, grain terminal. It is a flagship installation for the operator, and since its modernization four years ago, has repeatedly established new ship loading records, handling a broad range of agribulk materials including wheat, soya beans, milo, corn, meal, and dried distillers grains (DDGs).
However, this was not always the case. The terminal had been in operation for decades, but its old equipment had run its course and the company recognized the need to replace its outdated and undersized ship loading technology. Even more pressing than that, the equipment had significant dust and spillage issues.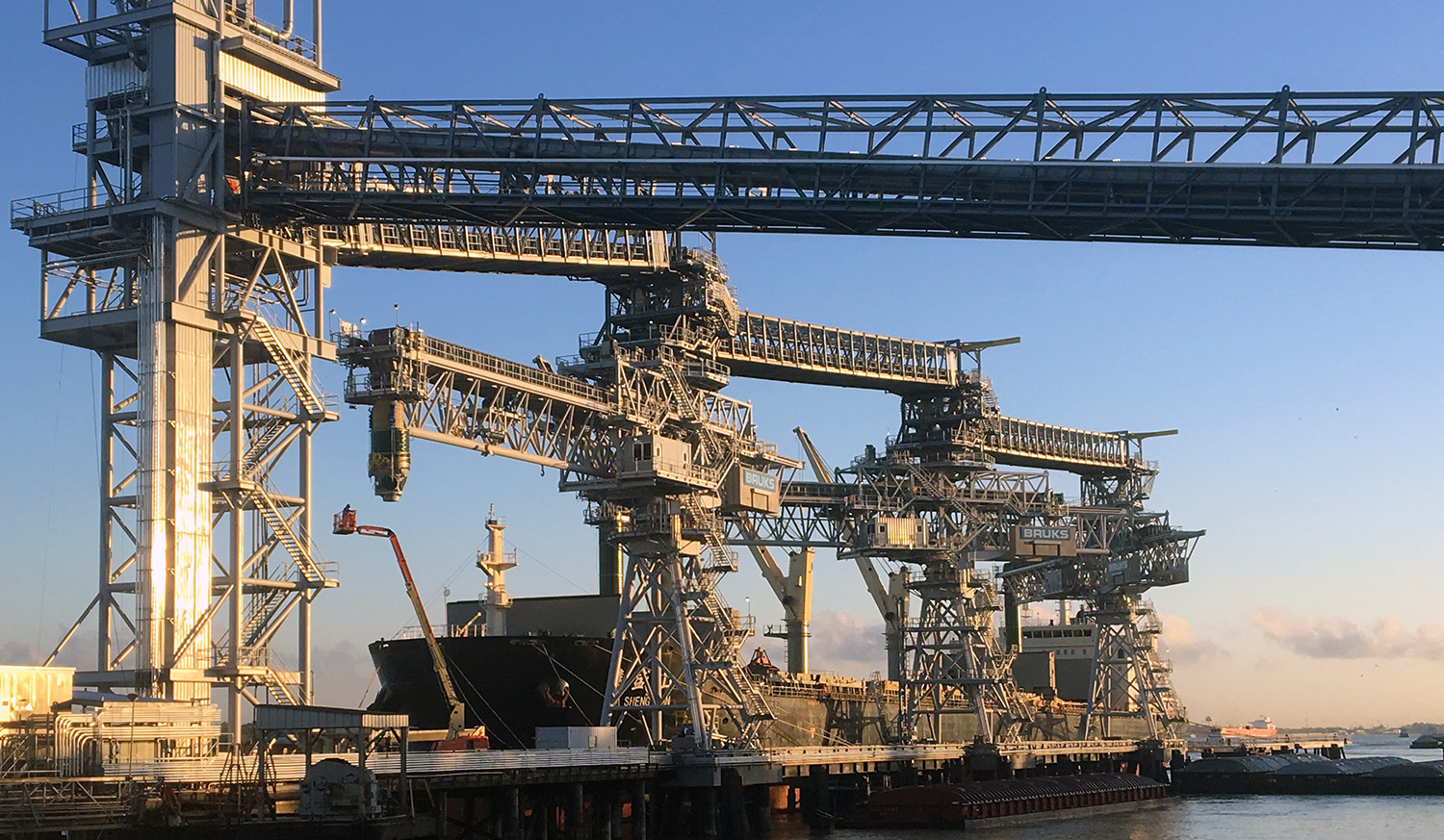 Dust-tight technology
For its new set-up, ADM wanted a ship loading system, capable of accommodating post-Panamax sized vessels with enclosed conveyors, enclosed loading spouts and dust collection measures. Together these would provide the best possible dust control measures to protect the local environment.
In answer to these needs, ADM approached Bruks Siwertell for a solution. This followed good references and seeing Bruks Siwertell technology in operation for other terminals, not only in the agribulk business, but wider afield as well. 
Bruks Siwertell's dry bulk handling equipment offers market-leading environmental protection. It eliminates the unnecessary waste of cargo from spillage, protects the environment from dust emissions, maximizes efficiency, minimizes material degradation and has low energy-consumption demands. It was these attributes that ADM was looking for when modernizing its Ama grain export site. 
Tailored terminal solutions 
As a result, since 2018, grain exports at the terminal have been underpinned by three Bruks pedestal-mounted, shuttling, slewing ship loaders with completely enclosed loading conveyors, along with six totally enclosed belt conveyors to feed dry bulk material to the ship loaders. Spacious access platforms, for ease of maintenance, were also tailormade.
Ama's entire grain handling system was manufactured and pre-assembled into large, complete assemblies on the Harvey Canal and then carried on a barge to the terminal for final installation. 
Delivering an impressive rated capacity of around 2,000t/h and loading vessels, up to 115,000 dwt and beam of 43m, the equipment is in near-constant use, offering completely enclosed dry bulk material handling, which not only eliminates waste from spillage, but crucially ensures that grain handling operations are dust free.
ADM was a new customer for Bruks Siwertell, and selected Bruks technology not just because of favorable references, but because Bruks Siwertell has the ability to provide turn-key, tailored terminal solutions, and it has a US presence, with local 24/7 support. 
A win-win strategy 
As with ADM, Bruks Siwertell works closely with all operators to establish their current needs, but also consider the operational future of the installation, essentially to ensure long-term suitability and the potential for capacity growth as well; bulk terminal equipment lasts for decades so it is also essential to ensure that there is flexibility in the system for some degree of change and expansion.
Our hope is that new technology goes beyond expectations, not only delivering improved operational profitability and increased capacities, for example, but also reducing environmental impact as well; a win-win strategy when replacing outdated equipment.
Read more about our ship loaders here.
Share:
PLEASE CONTACT US FOR MORE INFORMATION
Executive Admin. & Marketing Coordinator
Lindsay Gilliland
+1 770 8490100
More Blogs