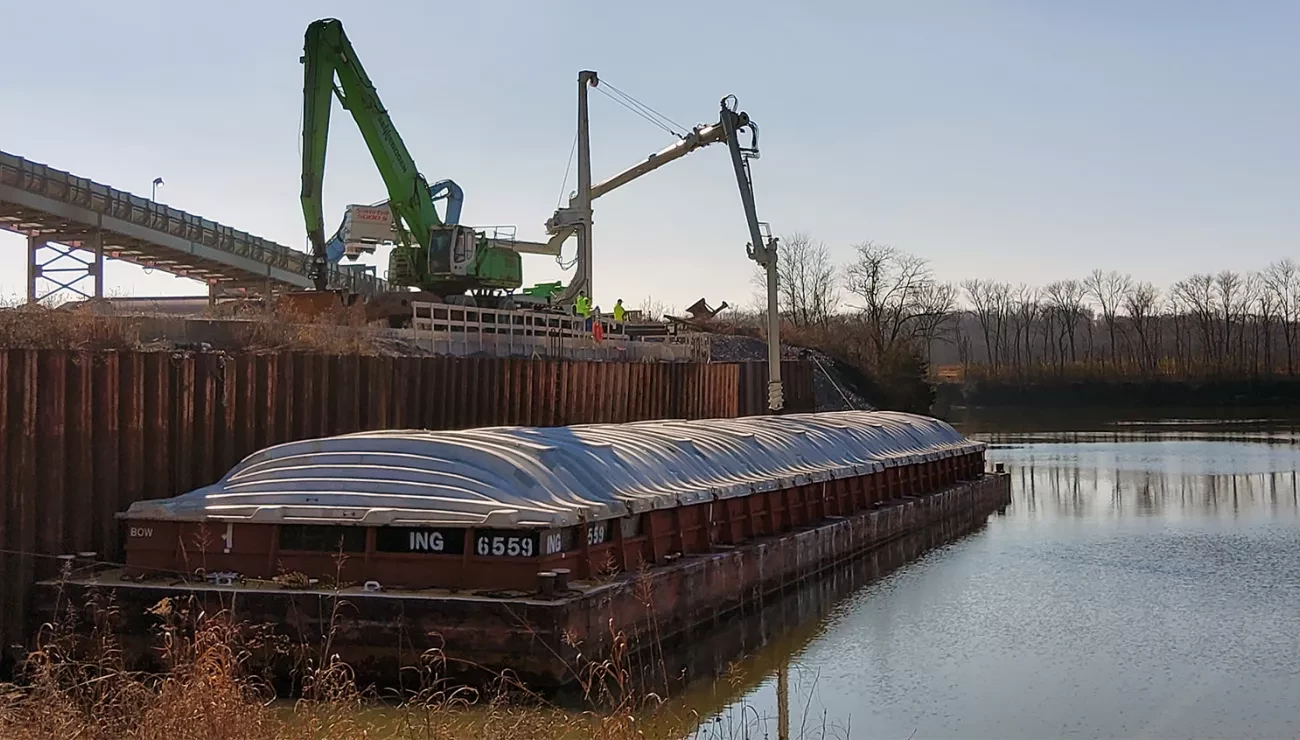 Flowing freight: harnessing the potential of river transportation
18 Oct 2023
River transport has a rich history. The first barge, a 4,500 year-old 'solar barque', is displayed virtually intact in the Grand Egyptian Museum, in Giza, with the 42m-long vessel having reportedly belonged to Egyptian Pharaoh Khufu.
For centuries, barges have been used to trade and transport dry bulk cargo along inland waterways. The Romans 'canalized' rivers for transporting grain, wine, and olive oil, and in the Middle Ages, waterway networks expanded for carrying timber and agricultural products. During the Industrial Revolution, barges continued their critical influence, transporting coal, iron ore, and timber.
Today, cargo barges are still vital. The Netherlands, for example, use waterways as one of the cheapest and greenest ways of getting cargoes from the major European hub ports into the European hinterland. In the Port of Rotterdam, barges are responsible for around 50 percent of this transport.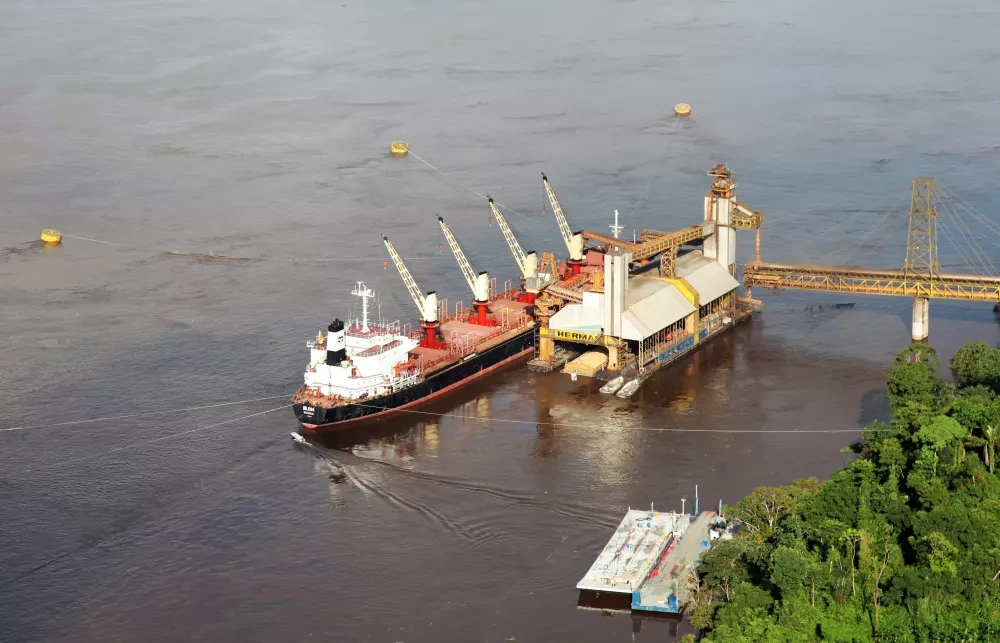 Far more potential
The Mississippi River in the USA is also a notable showcase, carrying large barges, predominantly for corn exports. Though the importance of America's barges is not necessarily common knowledge in the US, the nation learned a lesson in late 2022, when reduced rainfall led to reduced water levels, and barges were unable to fully transit the great river and its tributaries. But with isolated incidences like this one being the obvious exception, many experts have noted that the carrying capacity of the Mississippi, in terms of cargo, is far from reaching its limit; a view held for many global inland waterways. 
A recent University Maritime Advisory Services (UMAS) report, The Maritime Fleet of the USA, the current status and potential for the future, highlighted the "enormous potential" and "geographically favorable conditions" for intra-US shipping to decarbonize quickly, using technology that already exists. Inland shipping was one of the main examples given of an industry poised for decarbonization.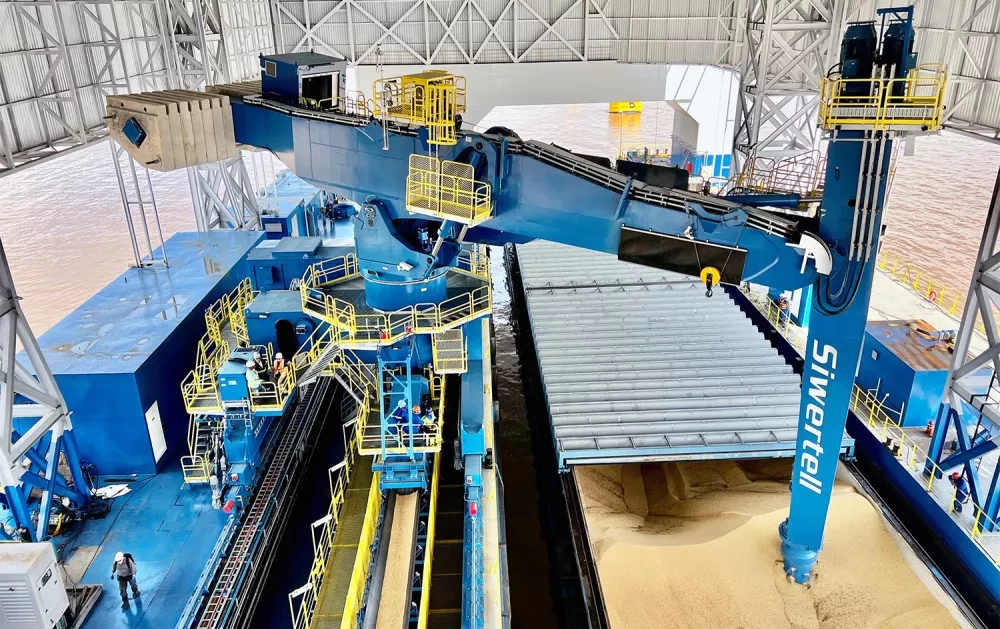 A wider view
Barges are well-adapted to their purposes and make light work where ships cannot. The cumbersome process of maneuvering large vessels down the river Elbe to the Port of Hamburg, in Germany, or through the complex sequence of straits and channels on approach to the Port of Vancouver, in Canada, is well known. But barges navigate shallow waters with relative ease. The bottom of a barge sits high in the water, and its width makes better use of the sheltered waterway environment. 
In a 2015 study, Optimization of the dimensions of dry bulk ships: The case of the river Rhine, it was found that lengthening dry bulk vessels would be of little benefit, compared with widening them, which, it was determined, would "lead to a reduction in costs", affording the operator a competitive advantage and improving profitability.
Indeed, on the Mississippi River, in the state of Louisiana, barges are stacked three-wide, and a single tug can push more than a dozen at a time. This is an efficiency to rival that of deep-sea shipping, especially taking into account a slower speed, and a lack of ballast water. Though the US' Jones Act exerts a cost effect, it is already cheaper to carry grain by barge than by truck or train.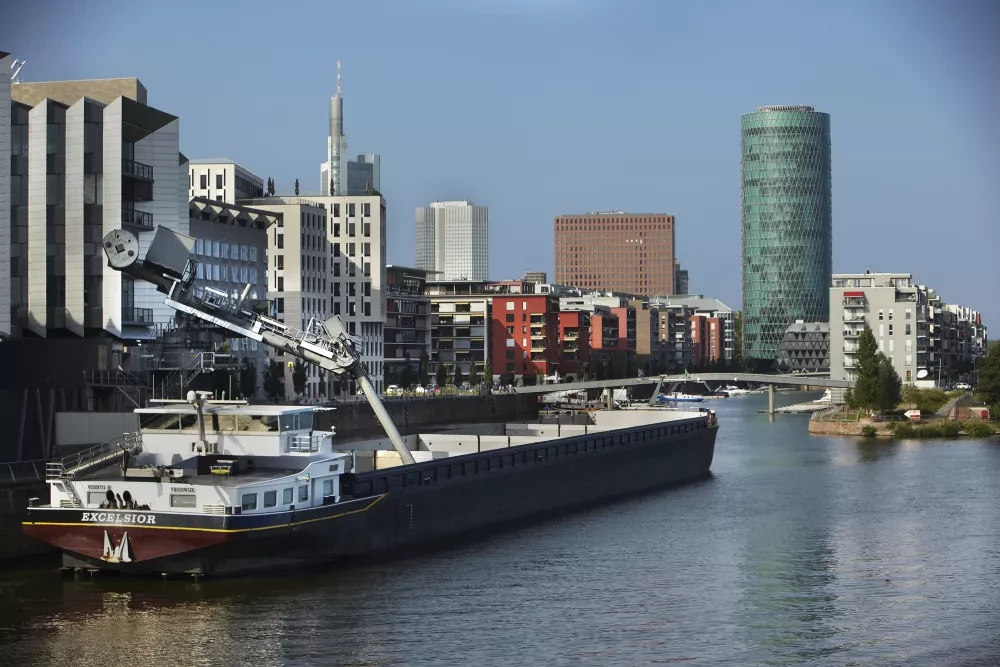 Ideal for café culture
Bruks Siwertell offers considerable knowledge and technical capabilities to dry bulk operators working on these inland waterways, with Siwertell screw-type unloaders able to efficiently operate in huge vessels as well as in small barges. 
All movements, slewing, travelling, pendulum and luffing, can be done at the same time, delivering maximum flexibility and reach into a ship's hold during unloading operations. This, together with a counter-rotating inlet device, ensures a continuous flow of material through the conveyor, guaranteeing that both a high rated and average through-ship capacity are reached.
In Westhafen, Germany, a stationary Siwertell unloader unloads coal from barges up to about 2,500 dwt at a rate of 200t/h. The unloader itself is located centrally in the town, with cafés positioned less that 50m away from the unloading operation. Like all Siwertell unloaders, it ensures an enclosed conveying line and meets extremely strict regulations for noise emissions as well as dust and spillage. 
Siwertell unloaders offer many other benefits to these inland waterway operations, including their low weight, which allows the unloader itself to be barge-mounted. If an operator chooses to invest in a Siwertell screw-type unloader, it automatically selects a lower weight system compared with other available alternatives, meaning the cost of quay reinforcements can be omitted in the majority of cases, and enabling it to serve as a floating terminal.
The barge, along with the unloader and auxiliary equipment, can, depending on agreements at various sites, be transported on the water to different locations. 
Meanwhile, shore-based installations located at the mouth of the Mississippi are also delivering both efficiency and environmental advantages. Once Archer Daniels Midland's (ADM) grain port facility in Ama, Louisiana, takes delivery of wheat, soya beans, corn, meal, and dried distillers grains (DDGS), arriving via barges from the US' agricultural hinterland, three pedestal-mounted Bruks loaders load them onto post-Panamax sized ships at a rate of 2000t/h per loader. From there, they are dispatched westward through the Panama Canal.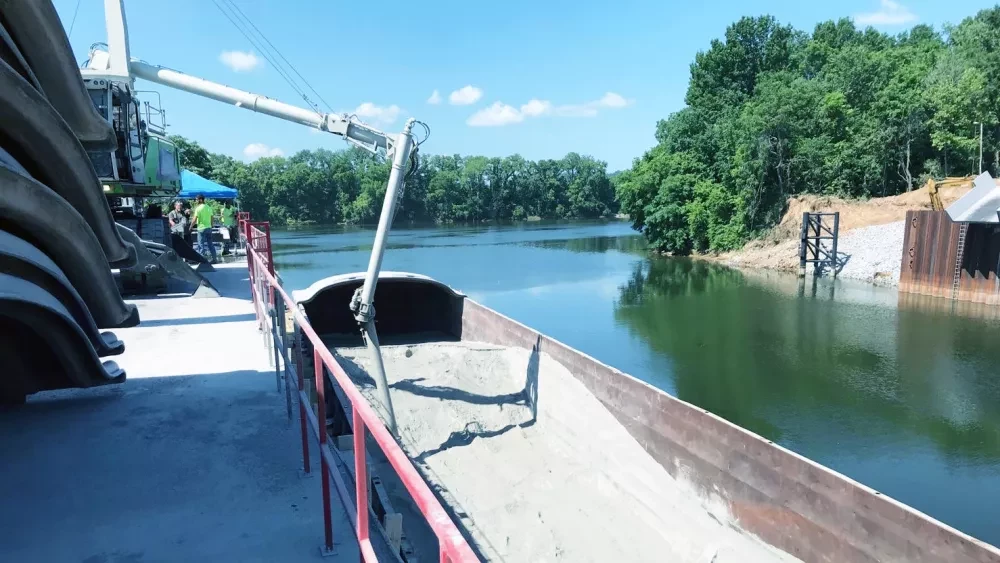 From river to sea
In total, Bruks Siwertell machines handle around 600 million metric tons of grain every year, and much of this comes from barges. Brazil provides excellent examples. Here, grain exports to China have substantially increased in recent years. Four privately-owned operators compete for business in southern Brazil: Unitapajós (formerly Bunge Brazil) and TGPM (formerly ADM de Portos Pará), serve the Port of Barcarena; Cargill Agricola, operates in Santarém; and Amaggi (formerly Hermasa Navegação da Amazônia) in Itacoatiara, both on the River Amazon. 
Apart from Amaggi, all operate Siwertell ST 790-M ship unloaders with continuous rated grain handling capacities of up to 1,500t/h for foodstuffs such as soybean and corn. Amaggi opted for a Siwertell ST 790-F barge unloader and ship loader configuration and also has a rated loading and unloading capacity of 1,500t/h.
Transferring cargoes from river-going vessels onto ocean-going bulk carriers for export, the Siwertell technology operates on an extremely demanding schedule, with each machine running for about 3,500 hours/year. 
With their low carbon emissions and high cost-efficiencies, barges are also a prime candidate when it comes to transporting wood chips, offcuts, or energy products such as biomass pellets, another Bruks Siwertell expertise. 
For example, Bruks Siwertell equipment is chosen by Drax Biomass for handling its value chain on both sides of the Atlantic: receiving and storing dry shavings at Drax's Amite BioEnergy plant in Gloster, Mississippi; loading the pellets onto a bulk carrier at Baton Rouge, Louisiana; and unloading, via rail-mounted Siwertell 790-D-type unloaders, at Immingham Renewable Fuels Terminal (IRFT) in the UK.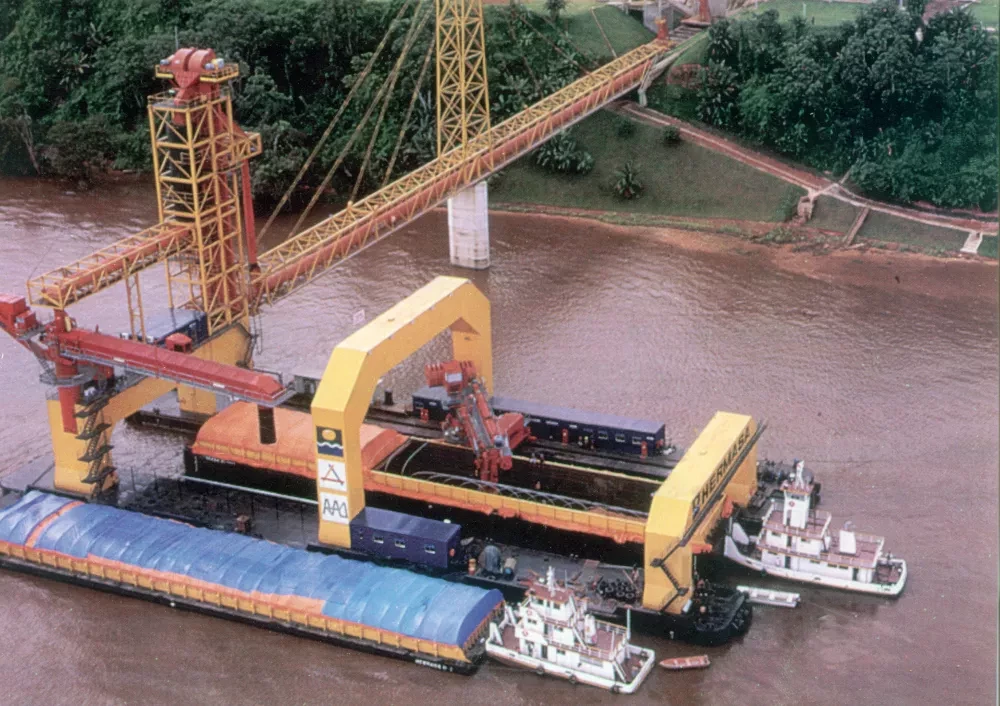 Shifting modes and minds
Better use of inland waterways, and a modal shift towards barges, could be very good for the environment, according to research by the World Bank. Transferring just five percent of cargo volumes carried by road onto inland waterway transport (IWT), it says, could cut annual carbon emissions by around 60 megatons.
This move could offer increased opportunities for many operators, along with reducing their carbon footprints, and Siwertell dry bulk handling technology can be a beneficial part of this picture. 
Today, no other system on the market offers the kind of hold reach and flexible operation, as well as being low in weight and totally enclosed to ensure minimal dust emissions and no spillage. 
So, whether an operator is looking for mobile or large-scale equipment to be mounted on an inland waterway barge, or needs to sustainably discharge the smaller vessels and barges required to serve these river ports and terminals, Bruks Siwertell is ready to assist.
PLEASE CONTACT US FOR MORE INFORMATION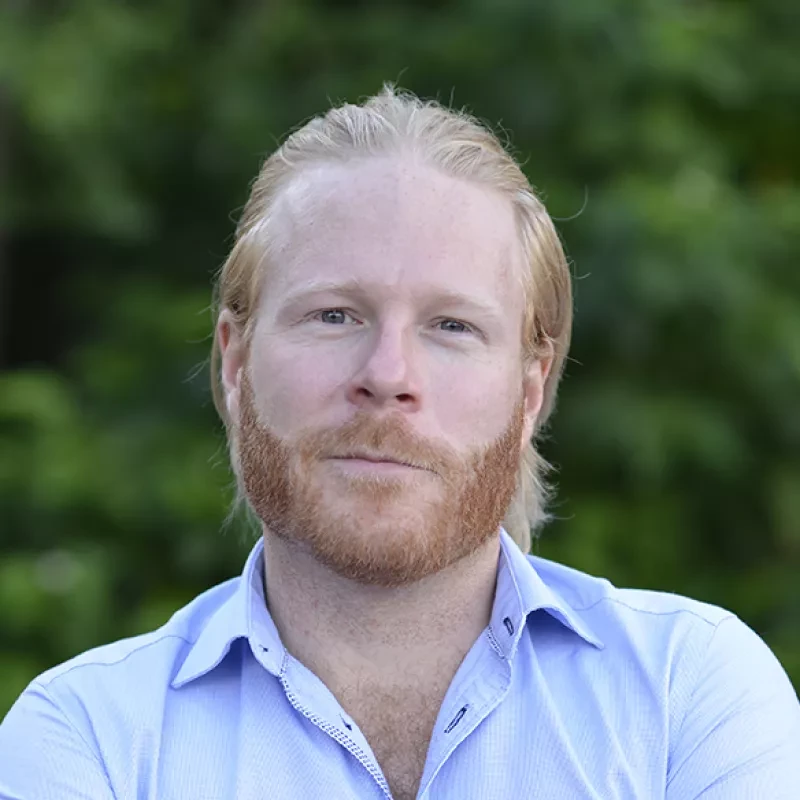 Sales Director, EMEA & LatAm
Per Hansson
+46 706885925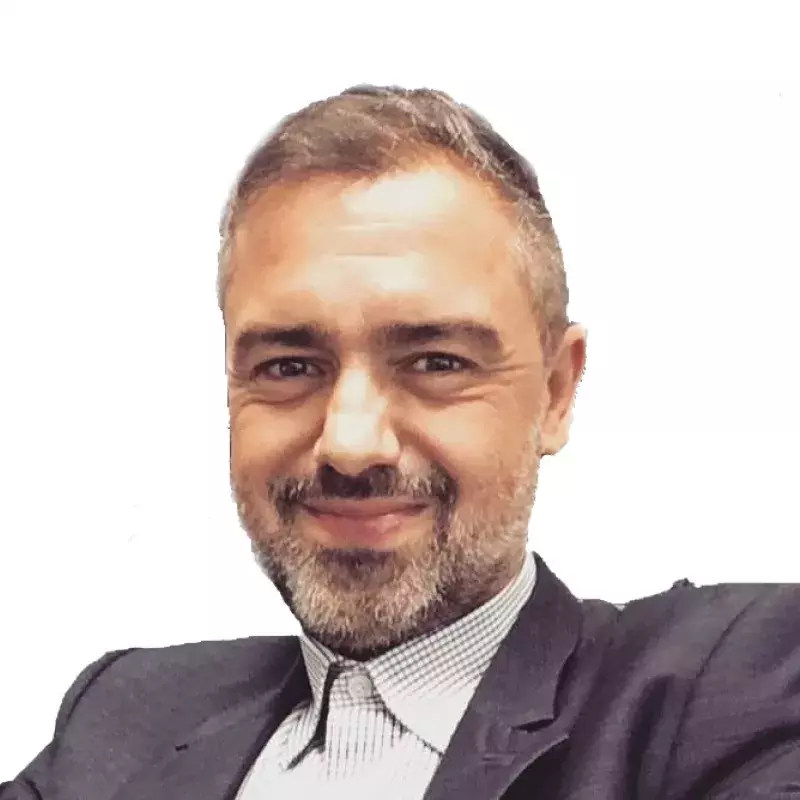 Sales Director Mobile Unloaders
Jörgen Ojeda
+46 703685990
Share:
More Blogs