Designed to adapt: technology that performs, whatever the climate 
10 Jun 2022
The world's ever changing climates and operational landscapes demand technology that can adapt. From meeting local, national and international operational regulations, through to being able to withstand extremes of weather and geological events, Bruks Siwertell offers dry bulk handling equipment that is able to perform on a global stage. 
Our ship unloaders, loaders, and terminals are tailored to the environment that they are destined to operate in. This ensures that they are fit for purpose and can deliver an outstanding performance as well. 
Tackling extreme temperatures 
Because our machines operate all over the world, serving operations within the Arctic Circle to the tropics and the Middle East, they have to withstand extreme temperatures. Our dry bulk handling systems can be adapted to perform in temperatures from as low as -45 degrees Celsius up to +55 degrees Celsius. 
The highest grades of steel have to be used in the extreme cold, along with specially-adapted cabling, and hydraulics, and all components, such as electric motors, have to be protected from both the cold, and the sun particularly. 
A notable, cold weather reference includes the Yara fertilizer plant in Glomfjord, within the Arctic Circle. It is being served by its second Siwertell unloader, retiring its first after more than 30 years of operation. Able to discharge vessels of up to 20,000 dwt, the unloader is equipped with a dust-suppression system and an advanced electrical control unit, including the Siwertell monitoring system, known as SiMon.
Brought online in 2019, the unloader handles demanding dry bulk materials such as various rock phosphates and potash fertilizer at a continuous rated capacity of 600t/h, with a peak capacity of 700t/h. It meets strict environmental criteria, managing high prevailing winds and operating successfully in exceedingly cold conditions.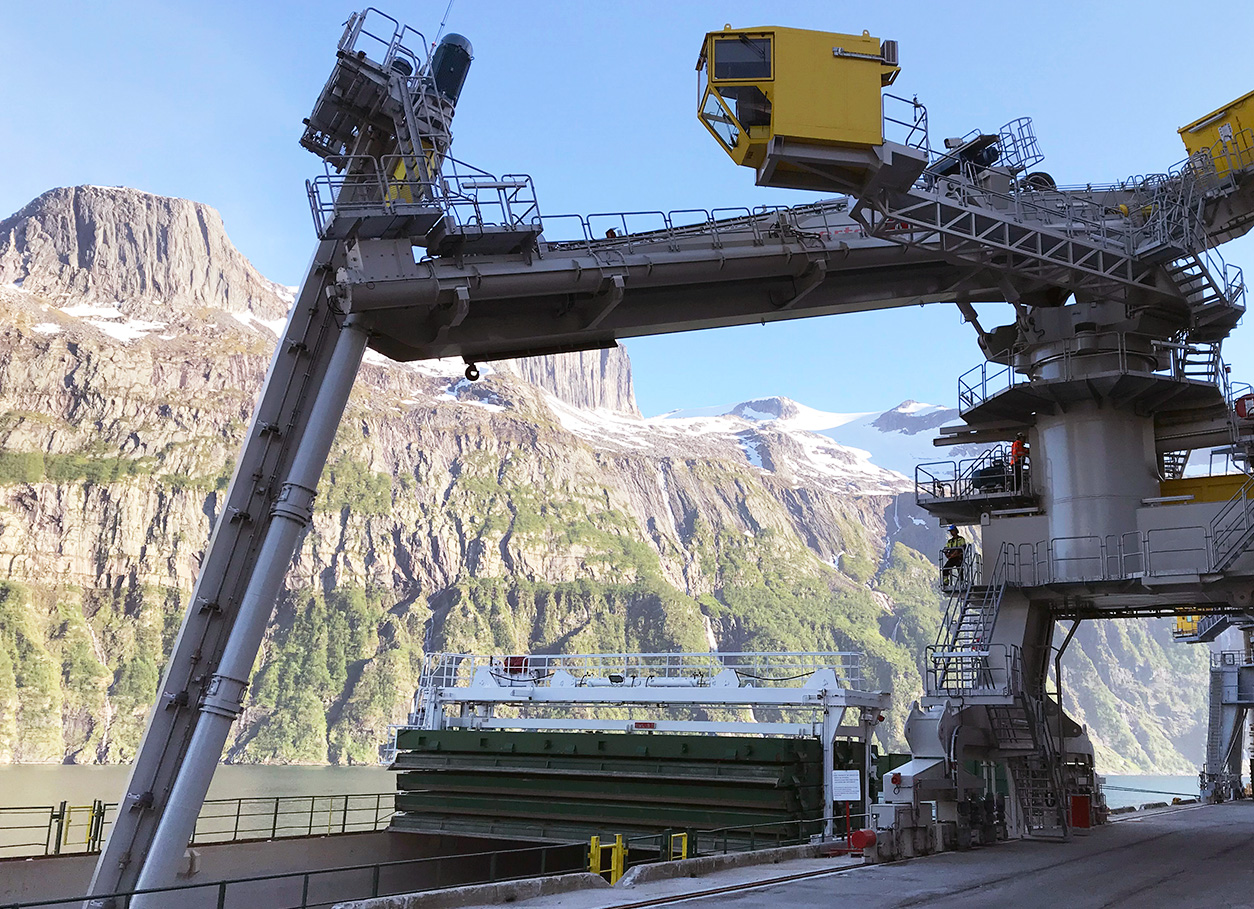 At the other extreme, Bruks Siwertell has numerous references for operating in very high temperatures. For example, returning customer Kuwait Portland Cement Co has been operating an ST 490-F rail-mounted Siwertell unloader for over two decades in Shuaiba Port, Kuwait City. Its new ship unloader, due for delivery in 2023, will be installed on an existing jetty next to the operator's older unloader.
Both the new and the old unloader are adapted to operate in Kuwait's extreme climate. To accommodate predicted temperature rises in the region, the latest unit is designed to withstand ambient summertime temperatures of up to 55 degrees Celsius.

High-winds to earthquakes
As well as ambient temperatures, other climatic conditions also need consideration. For example, the Yara unloader in the Artic Circle not only has to withstand the extreme cold, but very strong prevailing winds as well. When these winds are particularly problematic, Bruks Siwertell equipment always come with applicable storm locking devices and additional tie downs if requested. All ensure the capability of withstanding the location's weather conditions.
For other environmental adaptations, we can ensure that our technology performs in high-humidity, tropical atmospheres and in lightning-prone areas, supplying equipment with lightning rods so that it can withstand a lightning strike. 
Our ship unloaders and loaders can even be adapted to mitigate the impact of earthquakes, with machines being designed according to local earthquake rules and weights, ensuring that they do not tip over during seismic activity.
We have recently delivered a Siwertell screw-type ship loader for the totally enclosed, dust-free handling of cement and clinker. It serves a new cement plant in the Caribbean and works in one of the most earthquake-prone zones of the world.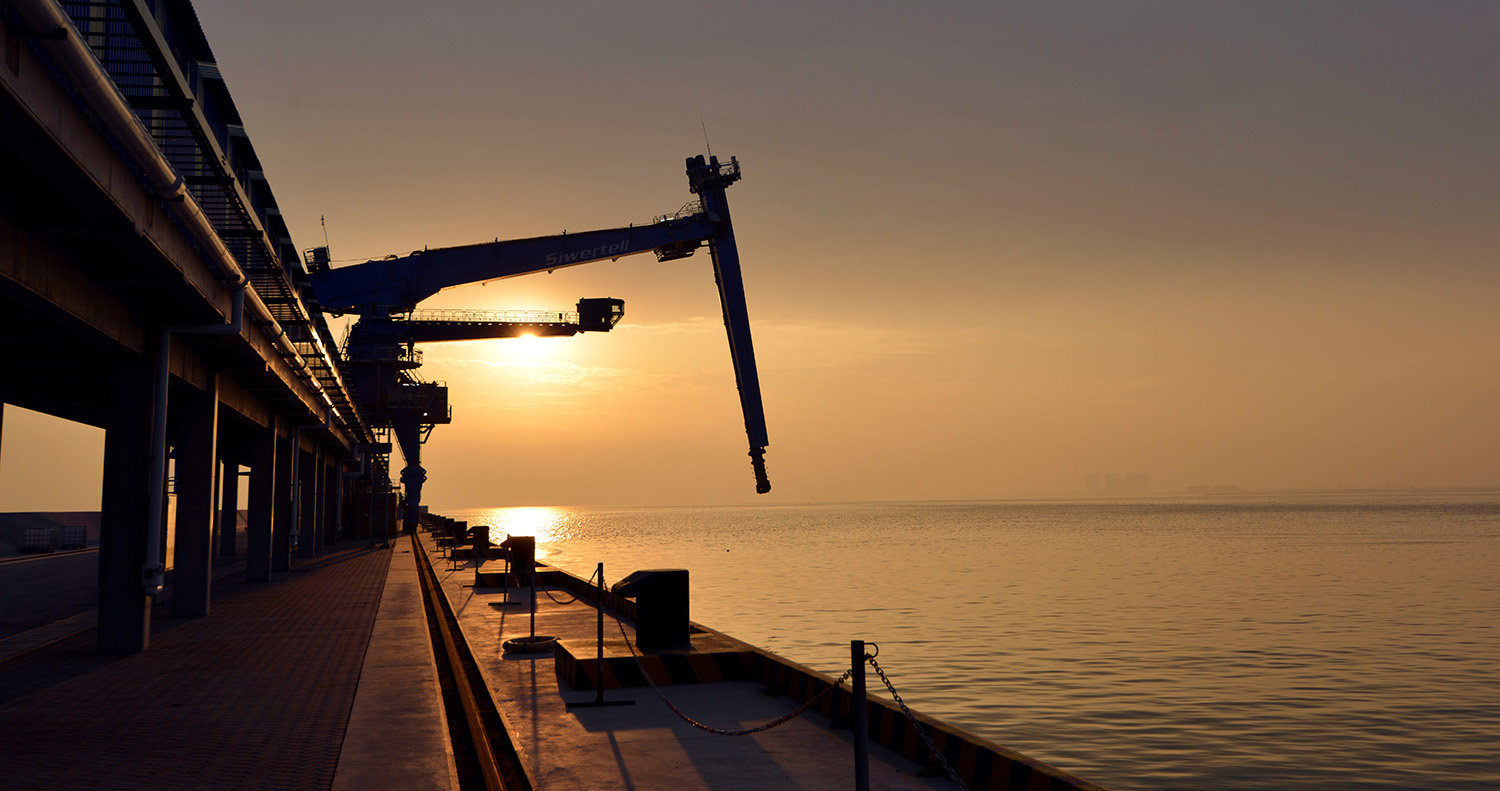 No measurable particulates
Dry bulk handing operations have traditionally been a dusty business, and their environmental impact was long-overlooked. This is far from the case today. For many terminals, scrupulously clean material handling is a prerequisite to being granted an operating licence, so environmental considerations have naturally become a top priority, with spillage and dust emissions being a key concern. 
Siwertell screw-type ship unloaders and loaders are totally enclosed, preventing dust emissions and spillage. However, some installations require the next step up in dust prevention. We can meet these needs through the incorporation of new dust mitigation designs and the use of special high-efficiency particulate air (HEPA) filters.
For example, Swedish company, Boliden, required a unique material handling solution for its new Boliden Tara Mines terminal in Dublin, Ireland. The ship loading system needed to handle zinc and lead, both are extremely hazardous, and a number of key prerequisites had to be met, including environmental and architectural restrictions.
The installation is located near a popular docklands area and cruise ship port; therefore close-to-zero dust emissions were stipulated in the contract, and very low noise levels. Working together, Bruks Siwertell developed a totally new system. It comprises a triple-enclosed belt-type ship loader, with luffing and slewing capabilities, a reversible shuttle-belt conveyor, with double-embedded covers, and dual remotely-operated connection points, as well as a triple-enclosed jetty and overland conveyor. The conveyor and its walkways are also embedded. 
The dust extraction system was also tailor-made for the application, consisting of a new two-stage filtration approach, with special HEPA filters forming the final stage of the process. The clean air released to the atmosphere from this filtration process contains no measurable particles.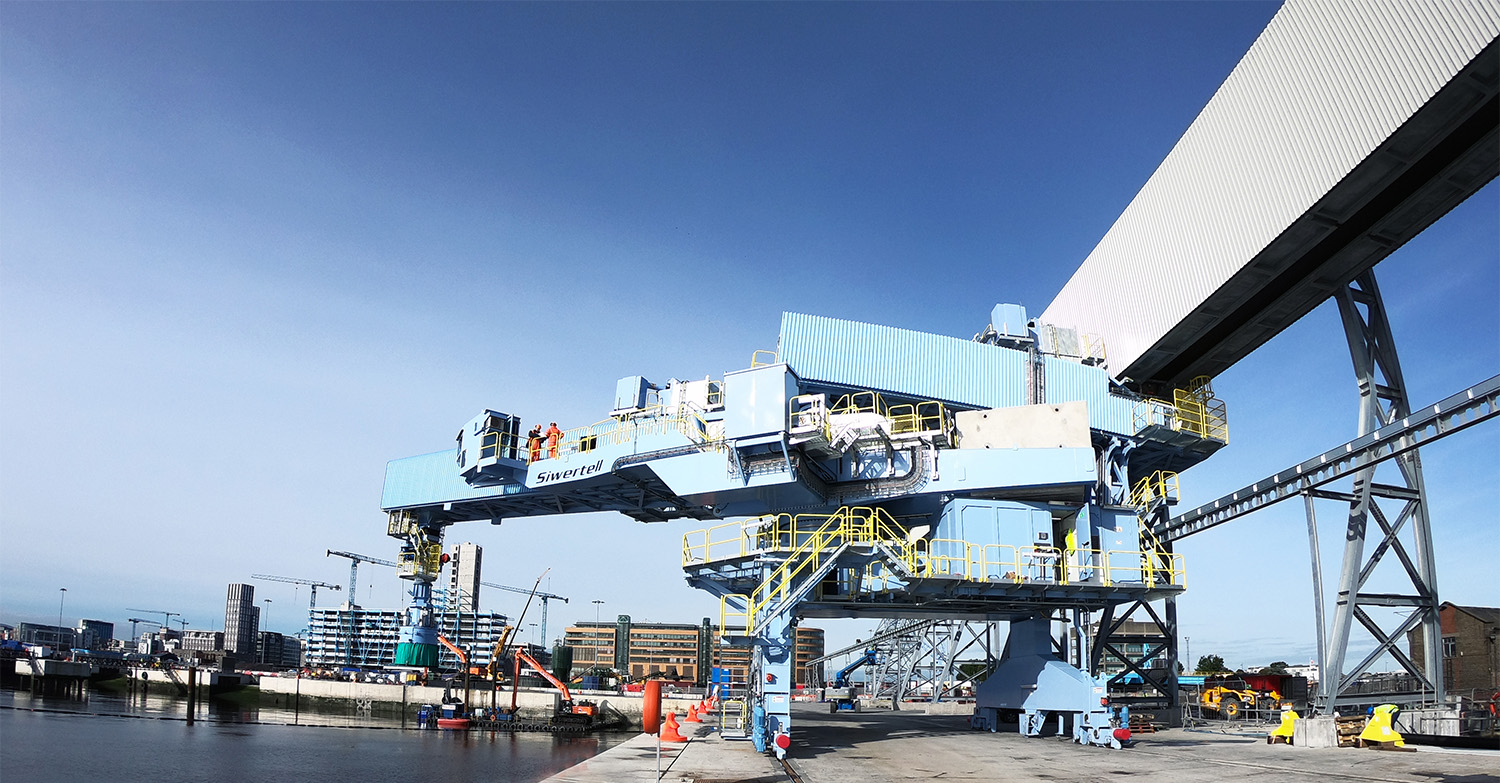 Dust suppression at transfer points
The Boliden system is one example of a highly tailored dust prevention approach, other strategies ensure that all downstream conveyors are covered and have dust mitigation systems at material transfer points. 
Highly efficient rail-travelling ship unloaders can take advantage of a movable transfer trolley. These allow unloaded material to be transferred from the rail-travelling unloader to a fixed conveyor system on the quay without dust or cargo spillage. 
When unloading particularly dusty materials, such as nickel concentrate, water spray equipment can also be incorporated into the operation. These vessel-mounted systems generate a mist over the open hold, preventing dust emissions caused by dry weather and winds. 
Dust can be supressed in other ways. Firstly, the inlet feeder digs into the material, feeding the vertical screw conveyor from beneath the surface. Additionally, Siwertell unloaders offer a layer-by-layer unloading process, which minimizes the chance of airborne emissions from avalanches in the cargo hold. The equipment's excellent reach into the corners of the cargo hold as well as under the hatch coamings helps reduce this further. 
Some unloaders have their hold reach potential additionally enhanced through a side tilt adaptation on the upper turret. This adds to dust mitigation and minimizes material left for the clean-up phase, which reduces vessel turnaround times, raising the utilization rate of the jetty and therefore profitability. 
Soon to benefit from this feature is Kuwait Portland Cement Co. Its new ST 490-M Siwertell ship unloader, equipped with the side tilt motion, is due for delivery next year. The new unit will join the operator's other long-serving cement handling Siwertell ship unloader in Shuaiba Port.
Preventing water pollution
All our systems aim to eliminate any dust from entering the atmosphere, but we also strive to ensure that our machines prevent the release of environmentally hazardous substances entering the water. This extends to equipment using vegetable-based oils and greases. 
For example, Peel Ports Group's Seaforth grain terminal in Liverpool in the UK is served by a multi-grain Siwertell ship unloader. It has a modified hydraulic and lubrication system operating only on food-grade oils and grease. The unloader offers exceptionally high continuous capacities of 1,800t/h, discharging vessels up to 75,000 dwt.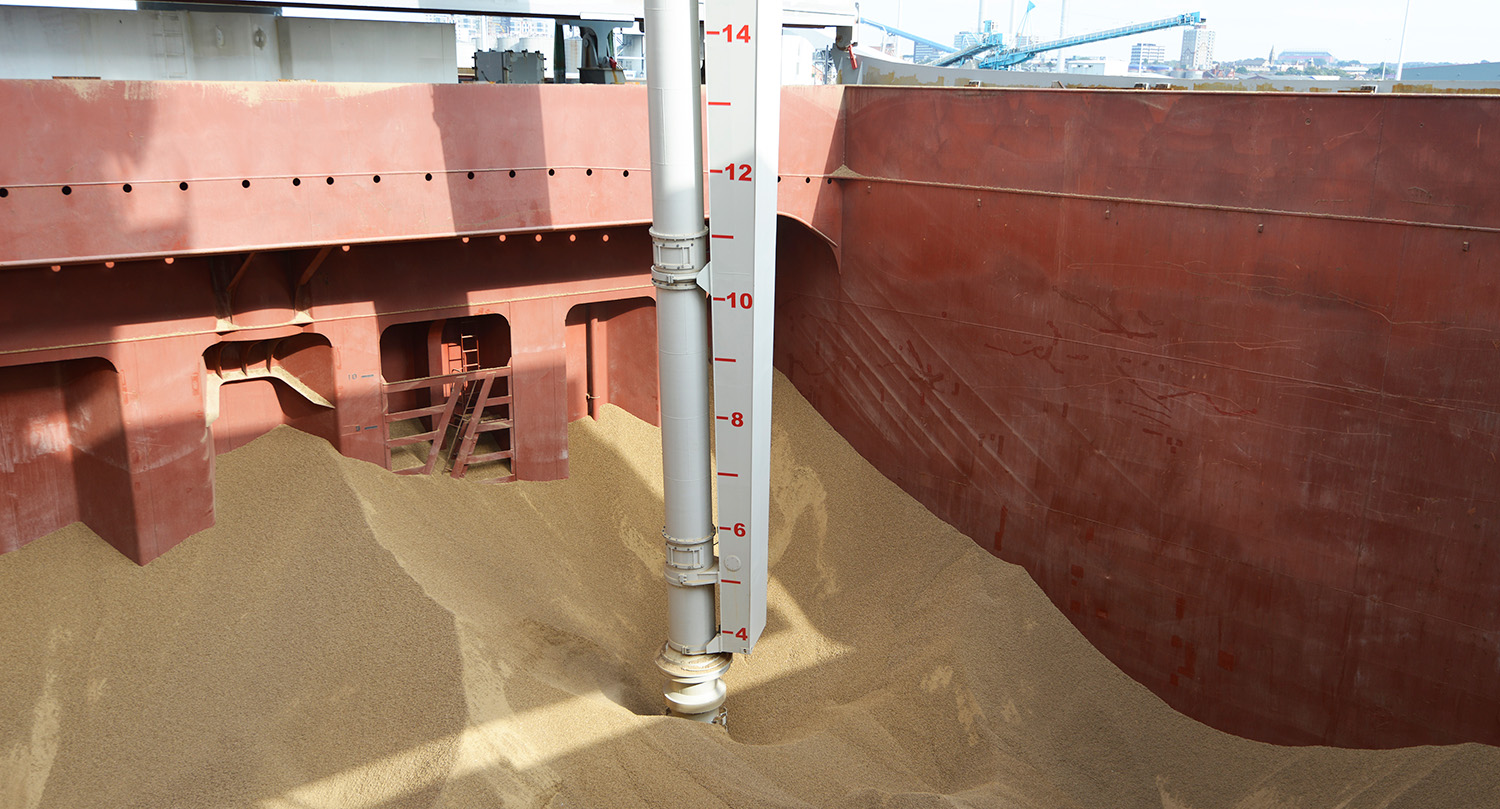 Keeping machinery quiet
Noise is another environmental concern, and an area that can be specifically targeted through modifications to machinery. Although our technology is very quiet, it can be further adapted to minimize noise generation even further. This is of interest to many of our customers who operate within heavily populated areas, such as the Boliden installation in Dublin's Alexandra Basin, where noise generated from industrial activities is heavily legislated.
Another good example of urban integration saw Bruks Siwertell supply a new coal handling system as part of a port regeneration scheme, bringing together modern offices and a residential area near a coal terminal in Frankfurt am Main, Germany.
The final solution has been now serving the area for many years with a continuous, screw-type Siwertell unloader discharging coal onto a totally enclosed belt conveying system running through a new office building, over a public road and a railway, and into the Mainova power plant. 
These installations, and many others, are part of a growing trend that sees the world's swelling populations sprawl outwards towards ports and harbors, and once industrial wasteland being regenerated into prized real-estate. Therefore, industrially generated noise has to be considered to ensure harmony in these shared spaces.
Sound-deadening upgrades
One company that has taken this very seriously is Ørsted. In line with Denmark's environmental regulations, when Bruks Siwertell delivered an ST 790-M high-capacity unloader to the company in 2013, it had to meet unusually strict requirements for noise levels. As a result, the unloader, which serves Ørsted's Avedøre combined heat and power plant, was delivered with special sound-deadening upgrades fitted.  
 
Once operational, Bruks Siwertell commissioned a Swedish urban planning consultancy and acoustics specialist to carry out noise-mapping tests at a number of points around the Siwertell unloader at Ørsted's discharge berth in Copenhagen.
The engineers measured the degree of noise from a Siwertell machine under a full workload, and the noise level inside the operator's cab was also measured. Outdoor noise on the walkway between the quay and the operator cab was found to be 76 dBA (mean level), which is quieter than the average food blender and akin to living room music. Meanwhile, inside the operator's cab, the sound was 50 dBA, only somewhat louder than a bird call or the ambient noise from a city at night. 
In addition to our unloaders and loaders operating quietly, conveyors can be fitted with double cover plates, which not only ensures tighter dust control, but also dampens noise. Furthermore, cabins have well-insulated walls, protecting the operator from persistent noise exposure, and when working outside the cabin, using remote control operation, for example, noise-dampening upgrades also benefit these operators as well.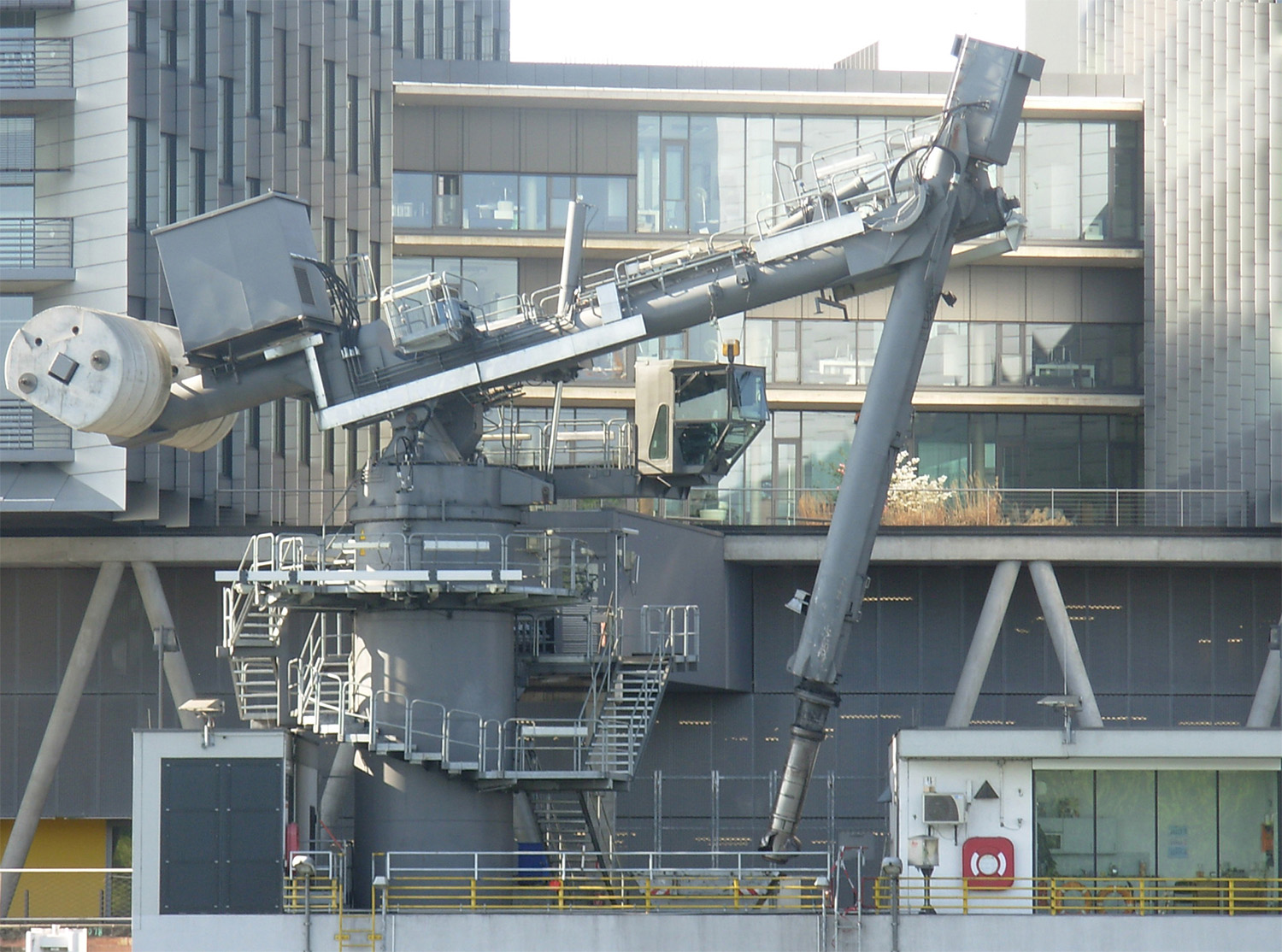 Looks are important too
Notwithstanding extreme temperatures, high prevailing winds, lightning strikes, earthquakes and environmental regulations, there are often restrictions placed on machinery for its aesthetic impact as well. 
We encounter this consideration with many of our installations, again particularly those that operate within heavily populated areas, such as the previous examples of the Boliden ship loader installation, and the ship unloading system in Frankfurt. 
Both these projects required particular attention to their architectural presence, ensuring that their introduction to the mixed-use landscape did not negatively impact surrounding buildings and the sites' historic content.
We meet architectural needs through design, steel quality and the appearance of the steel structure, and ensure that terminals work with existing infrastructures. Furthermore, machines can always be painted in a desired color.
Installations can be made visible from the air by mounting a flight warning light on the machine, and camera-monitoring is also available as an additional adaption. We can even design bespoke cabin arrangements to ensure the best overall view of the unloading operation. 
We know that every operation is different, but we also understand that every installation has to work in situ, accommodating environmental, geological and climatic considerations, as well as meeting any operator-specific requirements and the area's governing legislation. This is why our technology is designed to be adapted, offering peak performance whatever the conditions; many operators are already benefiting from the advantages of our tailored solutions.
 
Share:
PLEASE CONTACT US FOR MORE INFORMATION
More Blogs