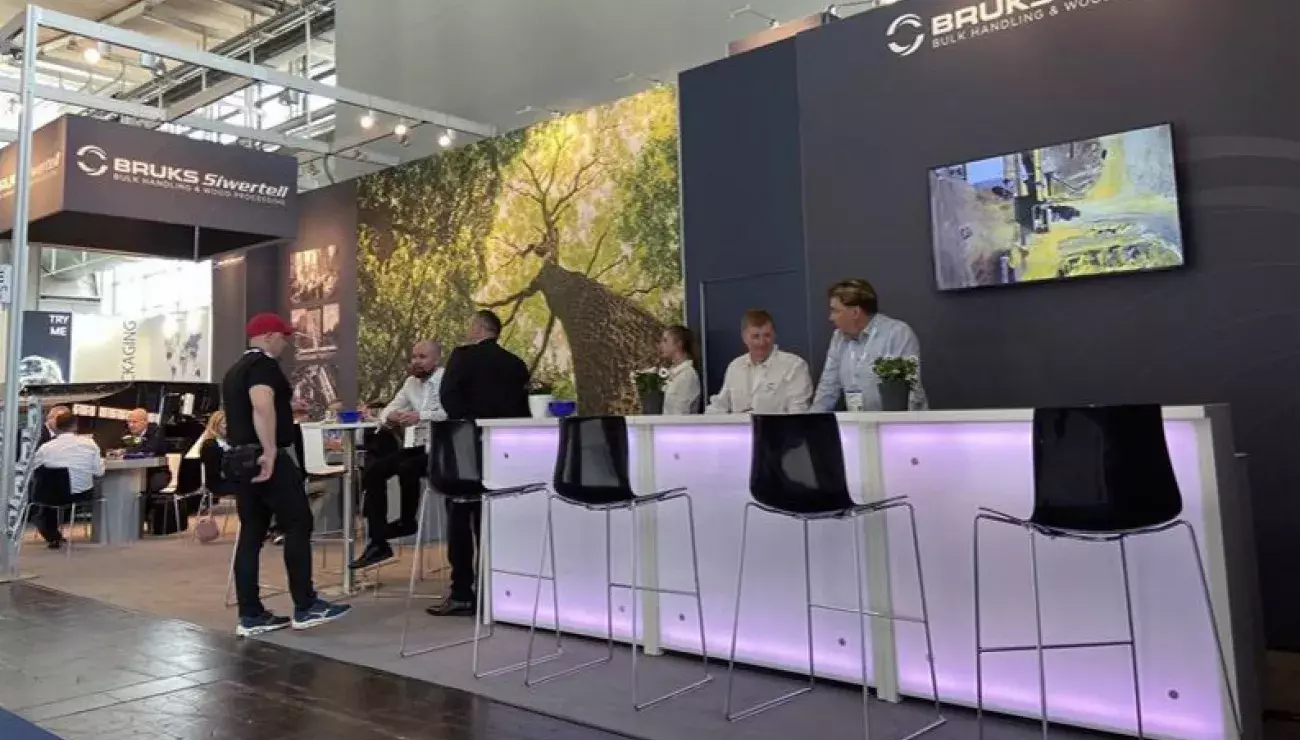 Bioeconomy high on the agenda at leading wood-processing event 
26 Jun 2023
Last month, Bruks Siwertell attended Ligna, one of the leading trade fairs for the woodworking and wood-processing industries. Held in Hanover, Germany, from May 15 to 19, 2023, the event is hugely important to Bruks Siwertell. Attendance at the show is a regular, dedicated slot in the company's calendar and this year was no exception.
Ligna 2023 attracted a total of 1,300 exhibitors from 50 countries. Visitor numbers were equally buoyant, with regular customers, as well as many new ones, approaching the Bruks Siwertell stand. Located in hall 26 stand E07/1, Bruks Siwertell was represented by numerous personnel from Europe and the USA, including specialists from its Wood Technology business unit. 
No wasted wood
Also on the stand, and attracting much attention, was a slow-speed wood residue upgrader, the Bruks Klöckner RU 14-4, which was recently added to the company's product portfolio. It was brought to showcase just some of Bruks Siwertell's wood-processing capabilities.
The RU 14-4 was an ideal choice for the exhibition. It can be used across a wide range of applications including the pallet, panelboard and furniture industries, sawmills, carpentry businesses and wood fiber-packaging manufacturing. In fact, it is capable of processing complete pallets, including packaging items, nails, screws and metal fittings. The RU 14-4 ensures that any end-of-life timber is not wasted, but repurposed, maximizing profitability and sustainability.
It also complements Bruks Siwertell's market leading range of industrial mobile wood chipping technology, which is central to bioenergy harvests. Some units have been specifically developed and optimized for the cost-effective production of biofuel chips. This includes the introduction of an intelligent mobile chipping (IMC) control system; a new method for optimizing power management, fuel efficiency and wood chip throughput. The system also supports remote diagnostics and troubleshooting, and advances Bruks Siwertell's digitalization program.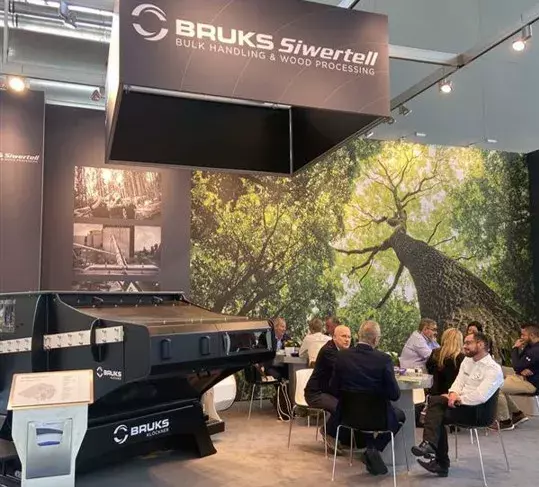 Achieving climate targets
Ligna's popularity is no surprise to Bruks Siwertell. Wood is big business. It is the material that Bruks Siwertell handles the most of, both in terms of volumes and sales. Versatile, renewable and able to sequester carbon, wood is not only one of the oldest building materials, but one of oldest energy sources as well. 
The bioeconomy, and green material processing – converting biological raw materials into high-quality end products – were just two of the show's 'hot' topics. Many exhibitors and attendants were interested in the development of global sustainability strategies to achieve climate targets. 
Exhibition themes were categorized into seven areas covering both the primary and secondary wood industries. These included: energy from wood, which looked at decentralized energy generation in the timber industry to its utilization for heating purposes or conversion to electricity; wood-based panel production, covering all types of engineered wood panelboard to the machinery required; machinery for forestry, roundwood and sawn timber production, which focused on forestry technology and optimized timber harvesting systems; machine components and automation technology; surface technology; sawmill technology; and tools and machinery for custom and mass production.
Complete technology chains
Bruks Siwertell supplies complete technology chains for many wood-processing industries, including the pulp and paper, panelboard, pellet, biofuel and bioenergy industries. Its equipment portfolio features stationary and industrial mobile chippers, bark and processed wood handling systems, along with storage and reclaiming solutions, and conveyors. Grinding and milling machinery is also included, such as hammer mills for both wet and dry wood materials, as well as butt-flare reducers and knife-ring flakers.
This technology is playing an important role in making sustainability ambitions a reality. Renewable energy dialogues, and the overall drive for sustainable solutions in the wood-processing industry were popular topics of discussion at Bruks Siwertell's stand. As these conversations become ever more prominent, Bruks Siwertell is proud to be a part of them, and the solution.
 
Share:
More Blogs