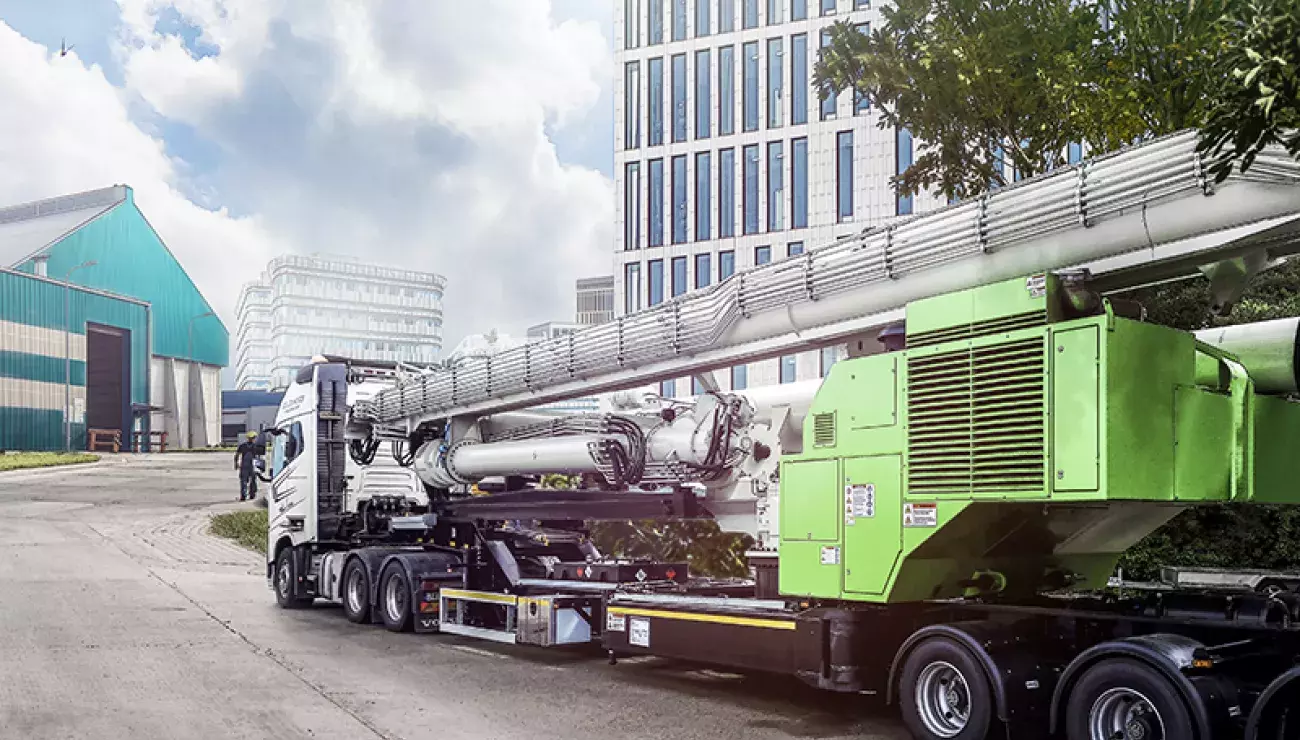 A quarter of a century in the making, but the wait is worth it
14 May 2018
For operators needing to bridge the gap between flexibility and operational efficiency, mobile bulk unloading solutions could be the answer. Breaking new ground in the market is Siwertell's range of next-generation, road-mobile unloading systems, which offer the most significant advances the industry has seen for over 25 years.
Siwertell set the pace for road-mobile unloading systems in 1991 and has continued to make incremental changes. However, its latest re-design offers such significant advances that the company deemed it necessary to change its name to next-generation models.
"All our road-mobile systems offer a reliable and cost-efficient alternative to large, fixed installations," explains Jörgen Ojeda, Director, Mobile Unloaders. "But our next-generation models showcase key operating system upgrades to ensure that our products are well-equipped for the challenges of tomorrow; and none more so than the wave of digitalisation that is transforming the industry."
 
Unlimited trouble-shooting potential
Next-generation road-mobile unloaders feature an updated electrical system that employs fieldbus-based technology; an automated system that connects computers to a single network to provide real-time control and monitoring.
The system – which links field equipment to a new programmable logic controller (PLC) –provides almost unlimited trouble-shooting potential and includes the ability to run self-diagnostic system checks.
"We have moved away from old types of PLCs and introduced a modern one developed specifically for mobile applications by IFM. The fieldbus solution allows for a high-performance, cost-efficient remote monitoring system with the potential to reduce service and maintenance costs along with a reduction in downtime," says Mr Ojeda.
Siwertell is now able to remotely connect to the PLC to perform re-programming and control software upgrades, for example. Regardless of the unloader's location, tasks can be carried out remotely from its headquarters in Sweden.
Next-generation unloaders feature an upgraded user interface with touch-screen technology and a four-color graphic operating display panel, enabling the operator to receive substantially more information; for example, fuel levels, loads, alarms and warnings.
To reduce the amount of cabling on the mobile unloader and better determine the position of the conveying arm system, some limit switches have been replaced with inclination sensors.
This upgrade leaves the door open for future software developments, which could include automatic unloading.
Clean engines meet compliance criteria
Although efficiency advances fundamentally affect the environment, direct impacts from sources such as exhaust emissions were also considered in the redevelopment process, especially as regulations to reduce them have continued to tighten over the past decade.
The most stringent environmental regulations, in terms of exhaust and sound emissions, are set by Tier 4 US Environmental Protection Agency (EPA) and stage IV European Union emission standards.
"These stricter emission standards provided us with a platform to upgrade and refine our unloading equipment to ensure that it not only met the latest environmental regulations, but that it would continue to meet even tighter ones," says Mr Ojeda.
To meet the Tier 4 and stage IV standards, Siwertell's next-generation units can be fitted with the latest environmentally-friendly diesel engine from machinery and equipment company Caterpillar. For some markets, existing Caterpillar diesel engines – which comfortably meet the strict standards set by EPA Tier 3 and stage III European emission levels – will remain as standard.
Meet the modern hydraulic system  
Next-generation unloaders feature a new hydraulic oil tank, which uses cyclone technology. This upgrade means that efficient and reliable operations can be achieved using significantly less hydraulic oil. A new oil cooler, pumps and pump drive gearbox further increase reliability and efficiency.
Previous generations of road-mobile unloaders use relay-based hydraulic valve control systems. Siwertell's new main control valve uses the built-in fieldbus interface to deliver more responsive, secure unloader control. The use of this system further simplifies cabling requirements, which has the added benefit of reducing malfunction risks from broken cables.
Cargo flow efficiency as standard
To maintain a smooth cargo flow and to offer the very best efficiency, a double-bellows system and an automatic shifting function are standard features on next-generation road-mobile unloaders. To put it in perspective, a double-bellows system offers a 30 percent increase in through-ship capacity compared to a single loading bellows equivalent.
They also feature a new radio control unit for maneuvring the bellows, replacing the older-type cabled controllers.
Successful Middle East performances
Deliveries of next-generation, road-mobile unloaders commenced in early 2016 and since then, 8 units have been delivered worldwide. Two Middle East examples highlight Siwertell's growing repeat customer-base.
In 2017, a company based in the Middle East ordered a 10 000 S next-generation, road-mobile unloader to support its existing Siwertell road-mobile unit. Delivery of the new unloader allowed the customer to expand its growing cement operations.
The trailer-based, diesel-powered Siwertell unit is fitted with dust filters and the now standard double-bellows discharge system, which maintains a rated unloading capacity of 300t/h.  The unloader is also characterised by fuel-efficient operations, consuming only 0.18 litres of diesel during an average cement-handling operation.
Also adding to its existing range of Siwertell road-mobile unloaders, in 2015 Kuwait-based company, Acico Construction, contracted Siwertell to supply a next-generation, road-mobile unloader for handling cement. The company already operates a Siwertell 10 000 S unit, which was delivered in 2015 and a 5 000 S unit, delivered in 2014, but required a further unit to unload the larger vessels, up to 10,000dwt, which it now handles.
The unloader was delivered in 2017 and operates in the Port of Shuaiba, Kuwait's second largest port. It delivers a rated capacity of 300t/h for cement-handling operations.
PLEASE CONTACT US FOR MORE INFORMATION
Categories: Bulk unloading
Tags: roadmobile unloader
Share:
More Blogs