Grain handlers at the forefront of huge through-life cost savings 
9 May 2022
Thanks to the tremendous growth in the agri-bulk segment over the last few years, grain is now the third largest cargo that Bruks Siwertell machines handle. Operating with a competitive edge in this industry is key. We have installations worldwide and are working hard to deliver this sector some of the most significant cost-saving advantages available on the market.
The capabilities offered by Siwertell ship unloaders have enabled some operators to reduce their unloading days by 50 percent, or more depending on capacity, translating into a 50 percent reduction in berth occupancy and the possibility of higher annual intakes, positively impacting return on investment.
But we have not stopped here. A recent innovative research and development (R&D) program, targeted at improving the lifetime of the vertical screw conveyor and its component parts, has yielded extremely positive results, which are now applicable to Bruks Siwertell's entire portfolio of screw-type equipment including Siwertell ship unloaders, loaders and conveyors. Grain handlers look set to significantly benefit from the developments.
Wear parts savings
By dramatically improving the service life of wear parts, customers save money on through-life maintenance, without increased investment costs. Furthermore, the environment benefits from a more sustainable approach. 
The program, which started in 2021, was centralized around owner benefits, with Bruks Siwertell reviewing several key elements of the vertical conveyor. The grain handling market was taken as the program's core segment for analysis for several reasons. 
Grain handlers have to meet some of the most challenging dry bulk material requirements. Import and export terminals are subject to massive surges in intake from the seasonality of crop harvests. Their dry bulk equipment must match these, and offer consistently high capacities for maximum profitability, but also maintain the quality of shipments through sensitive handling.
Siwertell screw-type ship unloaders can discharge grain and other agri-bulk commodities at rated capacities up to 1,800t/h. Our grain-handling attributes also include the highest continuous rated loading capacities, which are in excess of 3,000t/h.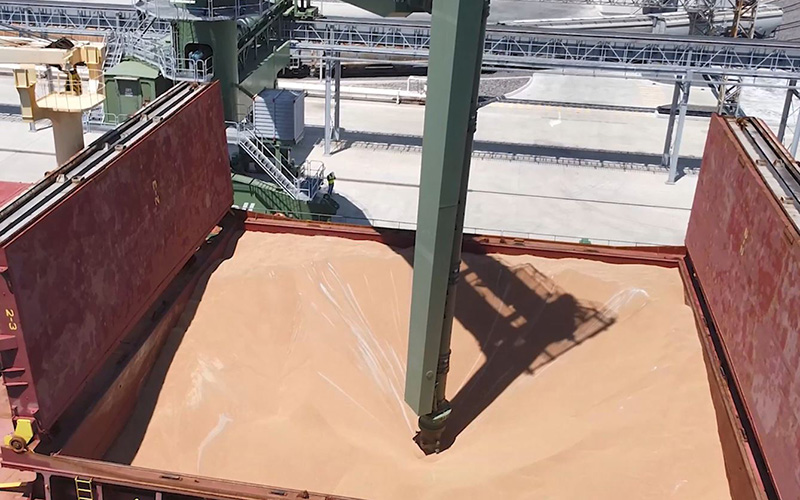 Intense and competitive 
Bruks Siwertell knows that the grain handling sector demands an incredible amount from its dry bulk handling equipment, not only in terms of intensity, but it is also an extremely competitive market that places substantial expectations on component lifetimes and through-life costs.
Bruks Siwertell has grain, soya bean and soya meal handling systems operating in Brazil that run up to 4,000 hours/year. These systems work to some of the agri-bulk industry's tightest seasonal schedules, and there is no capacity for any unplanned downtime.
In this region, many of our customers are dependent on their Siwertell screw-type ship unloaders being able to handle one year's full intake of grain. Several customers do not have any other equipment to unload incoming material or their supplementary equipment is simply not suitable, as grain unloading has to happen so quickly and frequently that only their Siwertell unloader is up to the task.
Very high use conditions naturally have an inevitable impact on wear parts. When combined with the remoteness of some of these operations, many of these customers often carry a large stock of critical spare parts, minimizing the risk of unexpected stoppages. However, being able to offer longer screw conveyor lifetimes ensures a better balance between cost and component longevity, so we can meet the needs of this sector in a more effective way.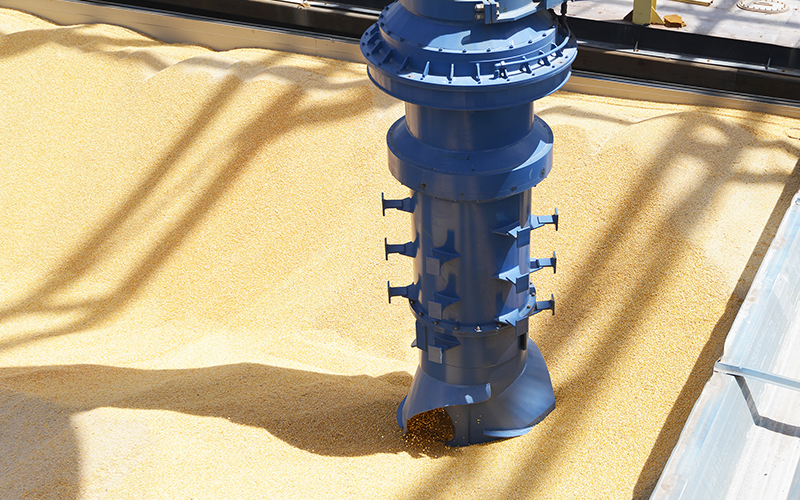 No assumptions
A key part of the program was to establish higher durability and wear resistance in the screw conveyors. Several different configurations were analyzed and tested; nothing was assumed, as even proven designs also need to be investigated and questioned. 
Alternative production methods and techniques were also considered, as well as a review of the supply chain. This has been necessary so that Bruks Siwertell can deliver shorter lead times for a demanding market. The result of which has made the entire production and delivery chain more efficient and environment-friendly.
Everything has been verified before passing Bruks Siwertell's stringent quality guidelines, and the result is an advanced solution that offers the best of previous generations in a more resilient package, with lower operator costs and environmental impact. 
We are ready to pass on these benefits to all our existing Siwertell installations, as well as future terminals, and the results naturally extend beyond grain to other dry bulk commodities as well.
Bruks Siwertell is currently running several R&D projects, all with the same aim as this one: to improve owner benefits, set a higher standard for intelligent solutions, and drive positive, sustainable change.
 
Share:
PLEASE CONTACT US FOR MORE INFORMATION
More Blogs