Setting the pace for 40+ years
Since 1974 Siwertell screw-type unloaders have offered the cleanest and most efficient dry bulk unloading systems available, along with very high capacities; this impressive legacy is reinforced by the market's growing demands for increased efficiency and minimal environmental impact. 
The right machine at the right time
During the last two decades of the 20th century, the main methods of dry bulk handling were grab cranes and hoppers. Grab cranes were considered to be comparatively efficient and as the port areas were well away from residential areas, no one really paid any attention to the negative environmental impact caused by dust emissions, spillage and noise.
At this time the main concerns for the majority of people, industrialists and politicians, were economic growth, trade, gross national product and welfare. Then, as standards of living improved  in the industrialised world, more people turned their attention towards the preservation of nature and wild life, for the wellbeing of current and future generations.
In parallel with this shift in popular opinion, the growing populations inevitably resulted in competition for space between people and business. The formerly isolated ports found themselves surrounded by people in need of living space and attracted to the beauty of coastal locations. Port operators became increasingly restricted as they had to consider the wellbeing of their neighbours along with purely business matters. Consequently, the market for Siwertell screw conveyors emerged more or less at the same time as the technology was perfected to allow the first machines to be produced in 1974.
 
The ideal solution for populated ports
Quiet and totally enclosed, they were the ideal solution for ports that needed to keep on good terms with the local populations. And as time passes and our appreciation of the importance of the natural world grows, the excellent environmental credentials of Siwertell technology can only help to secure its place in the market for the foreseeable future.
Continuous development saw capacities steadily increase, while technical research resulted in wear components with significantly extended lifetimes. Siwertell has always been quick to respond to new market opportunities; and it has also been very pro-active in developing products to meet anticipated demands.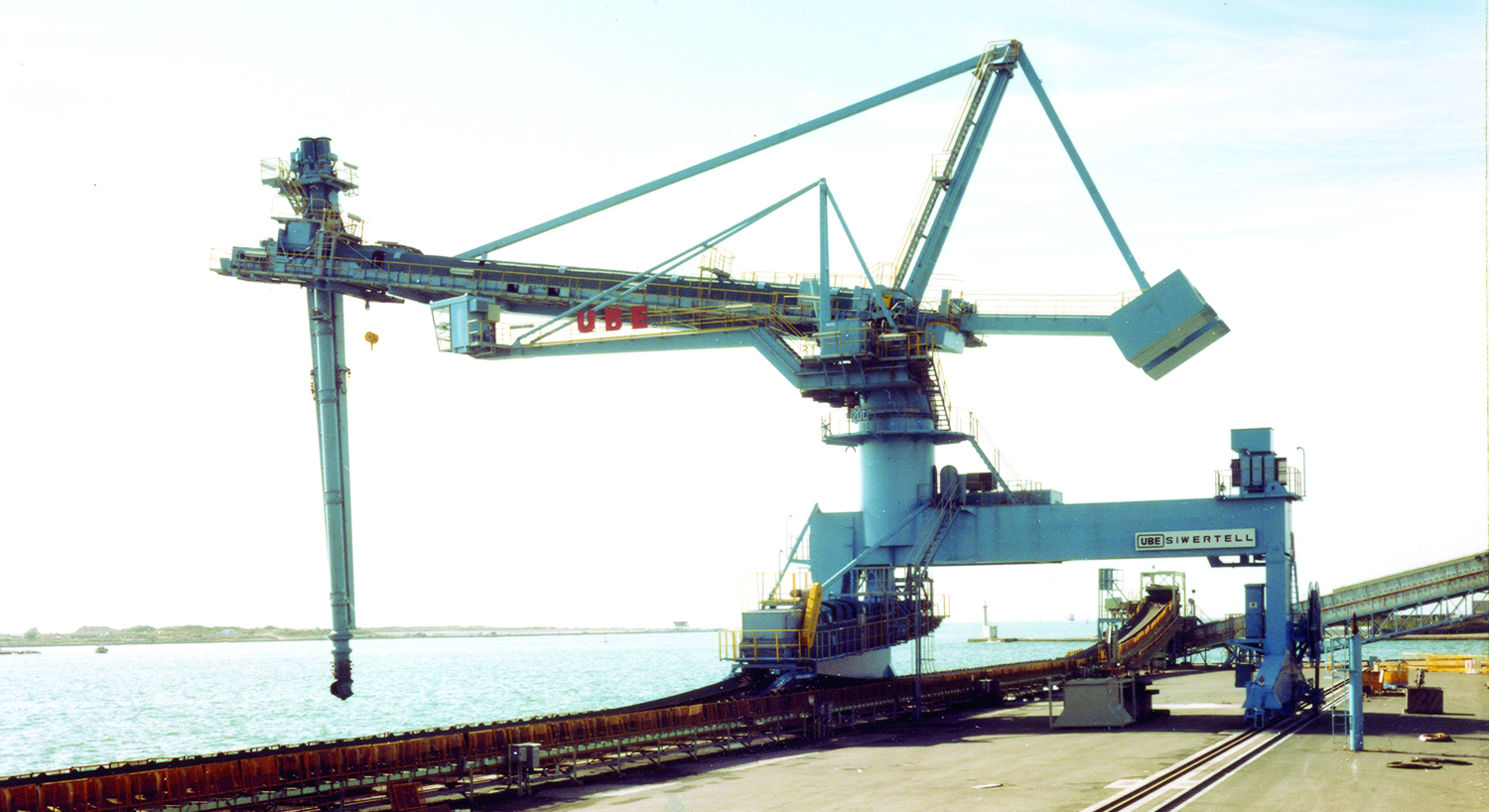 Above: First Siwertell 2000t/h coal unloader to Japan, 1982
Loading systems, road mobile unloaders and full terminal systems followed, all bearing the Siwertell hallmarks of efficiency, reliability, high capacity and minimal environmental impact. Siwertell technology is known for its longevity, and this is further enhanced by attractive service and maintenance packages, along with the capability to carry out major, cost-effective upgrades and refurbishments.
With references from hundreds of satisfied customers around the world, the Siwertell brand's profound technical knowledge and four decades of pioneering experience with screw conveyors ensures that customers will always benefit from market leading performance and service.
Share: