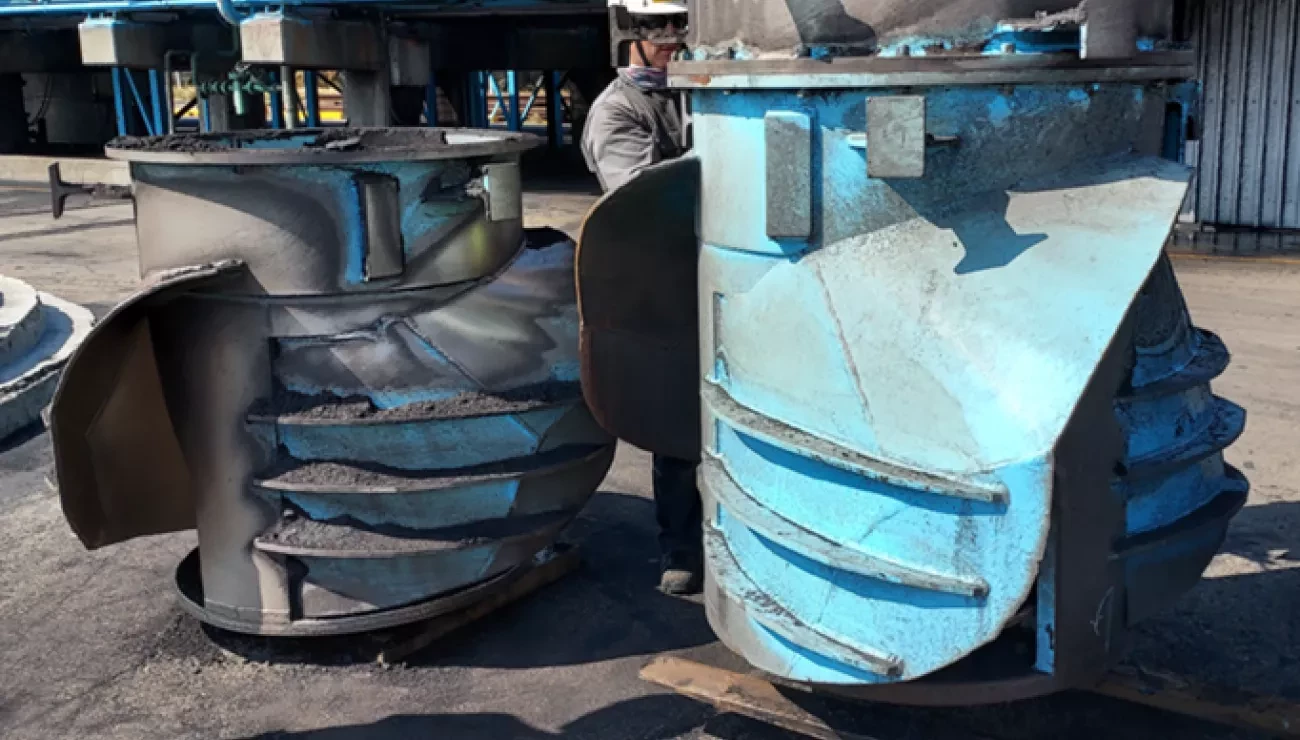 Improved inlet feeder introduced for large-scale Siwertell ship unloaders offers even higher through-ship efficiencies
23 Oct 2023
Bruks Siwertell has introduced a new inlet feeder specifically designed to improve the through-ship efficiency of its large-scale VST-940 Siwertell ship unloaders, some of the highest capacity dry bulk handling machines on the market. The customer-driven development increases through-ship capacity and the overall efficiency of unloading operations, particularly as material gets lower in the hold. 
"We started the design process for improving the inlet feeder in response to an existing customer requesting a through-ship capacity, which was so high that it had not yet been achieved," says Jonas Andersson, Technical Director, Bruks Siwertell. "Our Siwertell ship unloaders already offer the highest through-ship efficiencies on the market, in excess of 70 percent. To put this in perspective, an equivalent capacity grab crane, for example, offers through-ship efficiencies of around 50 percent.
"We always like a challenge, particularly when it is directed at meeting a specific customer's requirements," Andersson continues. "To be able to meet this capacity request, we needed to reduce any capacity loss or fluctuations and maintenance time to a minimum, so we started on a development program that could realize this."
Bruks Siwertell uses advanced simulation software in the development of its technology, and with its help, was able to establish an optimized, improved design of the new inlet feeder. "Theoretical results have to be tested under real-world conditions, and this is exactly what we have done," he explains. "Successful trials of the new inlet feeder have now been completed, and we could not be happier with the results. They show that theory and reality really matched in this case, convincing us that the improved inlet feeder was as good as the simulation showed.
"It was installed, an even higher through-ship capacity test was achieved, and a new milestone was reached in Bruks Siwertell's history," Andersson adds. "The through-ship capacity test result was about five percent units higher than the customer's requirement and higher than our expectations. During the test it was noted that it was easier to maintain the capacity, especially when unloading with less material in the hold and when changing direction. This was all thanks to the improved design of the new inlet feeder." 
The counter-rotating inlet feeder is one of the single most important components of the Siwertell screw-type ship unloader. It significantly increases the filling factor of the vertical screw conveyor and can operate both with free-flowing and crusted, compacted materials. 
To minimize dust emissions, the inlet feeder is designed to pick up dry bulk cargo from below the surface. Different inlet feeders can be specified for different materials, especially important when handling very abrasive, corrosive or heavily compacted materials, which require high digging forces.
The tests were conducted on a coal-handling ship unloader, but the new inlet feeder can be used for various other materials, and retrofitted to existing ship unloaders within an hour.
 
For more information, please contact us
Share:
More News