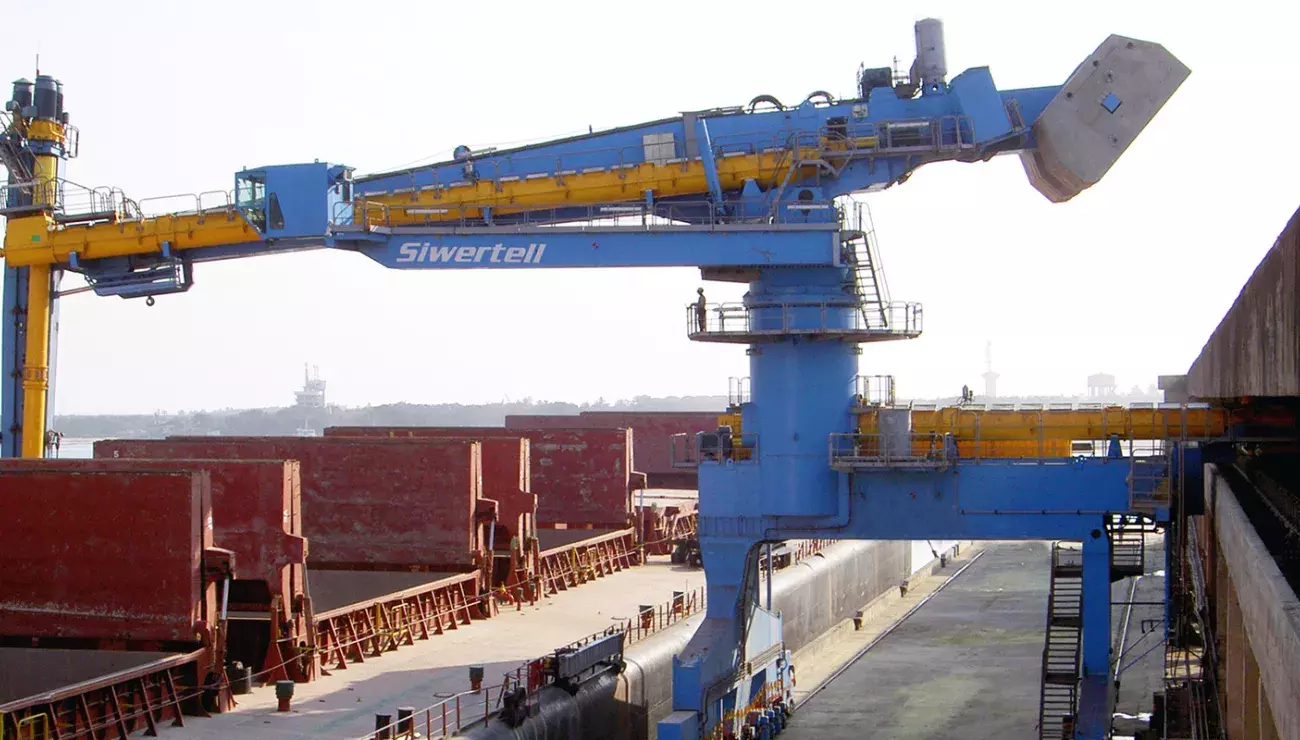 Repeat Siwertell unloader order for safe sulfur and rock phosphate handling in Paradeep 
9 Aug 2021
Bruks Siwertell has won a contract to deliver a second Siwertell screw-type ship unloader to leading Indian fertilizer company, Paradeep Phosphates Ltd (PPL), operating at the port of Paradeep, in Odisha, India. The new Siwertell 640 D-type ship unloader joins a similar unit, which has been serving the company since 2006. 
Part of the Adventz Group and the OCP Group of Morocco, PPL is a major manufacturer of phosphatic fertilizers and is Asia's second largest producer of diammonium phosphate (DAP), sourced from its plant close to the port.
"We are delighted that PPL has once again turned to our technology," says Pierre Öhrwall, Sales Manager, South Asia, Bruks Siwertell. "In 2005, the operator was looking for a new ship unloader. After a visit to Australia to appraise a Siwertell installation there, PPL was convinced that a continuous, screw-type Siwertell ship unloader was the answer to its needs as it gives faster turnaround time and is environmentally friendly ."
Similar to its predecessor, the new rail-mounted ST 640-D unit has the capacity to discharge sulfur from vessels up to 60,000 dwt in size, at a rated capacity of 1,500t/h. It will alternate handling this cargo with rock phosphate at a rate of 1,200t/h and muriate of potash (MOP) at 1,050t/h. 
Both units, like all Siwertell ship unloaders that handle sulfur, are fitted with the Siwertell Sulfur Safety System (4S), which was first developed over 30 years ago to minimize the risk of explosions when handling this extremely volatile and corrosive dry bulk material.  
"The flammable and explosive nature of sulfur, which is not so much of a problem in open systems using grab cranes, becomes an issue for enclosed systems," Öhrwall explains. "But sulfur handling should be contained and dust-free as it is damaging to the environment. Uniquely, Siwertell technology is able to offer totally enclosed screw-type unloading with systems equipped with the 4S. It allows enclosed sulfur handling with any risk to personnel, equipment, vessel and port reduced to the minimum possible levels.
"The new unloader will work on the same jetty as Bruks Siwertell's previous delivery for PPL, and double the operator's material handling capacity," he notes. "PPL needed to keep up with demand, but wanted to do this in the most sustainable and environment-friendly way possible. The operator's good experience with its existing Siwertell ship unloader meant that PPL didn't hesitate to invest in the technology once again."
The new unloader will be delivered to the port in component parts and assembled on site. It is scheduled for operation at the end of 2022.
Paradeep is also served by a high-capacity, rail-mounted Siwertell ST 790-D unloader, delivered in 2011 for another operator. Able to unload sulfur from vessels up to 75,000 dwt at 1,800t/h, the fully enclosed Siwertell unit replaced a grab crane and prevents any pollution from dust emissions, further improving the environmental conditions at the port. 
 
Share:
For more information, please contact us
More News