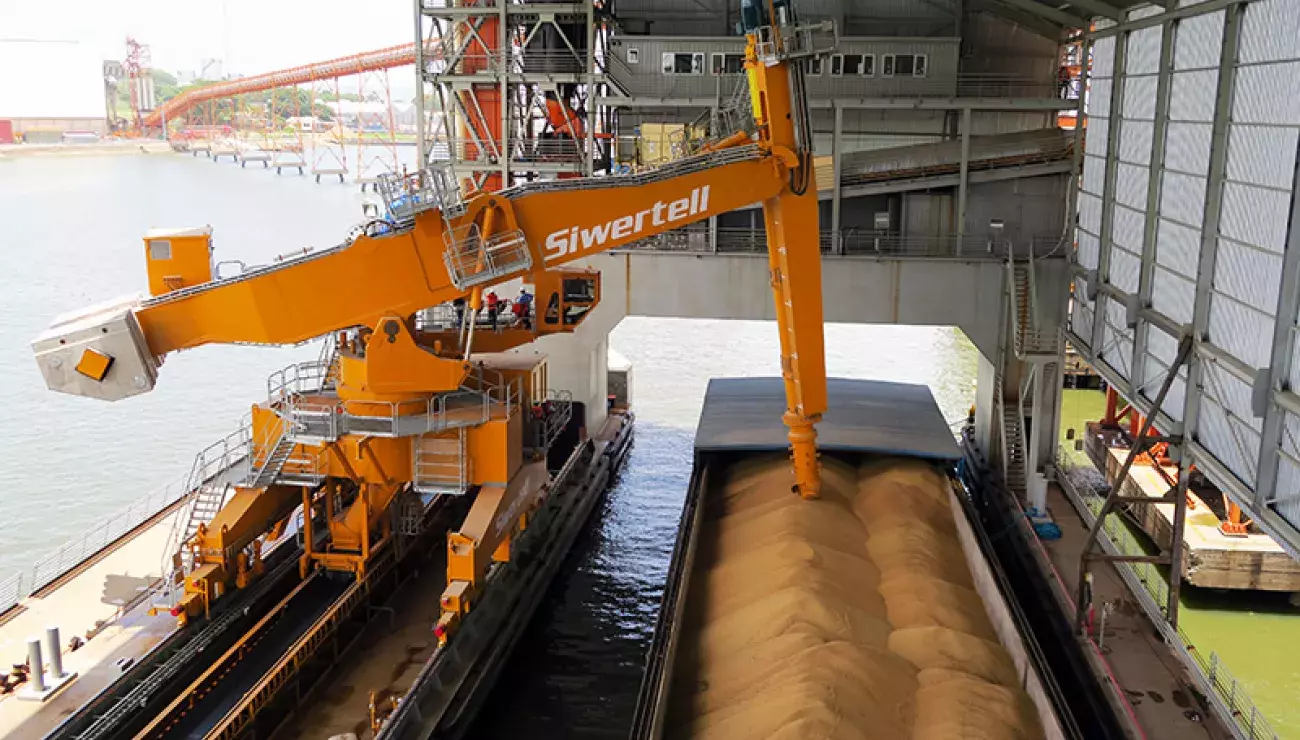 Bruks Siwertell's innovative R&D program yields significant owner benefits 
21 Mar 2022
Bruks Siwertell can now reveal the extremely positive outcomes of its recent innovative research and development (R&D) program, targeted at improving the lifetime of the vertical screw conveyor in its market-leading range of Siwertell technology. The results offer a substantial reduction in wear part component costs and are applicable to Bruks Siwertell's entire portfolio of screw-type equipment including Siwertell ship unloaders, loaders and conveyors. 
The program was centralized around owner benefits, with Bruks Siwertell reviewing several key elements of the vertical conveyor. "An already-proven and appreciated product can always be improved," says Per Hansson, Sales Director, Bruks Siwertell. "Added value is a core element of any Bruks Siwertell R&D program. We are not only trying to improve our products, but also, in line with our sustainability strategy, make the process of producing them more environment-friendly.
"We are delighted that the results of this program will offer our dry bulk handling customers some of the most substantial owner benefits available on the market," continues Hansson. "The vertical screw conveyor's longer lifetime will result in fewer exchanges of wear components and deliver significantly lower total maintenance costs for operators that use our technology.
"Siwertell screw conveyors already offer some of the market's lowest through-life maintenance costs," he notes. "But these customer-driven advances are extraordinary and set an extremely high industry standard for this type of wear part." 
The program, which started in 2021, was initiated to support Bruks Siwertell's grain handling, soya bean, and soya meal customers, but the results will naturally be used to improve the vertical screw conveyor for handling other commodities as well.
"We started by looking at this segment for several reasons," explains Hansson. "This is a sector that demands an incredible amount from its dry bulk handling equipment, not only in terms of intensity, but it is also extremely cost competitive, placing substantial market expectations on component lifetimes and through-life costs.
"For example, we have grain, soya bean and soya meal handling systems operating in Brazil that run up to 4,000 hours/year, working to some of the agribulk industry's tightest seasonal schedules," he notes. "There is no capacity in these operations for any unplanned downtime; longer screw conveyor lifetimes ensure that we will continue to meet this target in a more effective way.
"Very high use conditions naturally have an inevitable impact on wear parts, and, arguably the vertical screw is one of the most critical," Hansson adds. "By focusing our R&D efforts on this, we could see great potential; by dramatically improving the service life of wear parts, we could offer customers significant through-life maintenance savings, without increasing investment costs, and benefit the environment through a more sustainable approach." 
 
To establish higher durability and wear resistance, the program included analyzing and testing several different configurations, along with questioning and updating an already proven design. Alternative production methods and techniques were also considered, as well as a review of the supply chain. This was necessary to enable shorter lead times for a demanding market and has resulted in making the entire chain more effective and environment-friendly.
"Every element has been carefully considered and verified, resulting in an advanced solution that offers the best of previous generations in a more resilient package, with lower operator costs and environmental impact," concludes Hansson.
Bruks Siwertell is currently running several R&D projects, all with the same aim as this one: to improve owner benefits, set a higher standard for intelligent solutions, and drive positive, sustainable change.
Please contact us for more information
Share:
More News