Terminal - Singapore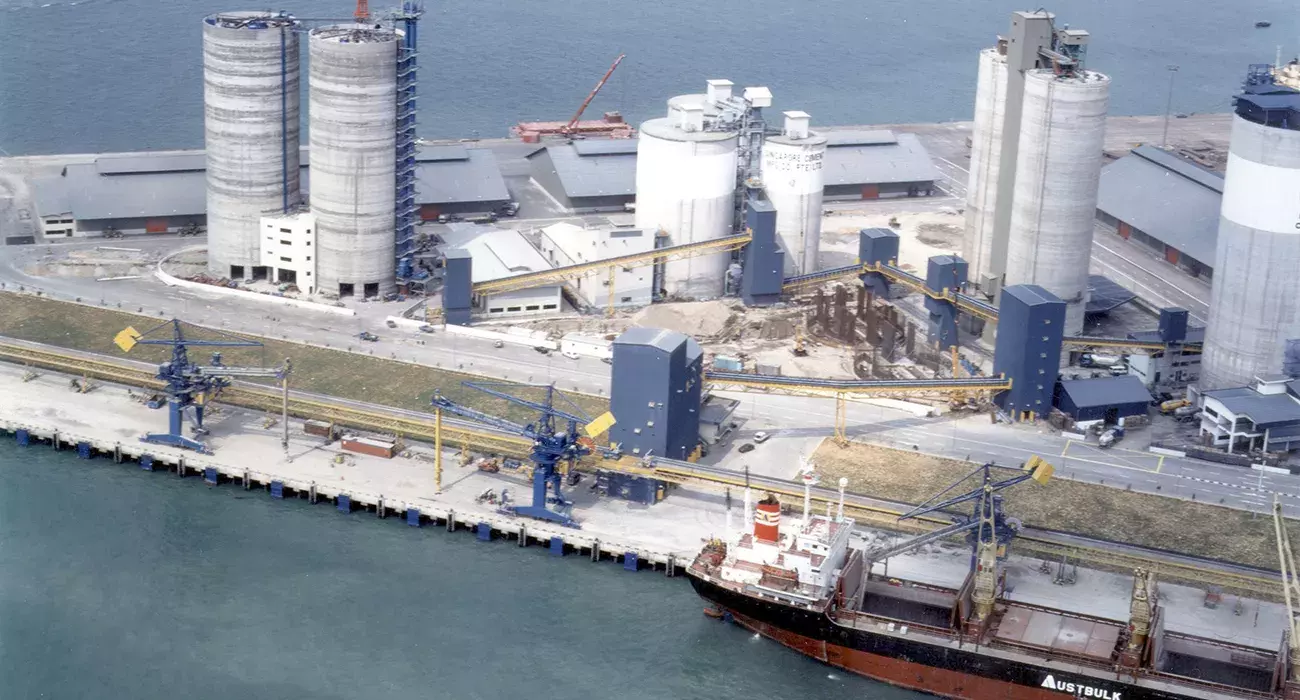 World-class terminal in Singapore
Siwertell has with great success carried out a major turn-key project on a world-class cement terminal for Jurong Town Corporation
About
The terminal serves as a common facility for cement importers in Singapore, to replace a number of small import terminals. By gathering the importers and letting them share the same ship-to-silo system, Jurong Town Corporation created a state-of-the-art terminal with the environment in focus and introduced a new concept to the cement industry.
Two ships of up to 40,000 dwt each can be discharged in parallel. The unloading system includes three ship unloaders, each with a guaranteed rate of 800t/h. The unloaders can be combined for free digging and/or clean-up duty in one or two ships simultaneously.
In order to convey the cement from the quay and distribute it to the six cement importers, a highly flexible conveying system was installed. The system is totally enclosed and focused on low maintenance. 
Siwertell has combined belt and screw conveyors, aeroslides and bucket elevators to secure a flexible design and reliable functions. The terminal also allows for self-unloading ships to be connected to the conveying system.
Scope of supply
Design, manufacturing, delivery and installation of ship unloaders and conveying equipment
Design, delivery and installation of the electrical power distribution and central computer control systems
Civil design, delivery and erection of transfer towers as well as foundation work
Start-up tests and commissioning
Staff training
For more information, please contact us
Bulk terminal solutions
Ship unloading
Customer
Jurong Town Corporation
Additional facts
Terminal capacity
Unloading of two ships simultaneously of 40,000 dwt
Ship unloaders
Three Siwertell continuous screw-type unloaders, ST 490-F, rail-mounted
Rated capacity
800t/h each
Distribution system
2 x 800t/h distribution system for conveying the unloaded cement to six cement importers from any ship to any silo
Design throughput
Up to 4 million tonnes annually
1.3034966366518, 103.72430033672
Location
Jurong Port, Singapore