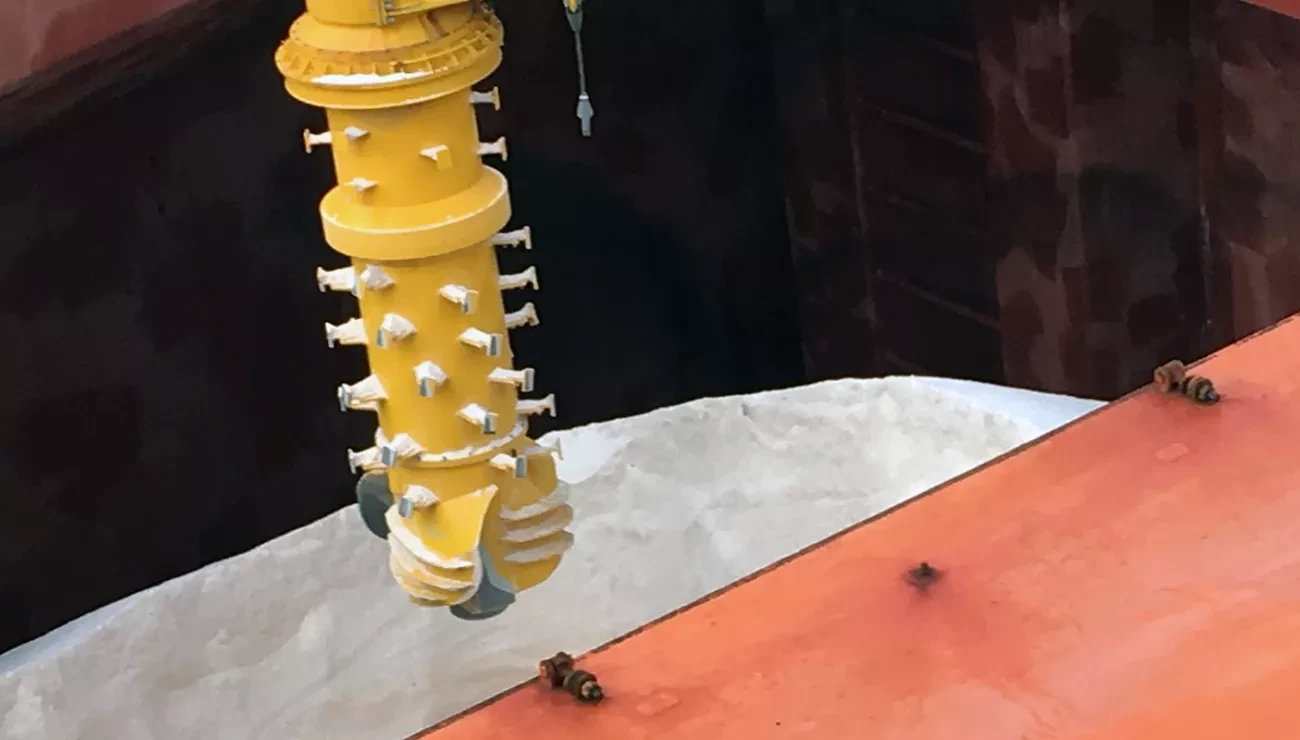 Corrosion, compaction and capacity: salt handling challenges overcome with ease 
2 Jun 2021
With four of its full complement of thirteen Siwertell ship unloaders designed for discharging salt, Formosa Plastics Corporation (FPC) knows what it needs from its dry bulk equipment when it comes to handling such a challenging commodity
Early this year, Formosa Plastics Corporation (FPC) became Bruks Siwertell's biggest repeat Siwertell screw-type ship unloader customer ever, placing an order for two more 640 D-type unloaders. The pair takes FPC's Siwertell ship unloader portfolio to thirteen, with the new rail-mounted units intended for installation at Kaohsiung Port, in southern Taiwan. Here, they will handle the import of large volumes of salt.
More than a condiment
Salt, or to give it its chemical name, sodium chloride (NaCl), is far more than just a condiment. It supplies one of the key ingredients of plastic making, chlorine. Sourced from separating briny water through electrolysis, around two thirds of global chlorine is used in the production of plastics, typically destined for four main types: polyvinyl chloride (PVC); polycarbonates; polyurethanes; and epoxy resins. The majority of the remaining third goes into water treatment and medicines. 
However, handling salt is uniquely challenging. It is highly corrosive, which tends to result in additional wear-and-tear to dry bulk material handling, transportation and storage systems, as well as shorter maintenance intervals for equipment. On top of this, when salt arrives in bulk carrier holds, it tends to have compacted into crystalline lumps, which makes the unloading process much more demanding on equipment, further increasing wear.
Bruks Siwertell is no stranger to these challenges, and has delivered many salt handling systems throughout the world. "For FPC's requirements, the only system that was considered was a screw-type unloader," Jonas Fack, President, Bruks Siwertell AB, explains. "Bruks Siwertell was also the only company that could meet the company's very high specifications for extremely efficient, dust-free material handling."

A history of success
FPC and Bruks Siwertell have a long relationship. Of its thirteen totally enclosed Siwertell ship unloaders, nine are used by FPC for unloading coal only, two are used for coal and salt, and its latest pair will only be used to handle salt, serving a new terminal at Kaohsiung Port's jetty number 16. These two salt unloaders will arrive fully assembled and are scheduled to be in operation by the end of 2022. 
They will offer a continuous rated capacity of 1,000t/h, discharging vessels up to 80,000 dwt. Designed to withstand a horizontal earthquake factor of 0.3g and maximum wind speeds of 70m/s, the unloaders will be able to operate in winds of up to 25m/s. The units will also be equipped with an FM 200 fire-fighting system in their electrical and transformer housings, which is a local requirement, along with protecting the environment from fugitive dust emissions. 
Salt and coal: a potent mix
FPC's two unloaders that alternate between handling salt and coal offer an interesting case and a very good refence for Bruks Siwertell's material handling capabilities. Designed for discharging ships of up to 180,000 dwt, at a rated unloading capacity of up to 2,000t/h, one ST 790 DOB-type ship unloader was delivered in 2006 and the other, an ST 940 DOB-type, in 2015, bringing the total of Siwertell units operating at the Taiwanese Mai-Liao power plant to six.  
These unloaders fulfil two sets of requirements; the complex challenges of salt and those of coal, which is abrasive and at lower grades often has a high moisture content, which makes it sticky and hard to handle. Preventing cross-contamination between these two cargoes is also of key importance to both the industrial processes that use them.
FPC indicates that it was the operation of these unloaders, at its Mai-Liao plant, that persuaded the company to order new Siwertell systems. "Our reputation for the reliable handling of salt is strengthened by the fact that FPC already successfully uses Siwertell ship unloaders to handle it," says Fack. "This was one of the main reasons why it approached us again. Also, we were the only company that could demonstrate the successful application of our screw-type conveying technology in relation to salt handling.
"FPC has considerable experience using Siwertell unloaders," he continues. "Our long-term commitment and a history of fulfilling the client's requirements were important factors, as well as the high efficiency and low operational costs offered by our unloaders."

The clear choice
"Siwertell ship unloaders offer superior performance in every aspect of dry bulk material handling," notes Fack. "They are designed for heavy-duty operation and we have experience in handling more than 40 different bulk materials. As a result, we have a great deal of technical knowledge and know how to develop systems that exactly meet customers' requirements.
"While a certain degree of compaction is taken for granted, the level of compaction in salt handling simply prevents many other systems being able to compete with a Siwertell unloader, which can withstand high digging forces, enabling them to discharge these compacted cargoes," Fack points out. 
"Even under these conditions, Siwertell unloaders offer a continuous, steady conveying velocity, which not only preserves the integrity of cargoes, but helps to maintain a high through-ship efficiency. They also offer a high average unloading capacity, with a reduced reliance on excavators, in comparison with other systems such as grab cranes and pneumatics," he notes. 
"For example, if material is very compacted, a grab crane does not have the digging forces able to handle this type of material, so excavators are needed to a much higher extent. The same is true for bucket chain unloaders. Pneumatic unloaders are ruled out entirely, as the high digging forces make them a totally impractical solution."
Optimized for salt
In contrast, Siwertell unloaders are fitted with a counter-rotating inlet feeder, which increases the efficiency of cargo pick-up and the filling factor of the vertical screw conveyor. Different designs of feeder are used to optimize unloading performance depending on the material being handled, and salt is a particularly good example. 
Salt handling Siwertell unloaders are fitted with an optimized inlet feeder able to withstand not only the corrosive properties of salt, but also the significant digging forces needed to discharge it from the hold at high capacities. Furthermore, their walkways, handrails and electrical compartments are manufactured from stainless steel, which does not rust easily.  
Stronger together
There is significant competition in the dry bulk handling sector, and between the various different technologies in use. However, repeat business from long-standing customers, like FPC, offer a very powerful argument for the benefits of Siwertell unloading systems. In fact, in the last year alone, in addition to the two salt unloaders for FPC, Bruks Siwertell has secured orders for two coal unloaders, four cement unloaders, and one for grain, as well as a loader for clinker. All of these machines will make use of Siwertell mechanical screw technology. 
"It has been a tremendous twelve months for us," says Fack. "Considering that these orders have been placed at a time of global disruption, it goes to show the importance of the dry bulk handling sector and its resilience. It also demonstrates a confidence in the sector's continuing growth in cargo volumes, justifying new investments. 
"Our most important job is to give operators the best possible chance of success. FPC has proven time and again that it believes in us to fulfil this requirement, and for Bruks Siwertell, this is a source of great pride. In return, we do everything that we can to justify the trust that all our customers place in us and our technology," concludes Fack.
 
PLEASE CONTACT US FOR MORE INFORMATION
Share:
More Blogs